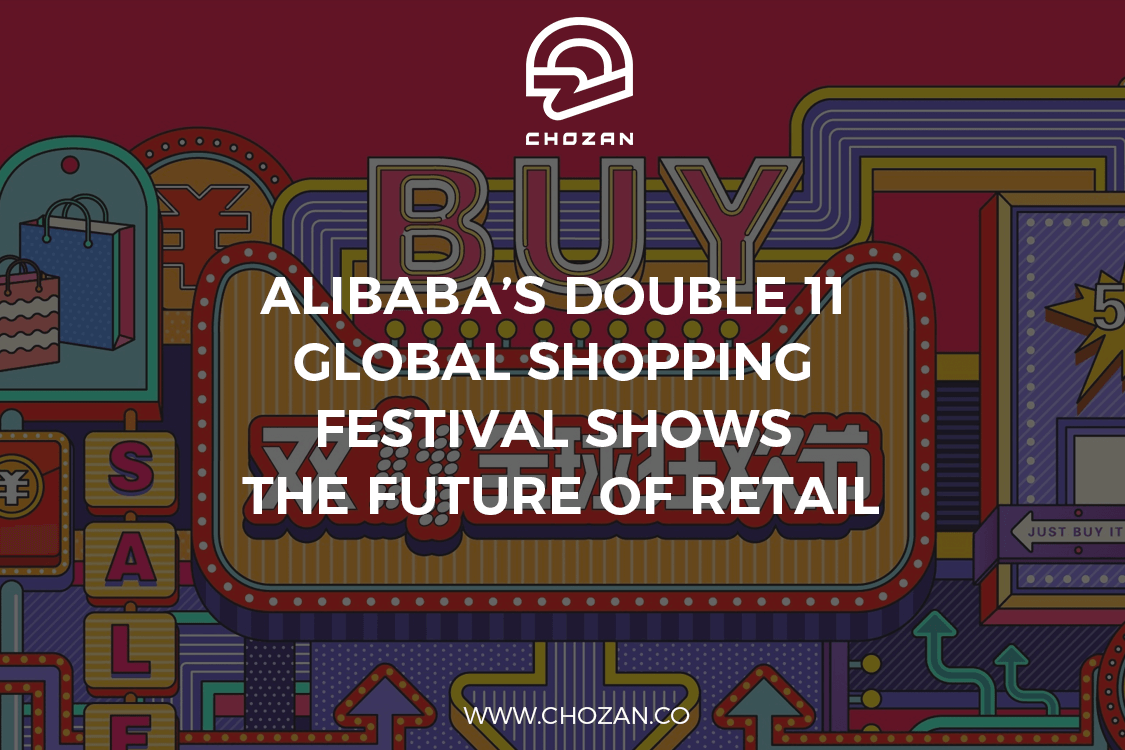 Alibaba's Double 11 Global Shopping Festival Shows the Future of Retail
November 11th – 11/11 or Double 11 – became a special day in China in 1993. The date, with all those 1's standing beside each other, was chosen as a fun day to celebrate being single on Chinese university campuses.
16 years later, in 2009, Alibaba, the largest retail company in the world, adopted Singles' Day inviting Chinese consumers to buy themselves gifts in the spirit of a Valentine's Day… but for single people! Instead of buying gifts for their partner, why couldn't people buy special treats for themselves?
These days, the Double 11 Shopping Festival is a special occasion for Chinese shoppers and has become the largest 24-hour online shopping event in the world. Double 11 is more than 18 times bigger than Amazon Prime Day and 2.5 times bigger than Black Friday and Cyber Monday combined. It has evolved from a 24-hour sales event to a 24-day global shopping and entertainment festival, generating $17.8 billion in gross merchandise volume (GMV) in 2016.
This year's Double 11 is extra special because it's not only a shopping festival, but also a test bed for two essential concepts previously introduced by Jack Ma that are expected to revolutionize the shopping landscape in China – "New Retail" and "Retail as Entertainment". It's giving us an opportunity to experience these new innovations and glimpse the future of retail.
---
New Retail 新零售
"New Retail" is Alibaba's strategy to redefine commerce by enabling seamless engagement between the online and offline world. It's not about converting online users to offline customers or vice versa. With "New Retail", Alibaba aims to use their data and technology capabilities to digitally transform the offline retail industry in China, which accounts for 82% of total retail.
This new concept was first introduced by Jack Ma at Alibaba's 2016 Computing Conference as one of the five emerging trends that will have a profound impact on the future.
For merchants, "New Retail" helps to digitize and transform every aspect of the retail value chain from merchandising to logistics. "New Retail" leverages technology and empowers merchants to stay relevant in the digital economy. Moreover, it also provides innovative brand-building opportunities as well as more efficient ways to boost sales.
For consumers, they will receive personalized feeds that match their purchasing preferences not only based on previous purchases, but also ads clicked, terms searched, links shared with friends, physical stores visited, merchandise browsed, TV shows watched, etc.
The "New Retail" model also attempts to provide in-store quality customer service in the virtual world. Customers can "try on" their desired items in virtual dressing rooms and get product recommendations directly from brands or popular influencers.
Here's what the future of retail could look like at scale:
1. Smart Pop-up Stores 天猫智慧快闪店
Over 1,000 brands will convert more than 100,000 physical locations into "smart stores", allowing merchants to leverage data insights to deliver a more tailored shopping experience. Meanwhile, 60 pop-up stores will also be opened in 52 malls in collaboration with more than 100 brands from home and abroad, which will curate consumer experiences specific to the brands and products.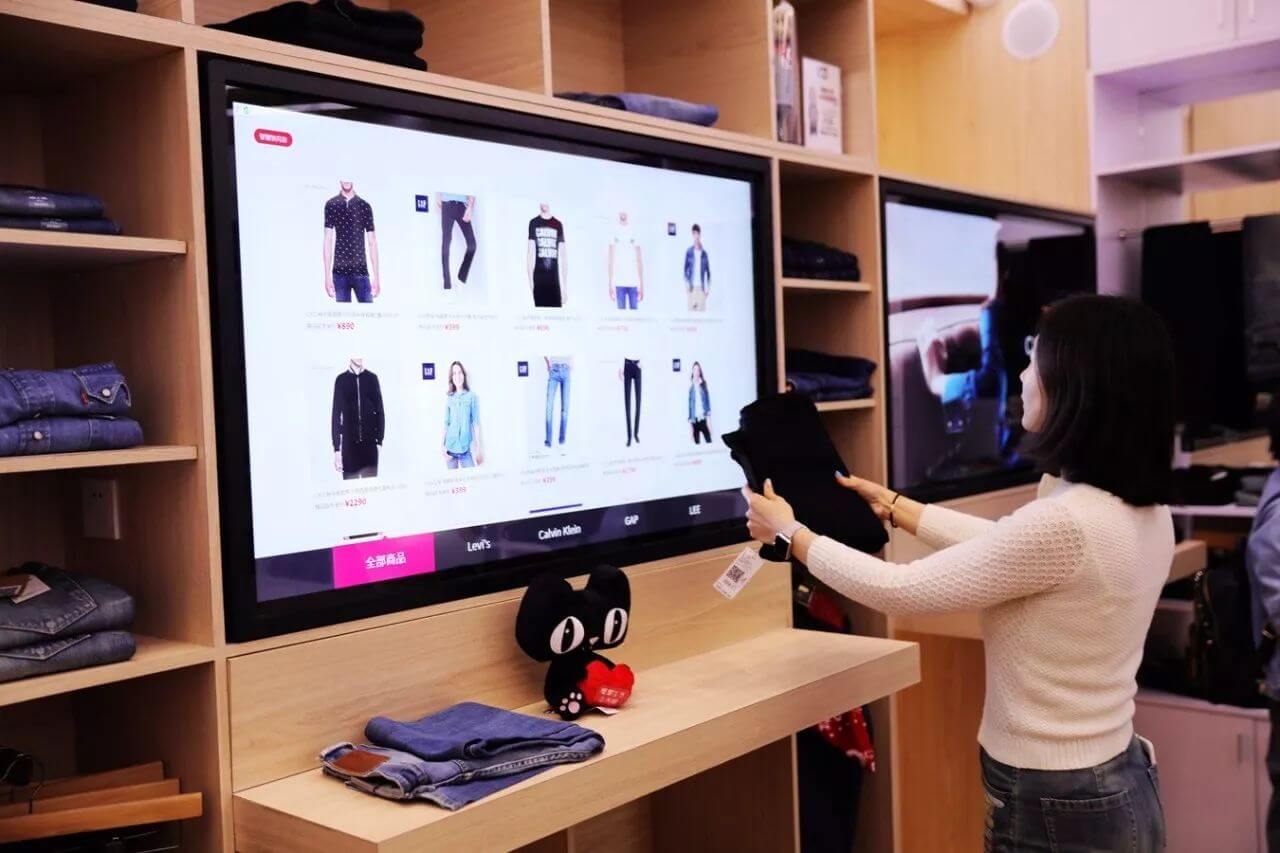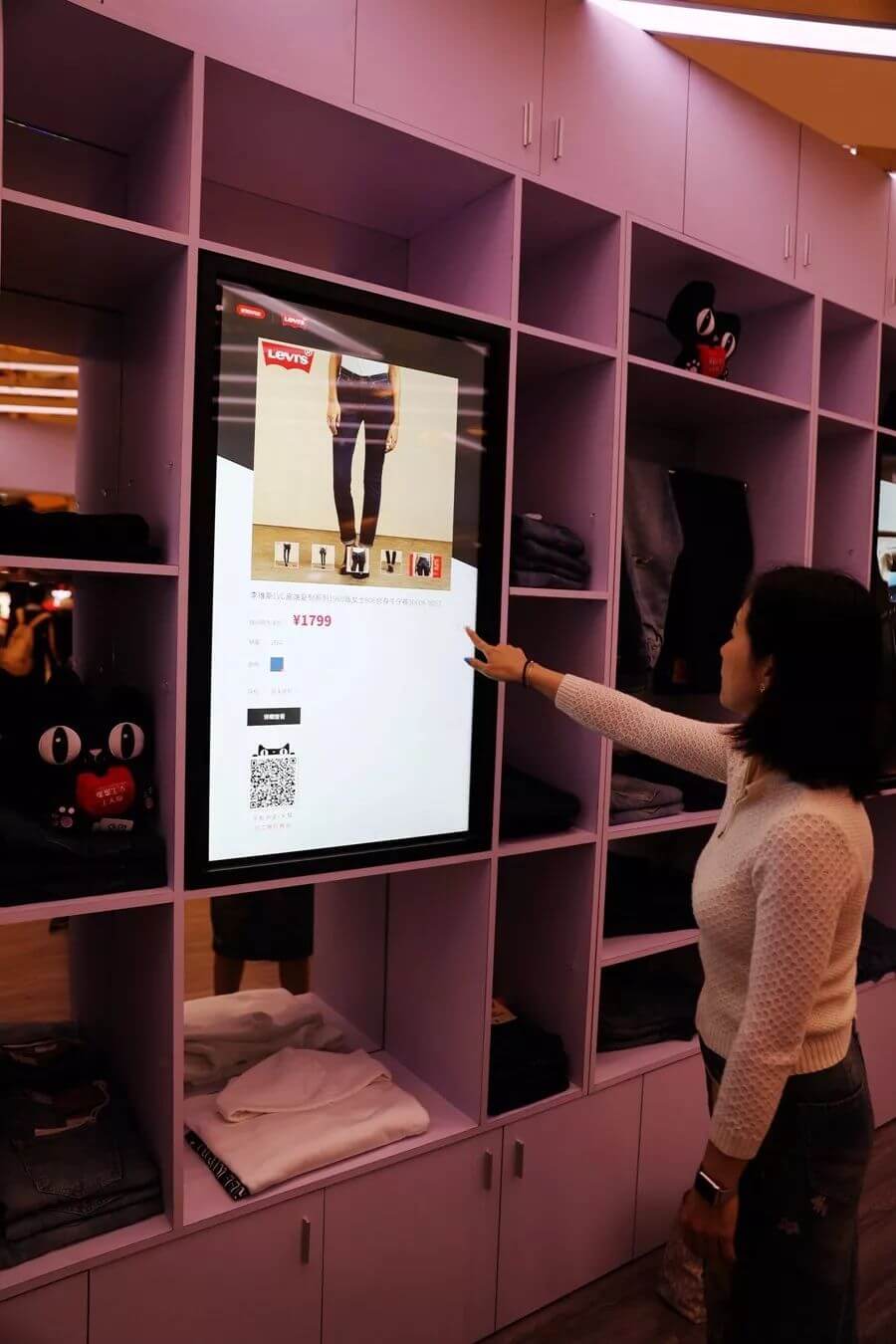 ↑ Tmall's smart pop-up store in Hangzhou (Photo credit: NetEase)
–
The major features of these stores include:
● Customers can receive location-based store recommendations and discount notifications through their Taobao or Tmall app on their mobile devices, driving traffic to offline stores.
● Customers can "try on" apparel and makeup items virtually, with the help of RFID (radio-frequency identification) and AR (augmented reality) technology.
● Customers can scan images using AR technology to visit product listing page and collect coupons.
● Consumers can purchase items using vending machines by scanning a QR code and they can also have the products delivered home with a few clicks.
● There are also innovative technologies like "Cloud Shelf", facial recognition, mobile gamification, etc.
–
2. Tmall Neighbourhood Convenience Stores / LST Corner Stores 零售通
Alibaba launched LST (零售通), which means "Retail Integrated" in Chinese, to help millions of local neighbourhood convenience stores and mom-and-pop shops to digitize their businesses, including merchandising, inventory management and logistics. LST help these merchants leverage data and technology to enhance their business operations.
For example, the LST system can help the owner of a brick-and-mortar retail store to measure the demographics and purchasing behaviours of surrounding customers, and then predict and recommend the most in-demand products for sales in that store.
Last August, Weijun Grocery (维军超市), a community grocery store besides Zhejiang University in Hangzhou, joined Alibaba's LST system and was later chosen as the first trial target for its "Tmall Corner Store (天猫小店)" franchise. According to an interview with the store owner in August this year, the sales volume witnessed a sharp increase of 45% compared with last quarter, while customer traffic grew by 26%.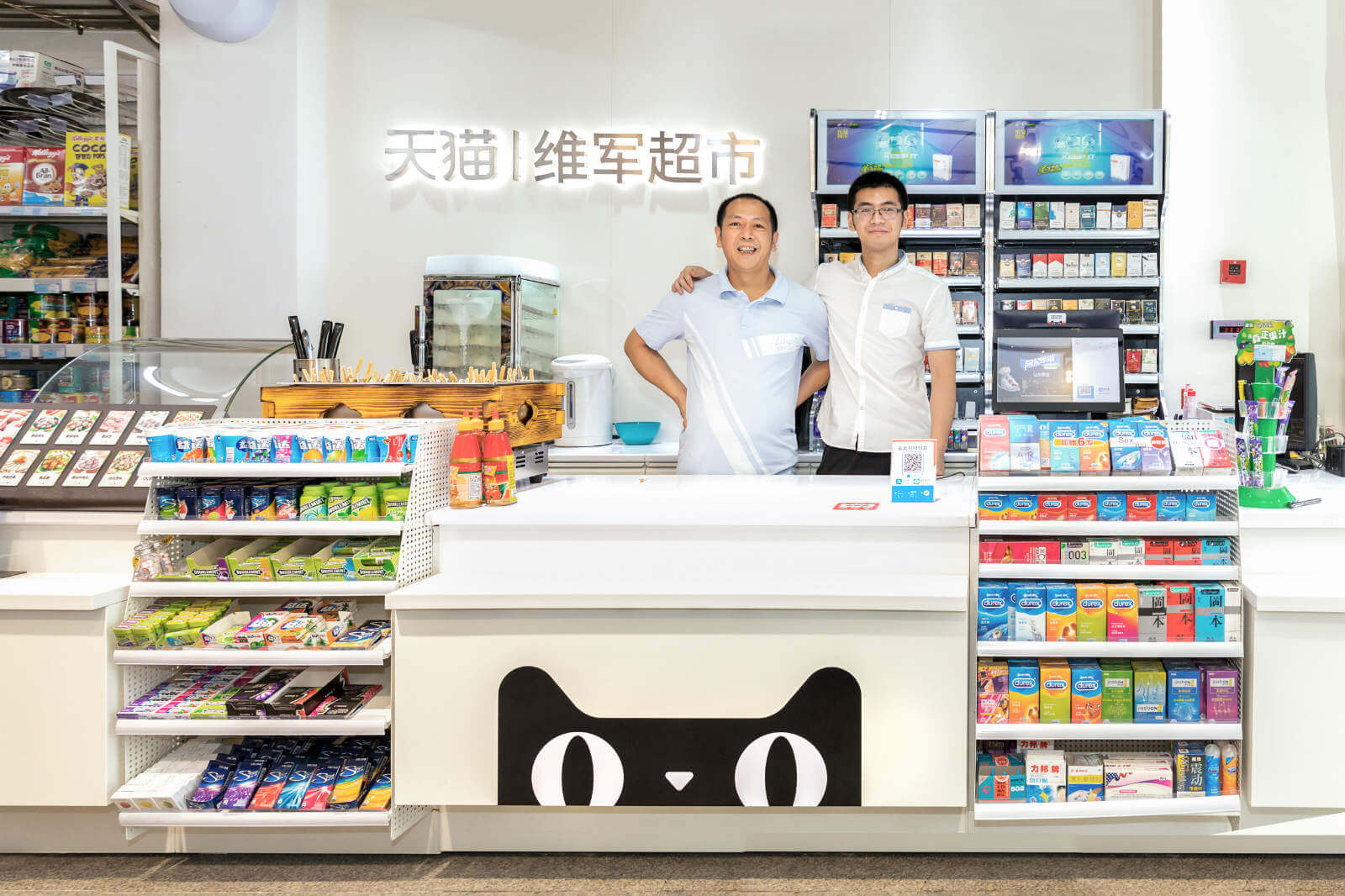 ↑ Weijun Grocery in Hangzhou (Photo credit: Tianxiawangshang)
---
Retail as Entertainment 零售即娱乐
Modern Chinese e-commerce consumers are predominantly young and mobile-savvy so shopping isn't just about passively adding items to their virtual shopping cart. It's already become a social activity, a means of consuming content and, ultimately, a form of entertainment.
This year, the sales campaigns before the Double 11 Shopping Festival illustrate this "Retail as Entertainment" concept:
1. "See Now, Buy Now" fashion shows 天猫全球潮流盛典
Given the rising popularity of live streaming, Alibaba held the first "See Now, Buy Now" online fashion show in 2016 to showcase fashion brands and for brands to engage with consumers. Major fashion brands MAC, Guerlain, Pandora, TAG Heuer and Rimowa were featured in the fashion show.
This year's fashion show was held on October 31st and was broadcasted on nine major channels, including Beijing TV, Tmall, Taobao, Weibo, Youku, CIBN (酷喵影视), LeTV (乐视), Mi Box (小米盒子) as well as news and information content platform Toutiao.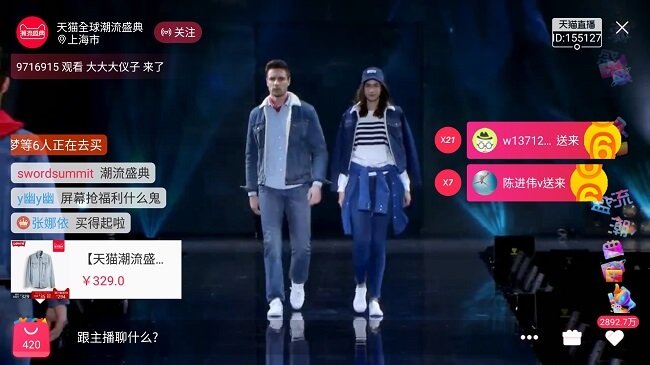 ↑ Users could watch the fashion show on Tmall and purchase the outfits directly. (Photo credit: Alibaba News)
During the fashion show, the audience did more than just watch. They could purchase the outfits directly with a purchase link shown on the left side of the screen on Taobao or Tmall, or shake their phones to go to the product page if they were watching the show on TV. They also had access to a virtual fitting room where they could upload their photo and input their height and weight information to "try on" and preview their new looks with the items they would like to purchase.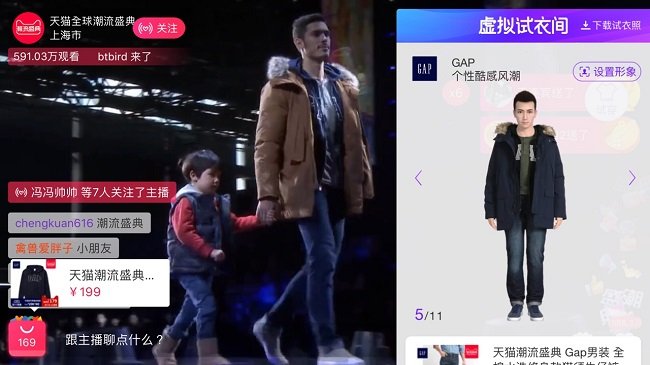 ↑ The virtual fitting room allowed users to visualize their new looks. (Photo credit: Alibaba News)
–
2. Gamification: "Catch the Cat" campaign 捉猫猫AR游戏
Last year, seeing the popularity of location-based augmented reality game "Pokémon GO", Alibaba also launched a similar gaming campaign called "Catch the Cat (捉猫猫)", as Tmall's mascot is a cat. Last year, 65 well-known brands such as MAC, L'Occitane, P&G, Disneyworld, Pizza Hut and KFC participated in the gaming campaign. The campaign encourages consumers to go to retail stores.
This year, Alibaba continued the campaign. Users can access the game interface on the Taobao or Tmall app on their mobile devices. They're supposed to catch different types of cats that appear randomly nearby. This year, a total of 170 cats are available for users to catch. Most of the cats are related to a designated brand. Once caught, users can get a corresponding game card with a special discount or coupons that they can use when they purchase in the brand's Tmall store.
↑ Users can catch different types of cats to earn coupons and prizes.
Also, users can redeem certain prizes in offline stores if they get a special set of game cards. For example, on November 6th, users can redeem a New Orleans roast chicken for free with a Double 11 gift card and a KFC game card. Tmall's cat mascot is also featured in thousands of stores like Starbucks across China. Users can also catch cats in these brick-and-mortar stores.
–
3. Double 11 Countdown Gala 2017天猫狂欢节
Each year on the eve of the shopping festival, the Double 11 Countdown Gala is held to kick off the 24-hour shopping spree. This year's Countdown Gala will be held in Shanghai's Mercedes Benz Arena and broadcast on all Alibaba's platforms as well as three big TV stations – Beijing TV, Zhejiang TV and Shenzhen TV.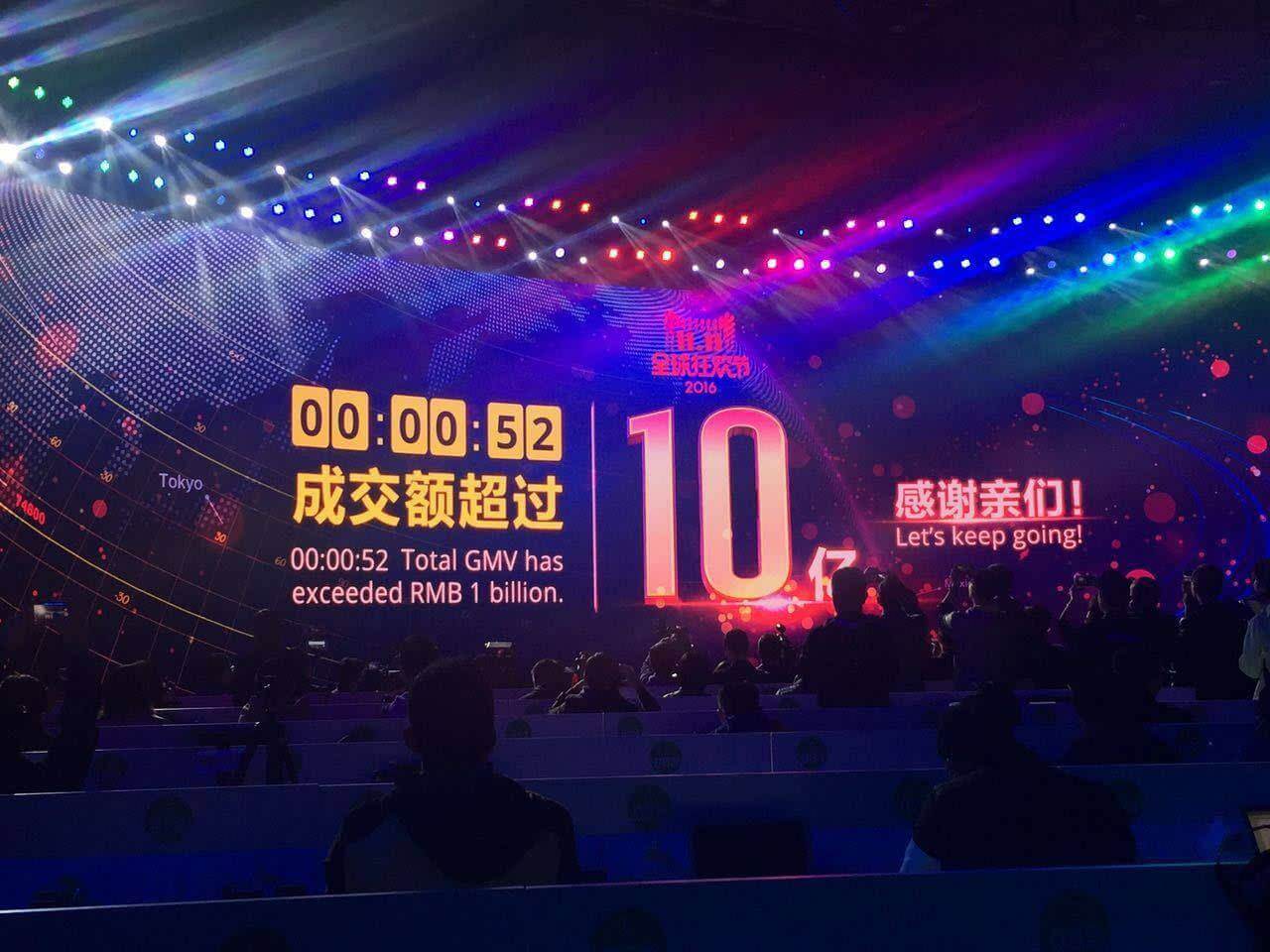 ↑ The Double 11 Countdown Gala in 2016
The Gala will be produced by David Hill, producer of the 2011 World Series and the 88th Academy Awards, to create a new interactive experience between mobile, TV and live streaming platforms. The Gala will also enable the "See Now, Buy Now" feature, allowing viewers to buy certain outfits that appear on stage via mobile apps.
Each year Alibaba also selects a few global influencers who focus on China commerce and social media and invites them to join the 11.11 Countdown Gala as VIPs. Ashley Galina Dudarenok, founder of ChoZan, is delighted and honoured to be invited to join Alibaba's 11.11 Global Influencer Entourage this year. She will also learn about their new retail innovations, participate in intimate briefings with Alibaba executives and give international commentary at the Media Center. We'll keep featuring the annual event in the following days.
–
To sum up, what truly sets "Double 11" apart is how Alibaba is leveraging innovative technologies combined with the scale and reach of Alibaba's entire ecosystem to bring the future of retail to life for Chinese consumers and brands.
---
To get deeper insights into Chinese social media marketing and utilizing it to serve your business, join ChoZan, a training and resources platform for Chinese social media marketers. Please follow our official WeChat account to get more updates about the latest news, feature updates and case studies.