Recently, Kantar, one of the world's largest marketing communication groups, has published its China Social Media Impact Report for 2017 and it illustrates just how much Chinese social media is changing and Chinese social media trends. The report is based on detailed observation and authoritative data, it's a reliable source for fresh insights into Chinese social media.
Here, we've picked some highlights of the report:
---
Chinese social media overview
i. Leading platforms: WeChat and Weibo
WeChat and Weibo are still the most influential platforms. As the most satisfying mobile app, WeChat stands out in both usage rate and user ratings. When it comes to Weibo, it's more popular among younger users and its general user rating is high.
ii. Post-80s and -90s' favourites: video and live streaming platforms
Young people born after 80s and 90s also prefer video and live streaming platforms, such as Youku (the Chinese version of YouTube), Douyu (a live streaming platform for online gaming), and Bilibili (a video sharing website that allows viewers to send real-time comments that cross the screen as the video plays).
↑Douyu, a live streaming platform for online gaming
↑Bilibili, a video sharing website themed around anime, manga, and game fandom that allows users to add commentaries, which will be displayed as subtitles sliding above the video.
iii. Emerging platforms: news apps with social functions
It's noteworthy that Kantar also finds that news apps with social functions are emerging platforms. By way of illustration, Toutiao (今日头条) is a news-based social media platform that not only recommends news to individual users based on artificial intelligence that analyzes a user's preferences, but also allows individuals and media organizations to create their own official accounts for self-publishing. Its user base has increased by leaps and bounds recently.
↑The user interface of Toutiao
---
Emerging Chinese social media trends in marketing
Besides showing the influence of different social media platforms, Kantar also reminds us of four Chinese social media trends in marketing for brands' references.
i. Engaging celebrities
Celebrities, such as singers, TV hosts, actors, are increasingly influential in China since they have huge fan bases and high media exposure. With millions of followers on social media platforms like Weibo, they attract a lot of public attention and so do their endorsements for brands and products.
Case study: Xue Zhiqian's endorsement of the Gionee smartphone
To promote their new smartphone, Gionee, one of China's largest mobile phone manufacturers, invited the popular singer Xue Zhiqian to be its brand representative and launched a series of marketing campaigns on Weibo. The most successful one is a creative video of the singer telling funny stories while using a Gionee smartphone. It's been viewed over 24 million times. Xue Zhiqian's post containing this promo video has also accumulated 113 thousand reposts, 47 thousand comments and 392 thousand likes.
When users search "薛之谦" in Weibo's search engine, Gionee's advertisement and official account are displayed in the results. The campaign page for the hashtag #Xue Zhiqian with Gionee# has been viewed more than 210 million times and discussed 332 thousand times. By working with him, Gionee got its name out to a huge audience.
ii. Prominent references to popular culture
Hot domestic TV dramas, films, and games adapted from online novels, such as The Legend of Zhen Huan (甄嬛传), The Lost Tomb (盗墓笔记), Eternal Love (三生三世十里桃花), Ode to Joy (欢乐颂) and others are very prominent in pop culture these days. Brands also want to capitalize on their popularity and are finding creative ways to place products in TV shows and movies or do related social media campaigns.
Case study: "Andy's makeup" promoted by Lancôme
Ode to Joy (欢乐颂) is a well-known TV series based on the novel of the same name. The second season of Ode to Joy not only stood out for its high audience ratings with more than 22 billion online clicks, but also performed well on social media with the Weibo page for the hashtag #Ode to Joy# has been viewed more than 6.8 billion times and discussed nearly 5,000,000 times.
French luxury perfume and cosmetics brand, Lancôme, engaged Liu Tao, who plays Andy, the lead role in Ode to Joy, as their brand representative. Noticing that Andy was a focal point on social media, Lancôme launched a social media campaign showcasing Andy's makeup style with the hashtag #Liu Tao teaches you Andy's makeup# on Weibo.
At the same time, they promoted their L'Absolu Rouge lipsticks and other cosmetic products. Liu Tao also listed some colors as "Andy's lipsticks" and encouraged followers to buy them in her post. Every promotional post included links to Lancôme's online shop where people could purchase the products directly. This long-term campaign lasted for two months while the TV series was airing new episodes and the Weibo page for the hashtag #Liu Tao teaches you Andy's makeup# has over 170,000,000 views. In addition, Lancôme's L'Absolu Rouge lipsticks are now their star products and are selling very well.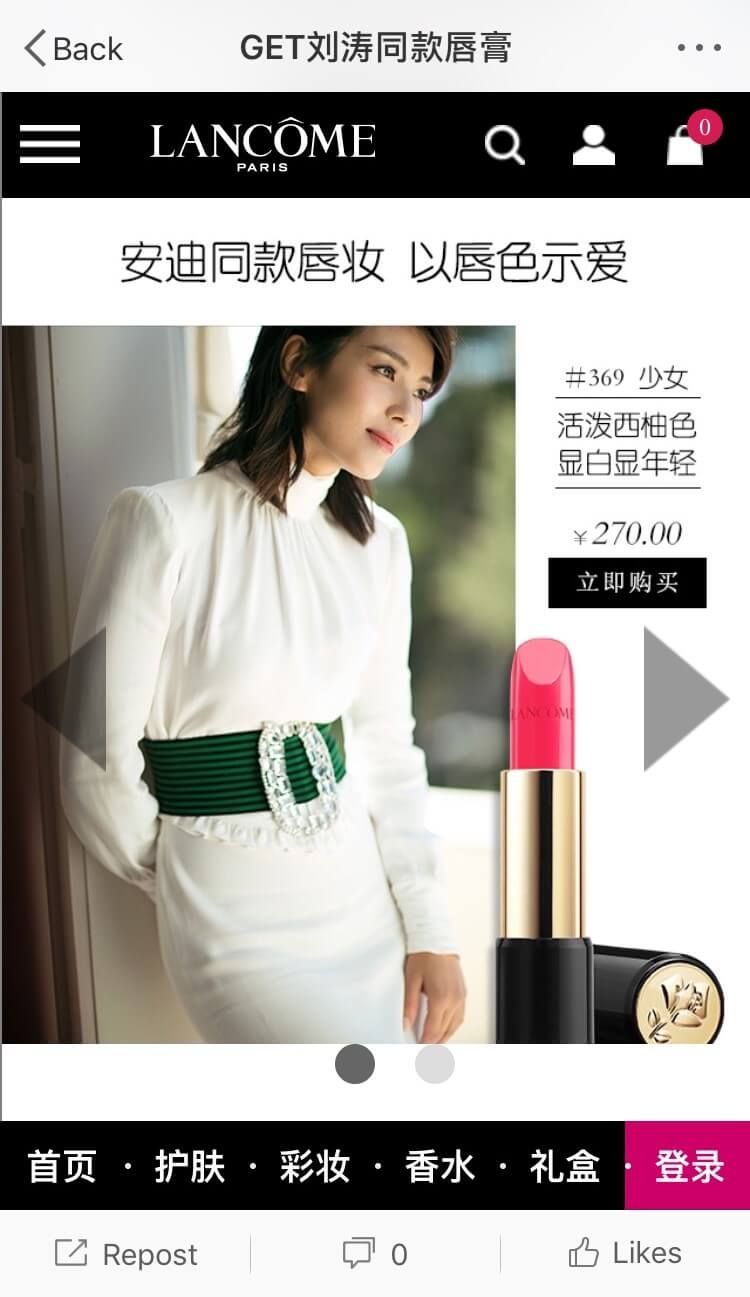 iii. Using social media to drive traffic to e-commerce platforms
China has more than 700 million monthly active users on social media and 300 million consumers shopping on online using sites such as TaoBao, Tmall, JD, and Xiao Hong Shu. It's become a trend for some and a lifestyle for others. Many brands have established themselves on e-commerce platforms and no matter what marketing campaigns they launch on social media, their posts or articles are always followed by links to their online shops. Additionally, the e-commerce platforms themselves also launch social media campaigns to promote these shopping festivals, which are, at heart, huge sales. Singles' Day on November 11th, Women's Day, 520 and others are all associated with huge online shopping discounts. These festivals are hugely influential and can result in high trading volumes.
Case study: Tmall's "520 Parent-Child Day" (520天猫亲子节)
Tmall is a website for B2C online retail, spun off from Taobao. On May 20th, celebrated because 5/20 (520) sounds like "I love you,", Tmall held a shopping festival for maternity and childcare items called "520 Parent-Child Day". Tmall shops that sold these kinds of products discounted their items. For their offline campaign, Tmall promoted the sale with celebrity parents, including Olympic champions and famous actors and actresses. KOLs like Ying Guo Bao Jie (@英国报姐), a blogger with millions of followers, also published sponsored posts with the hashtag #520 Parent-Child Day#.
Many brands and online retailers also promoted their products on Tmall's hashtag topic page for #520 Parent-Child Day#, which exceeded 120 million views.
This kind of promotion for the shopping festival is a prime example of mutually beneficial cooperation between online retailers and e-commerce platforms. After the campaign, Tmall controlled 69.4% of the online B2B market for maternity and childcare items, ranking first in China. Meanwhile, maternity retailers also achieved high trading volume. By way of illustration, Wyeth, a brand famous for their powdered milk, sold 1 million cans of powdered milk in 20 minutes. Tmall successfully promoted its shopping festival and the online retailers attracted younger parents because Weibo users are predominantly younger.
iv. Taking advantage of the KOL economy in China
Kantar also points out that brands are taking advantage of the booming KOL (Key Opinion Leader) economy to monetize advertising. Here are the main features of China's KOL economy.
1. Brand marketing + Industry experts + E-commerce platform
To attract public awareness and traffic, brands can cooperate with industry experts, such as athletes and models, and pay them to promote their products. Since the audience can purchase the products directly on e-commerce platforms like Taobao and Tmall, they can transform traffic into cash.
Recently, Adidas (@AdidasRunning) posted a promo video of Ning Zetao (@宁泽涛), a Chinese competitive swimmer, wearing their new Adidas Parley trainers. The trainers are made with recycled materials. In the ads, Ning Zetao talks about the high quality of the materials and encourages the audience to purchase the new trainers. The link to Adidas' online shop on Tmall is also attached to the post, enabling audiences to purchase the trainers with a few clicks.
2. Creative content + Grassroots KOLs
Grass-root KOLs like funny bloggers, beauty bloggers and Wanghong (Chinese fashionistas or beauty gurus who frequently post selfies to attract followers), are also leading the KOL economy in China. Their creative content usually attracts public attention and goes viral on social media. Fashion and cosmetics brands especially love to cooperate with these beauty bloggers.
For example, Shanzi (@扇⼦NO_FAN_NO_FUN) is a video blogger on Weibo specializing in fashion and beauty. In May, she shot a 1 minute short video with her boyfriend, recording their daily life with Dell's (@戴尔中国) notebook, in order to promote it. The video achieved 5.88 million views with about 9,000 interactions.
3. Expert KOL + Huge fan base
In comparison with grassroots KOLs, expert KOLs are more professional in their writing style and people trust their qualifications, making their product recommendations rather effective.
A well-known example is the cooperation between Burberry and Mr. Bags (包先生, WeChat ID: bagsbaoxiansheng), a fashion blogger who focuses on bags from first-tier fashion brands such as Givenchy, Burberry, LV and Celine. To promote its new DK88 collection, Burberry worked with Mr. Bags who was given limited edition DK88 bags for his followers. Mr. Bags wrote about the collection in an article emphasizing that the bright toffee DK88 bags were limited and exclusively sold through Mr. Bags' WeChat account and Burberry's official WeChat account. The article was viewed more than 80,000 times and the bright toffee DK88 bags sold out very quickly.
4. Precision marketing + E-commerce platform
Precision marketing is a marketing technique that emphasizes relevance to existing customers. To do precision marketing, brands must analyze the needs of existing customers and develop more services for them that encourage loyalty.
For instance, Yueshi China (@悦食中国) is one of the most professional gourmet platforms in China, comprising their magazine Epicure, their official WeChat and Weibo accounts, and their self-owned e-commerce platform. To promote their app, magazine and other services, Yueshi China only creates food-centered content such as food recommendations, as well as drama series and documentary films about food on social media. To some extent, Yueshi China have become a gourmet KOL with their food-centered content. As Yueshi China's fans on social media are interested in gourmet dining, the brand can precisely target potential clients and lead them to their e-commerce platform to purchase their products.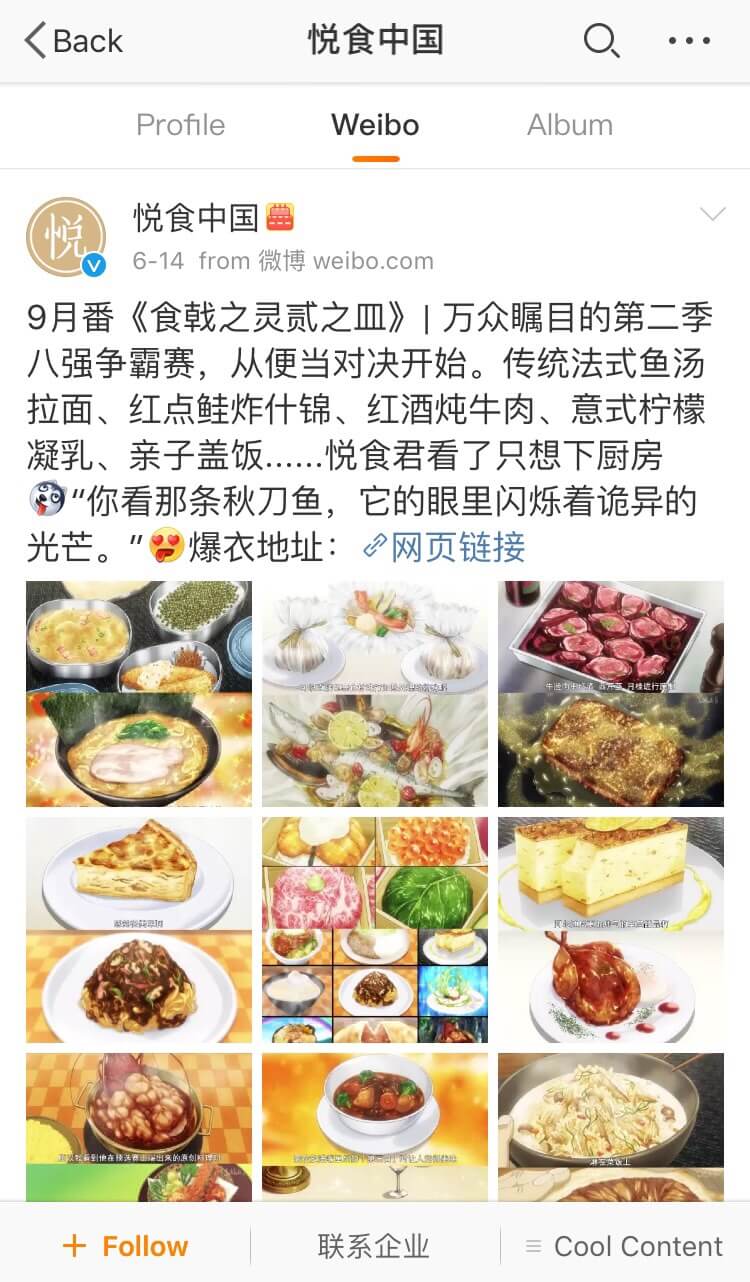 ---
Conclusion
Here are the key takeaways from Kantar's Chinese social media report, including the Chinese social media trends in the near future:
For social media marketing in China, it's best to utilize different types of platforms, such as WeChat, Weibo, video/live streaming platforms and news platforms to target different generations of clients.
Celebrities attract the most public attention and so do their endorsements of products and brands. Consequently, their promotional services cost a lot of money.
Trendy popular culture, such as TV dramas, films, and games, are great platforms for brand placement. Simultaneous social media campaigns featuring popular TV shows are also doubly effective when the series is airing new episodes.
With the popularity of online shopping in China, shopping festivals launched by e-commerce platforms usually become hot topics on social media and result in high trading volume. It's beneficial for brands to establish themselves on these platforms and participate in shopping festivals.
Brands need to know the features of Chinese KOLs (Key Opinion Leaders) and take advantage of the booming KOL economy to monetize advertising.
---
Besides WeChat and Weibo, what other Chinese social media platforms do you plan to use for marketing? What do you think of all these Chinese social media trends? Have you developed a clearer idea of how to promote your brand on social media and do e-commerce in China based on the emerging trends summarized above?
Leave a comment below. We're happy to answer your questions.
---
To get deeper insights into Chinese social media marketing and utilizing it to serve your business, join ChoZan, a training and resources platform for Chinese social media marketers.
Please follow our official WeChat account to get more updates about the latest news, feature updates and case studies.
Share this article on your favourite social media