Video bloggers create original videos to create and appeal to their audience. There are various kinds of video bloggers in China, such as gamers, fashionistas, gourmets, and humour bloggers.
Since Weibo is a relatively open platform with a large user base, these video bloggers usually post short videos or do live streaming on Weibo through other popular apps like Miaopai and Yizhibo. Due to the rise of short videos as an industry in 2016, these video bloggers are gradually gaining popularity and becoming influencers with millions of followers on Weibo.
Witnessing the increasing popularity and influence of these video bloggers, many brands began to cooperate with them for marketing purposes and received a great response.
The four cases below illustrate the four major ways brands work with video bloggers.
---
Live streaming an offline marketing campaign
Many brands launched offline marketing campaigns, but creating online traffic and gaining attention from a large audience was sometimes a problem.
To engage potential attendees, brands usually target influencers and sponsor them to post campaign information and images with hashtags before and after the event. Heineken, together with Malik (@马克Malik), a Chinese humour blogger with two million followers on Weibo, provided a new way to engage participants during the campaign: live streaming.
After obtaining the naming rights for Formula 1 events in Italy, Mexico and China, Heineken launched a campaign called "More Than a Race" across the globe. In April, Heineken brought the campaign to China and hosted a carnival-style party in Shanghai for fans to watch the F1 competition while enjoying live music.
Malik, the blogger, was invited to participate in the campaign. He conducted a live stream lasting for one and a half hour on Weibo through Yizhibo, that showed how much fun he was having. During the live stream, he embodied the spirit of Heineken's campaign by his interactions with on-the-spot followers.
The live stream got nearly 2.5 million views on Weibo.
---
Video tutorial and giveaway campaign
Fashion brands often work with celebrities and fashion bloggers by inviting them to try products and post product reviews. When it comes to video bloggers, this marketing strategy still works.
Shanzi (@扇子NO_FAN_NO_FUN), a fashion blogger on Weibo, always tries new makeup products and presents beautiful make-up tutorials in her shorts videos. To promote its new Brow Tattoo Gel Tint, Maybelline invited Shanzi to try it. Shanzi recorded a short video in which she tried the brow tattoo gel tint, instructed viewers on how to use it and showed before and after images.
When she uploaded her video from Miaopai to Weibo, she also launched a giveaway campaign and promised to give away 20 Maybelline lipsticks to attract more followers and reposts.
Her video has been viewed over 687,000 times.
---
Product placement and sponsorships
Product placement is a common advertising technique used by companies to subtly promote their products in films, television or other media. With the rise of short videos in China, many brands have started embedding their products in short videos created by famous bloggers.
In order to promote the new function "Sogou English", the well-known search engine Sogou turned to Aikelili (@艾克里里) for a product placement partnership. Aikelili is a popular Weibo blogger who usually posts videos of himself doing wacky things. He mentioned Sogou English in his video after talking about the importance of learning English. Then he encouraged his viewers to try Sogou English to improve their English in a hilarious way.
The video was reposted more than 21,000 times and liked 194,000 times, attracting considerable attention.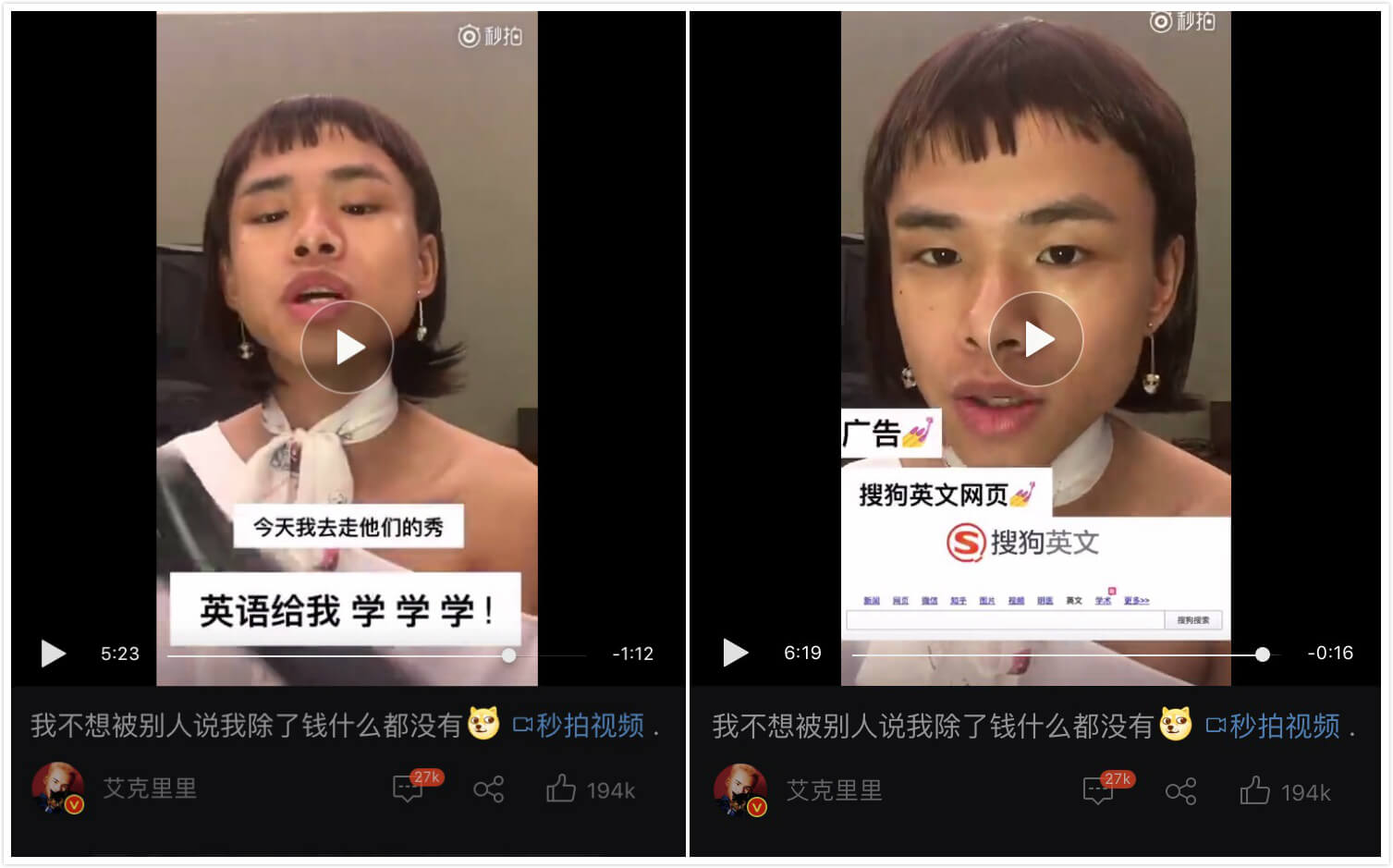 ---
Made-for-brand short films
Creative brand-centric videos are entertaining and memorable for audiences and many video bloggers are experts in creating this kind of original content.
Launched in 2015, Kkcredit provides users with financial services such as credit card repayments with low interest. Miaodaxian (@喵大仙带你停药带你菲), a humorous video blogger, worked with Kkcredit and created a five-minute short film for them.
In the short film, Miaodaxian plays a poor, ugly girl who has a crush on a boy who doesn't notice her. With the help of Kkcredit, she transforms herself with plastic surgery, a new hairstyle and fashionable clothes to win her man in the end. In her brief romantic comedy, Miaodaxian clearly presents the functions and features of Kkcredit to the viewers. It's a soft sell that audiences are comfortable with as they're drawn in by the humour.
The video has more than 2 million views on Weibo.
---
Conclusion
There are various ways to work with Chinese video bloggers on Chinese social media to market your products. Consider your needs to find the way that's best for your brand. Live streaming, which blurs the boundaries between online and offline campaigns, could be an additional marketing tool for offline campaigns. Inviting a video blogger to test and review your product together with a giveaway campaign is an efficient way to illustrate the features of new products and appeal to more potential clients.
Since social media users always love creative and original content, brainstorming and negotiating with video bloggers to make something new might be the best way for you.
---
Are you interested in working with video bloggers? Or do you have any new ideas about how to work with them?
Leave a comment below. We're happy to answer your questions.
---
To get deeper insights into Chinese social media marketing and utilizing it to serve your business, join ChoZan, a training and resources platform for Chinese social media marketers.
Please follow our official WeChat account to get more updates about the latest news, feature updates and case studies.
Share this article on your favourite social media