In China, brand marketing that uses virtual and AI technologies is having an increasingly major impact on purchasing decisions, as customers seek new and interesting experiences.
AIGC (artificial intelligence-generated content) and other virtual marketing strategies have piqued the interest of investors, producers, celebrities, and social media platforms. Brands can expect greater innovation and originality in this arena, driven by China's fast rising gaming, cartoon, and avatar markets.  
According to Precedence Research, the global AIGC market was worth $10.79 billion in 2022 and is predicted to grow to $73.16 billion by 2030.
Marketers and businesses can profit from understanding how virtual and AI-powered marketing will evolve in China this year. Here are three strategies that brands can take to maximize the potential of emerging technologies.
1. Use games and collaborations to cross-promote
In an era where technology and marketing intersect in innovative ways, augmented reality (AR) is emerging as a powerful tool for brands to elevate their promotional activities. These platforms not only offer a novelty factor but also create a new realm of experiences that transcend the boundaries of traditional shopping.
Brands such as Louis Vuitton are AR to improve their cross-promotional activities. The Louis Vuitton x Yayoi Kusama app provides users with an immersive experience in which they can play mini-games, unlock exclusive collections, and shop in a virtual store. 
Users can use AR to become pumpkin artists, negotiate a Louis Vuitton maze, and engage in activities like seed cultivation. This creative strategy demonstrates how brands may use technology to build interesting and interactive promotional campaigns.
2. Hold events for trendy characters
Characters and virtual personas are being used by brands to sell themselves in the metaverse. The metaverse market is expected to expand to $4 trillion to $5 trillion by 2030, indicating its enormous potential. Recognizing the importance of the metaverse, the MTV Music Recording Awards included a "Best Metaverse Performance" category in 2022.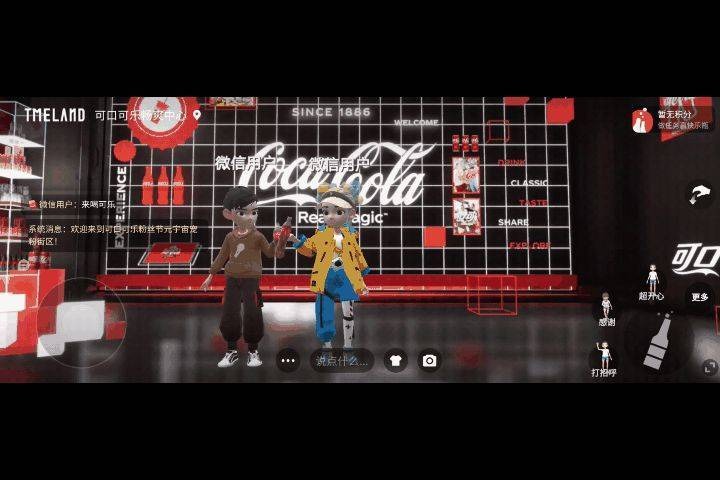 Source: TMELAND
Coca-Cola, for example, partnered with TMELAND (China's first virtual social music platform owned by Tencent Music Entertainment) to launch a new metaverse zone for the Coca-Cola Fan Festival in 2022. In its deep plunge into the digital dimension this year, the event has collected eight big brands, over 300 customers, and various entertainers.
Users could design their own digital Coca-Cola avatar and experience the virtual universe for the first time, thanks to Wechat mini programmes. They could also play games and take photos with virtual celebrity avatars such as Coca-Cola brand representative Yang Yang. Coca-Cola has devised a rewards system in which points can be earned by purchasing bottles of Coke offline, scanning QR codes, and communicating with others.
Overall, Coca-Cola's latest metaverse marketing initiative demonstrates the potential future of Chinese brand experiences. Furthermore, customizing the platform's metaverse rooms opens up new marketing opportunities for incoming multinational businesses.
3. Gamify your offerings and build a virtual world
One particularly effective strategy is the gamification of content, which transforms traditional brand interactions into immersive, interactive experiences. When combined with the power of artificial intelligence, this approach can not only create a unique brand experience but also cultivate a sense of community among consumers. Furthermore, this strategy resonates deeply with the younger, digitally savvy generation, leading to increased traction and potential business growth.
Smart, an automotive brand, achieved great success in China in 2022 by leveraging the promise of AI, art, and business to establish itself as a brand synonymous with luxury, technology, and co-creation.
Smart's gamified content, created in collaboration with AI and internet behemoth Baidu, piqued customer attention and boosted interaction. 
The Smart AI Co-creation Plan initiative requested people to submit voice fragments inspired by natural sounds and pyrotechnics for the music co-creation experiment.
Smart converted the traditional concept of brand music into an immersive and interactive experience by arranging the music with Baidu's AI technology and engaging the talent of Wang Sulong for the words and singing.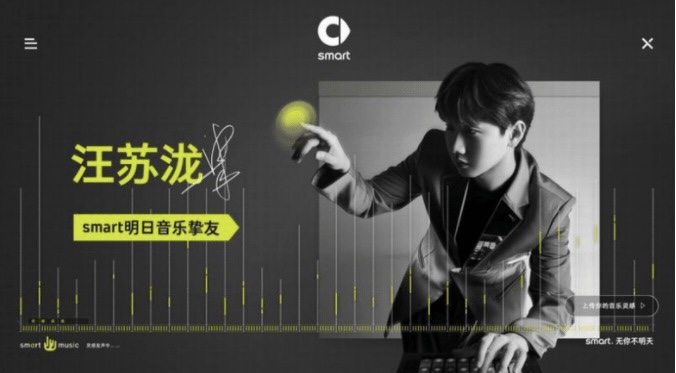 Source: SMART
This gamified strategy not only created a sense of belonging and recognition among existing Smart vehicle customers, but it also struck a chord with young creators, resulting in a high number of app downloads and pre-sale orders. Smart's gamified content success demonstrates how businesses can use interactive experiences to engage varied target audiences and achieve company growth.
To summarize, the rapid growth of AI and broad adoption of AR and VR technology means that personalized and targeted advertising, as well as tailored content, are positioned to play an increasing role in branding and marketing. 
The efficiency of these novel solutions, which range from AI chatbots to AI-generated voices and automated AI marketing tools, is predicted to skyrocket. To remain competitive and maintain market share, businesses must embrace this trend. Contact ChoZan here to see how our company can help your brand learn from China when it comes to successful strategies such as these.
Sources:
https://www.sohu.com/a/595226685_808534
https://www.sohu.com/a/493093734_120317998
https://jingdaily.com/virtual-and-ai-led-marketing-in-china-insights-for-brands/