OUR DIGITAL CHINA SERIES
BOOKS AND GUIDEBOOKS
We love reading and learning and we hope you do too. We regularly publish guides and books to inform and educate people on China, its marketing and technology landscape, its consumers, tourists and influencers. Check out our titles here.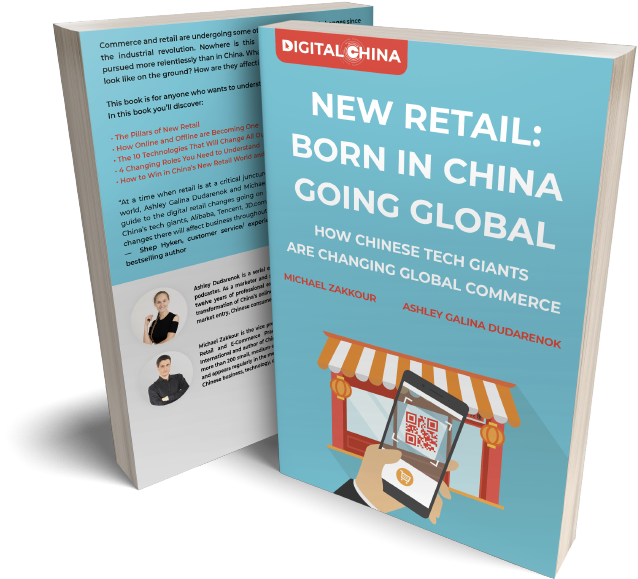 NEW RETAIL BORN IN CHINA GOING GLOBAL:
HOW CHINESE TECH GIANTS ARE CHANGING GLOBAL COMMERCE
Co-authored with Michael Zakkour
A behind the scenes look at how, in only a few short years, Jack Ma's vision of New Retail has become a reality. This complete integration of online, offline, technology and entertainment has changed the rules of commerce forever.
If you want to see the future of retail and commerce, read this book, and then, if you can, spend a week shopping in Shanghai. You'll not only discover what New Retail is and how to participate in the ecosystems and habitats in China that make it work, but hopefully you will be inspired to adapt the technologies, ideas and consumer-centric vision of New Retail into your business, life, brand and products.
KEY TAKEAWAYS FROM THE BOOK INCLUDE
How the elements that make up New Retail were honed in China and why they came together to create a new model
Why New Retail is about ecosystems and habitats, not channels and e-commerce
What drives the modern Chinese consumer and why you need New Retail expertise to win them over
How New Retail is going global and why you can adapt
New Retail: Born In China Going Global will help you understand one of the world's most crucial markets. Give it a read and get ahead of the game.
KEY TAKEAWAYS FROM THE BOOK INCLUDE
"New Retail was a term introduced by Jack Ma in October 2016 to describe a complete reimagining of retail with a focus on integrating online and offline retail. It was also one aspect of a set of 5 emerging trends – New Retail, New Manufacturing, New Finance, New Technology and New Energy – that Alibaba prioritized for its growth strategies going forward. During the same speech, Mr. Ma also predicted that the term "e-commerce" would soon go out of use. It would soon be an assumed and built-in part of future commerce and he said that the word would be retired internally at Alibaba. 
But what does New Retail really mean? What does New Retail look like? How does it work? It's a merging of online and offline. It's a broad expansion of commerce as an embedded part of our daily experiences. It's a system that brings together logistics, delivery, warehousing and purchasing so that it can be done in ways that are cost effective and profitable for merchants and convenient for customers. In China, it's a space already dominated by a few tech titans who control these highly integrated platforms. These big platforms allow merchants and brands to make use of their integrated systems. And it's something every brand and company owner needs to understand if they want to succeed not only in Asia but anywhere in the next five to ten years.
The New Us
In a sense, we've entered a cyborg age, but not in the way we anticipated or the way it has been presented in sci-fi. Twenty years ago, going online was something we did in our spare time. Something to entertain us and distract us from real life. Even ten years ago, before the advent of the iPhone and the smart device age it ushered in, we led largely offline lives. Starting roughly in 2009, a perfect storm of innovation in technology, smart devices, computing power, connectivity, logistics and e-commerce forever altered who we are and how we live.
China's rise as a global manufacturing centre and then as a consumer superpower played a huge role in that transformation and its re-emergence as a global power in recent years has accelerated other transitions. China experienced a perfect digital storm."
This is a fantastic read on the China market/customers and how to compete and win. More importantly, it's a great read on how the world of retail is changing, what the implications are, and what is required to survive and thrive in this new world. Michael uses tons of real world examples of companies that are succeeding, not just theoretical or anecdotal evidence/examples.
Insightful, digestible overview of digital disruption, new retail, and the influential powers behind it all. This book is so comprehensive and important for anyone who wants to start a company/brand today that it is mandatory reading for my students in the Innovation Course I am teaching at Parsons School of Design.
Zakkour and Dudarenok deliver on the promise and premise of the book, that Alibaba and China's technology and digital commerce companies have built an entirely new version of what retail is and will be. I highly recommend this book to brands, retailers and anyone looking to understand where commerce and consumption are in Asia and where it is headed globally.
The book was very informative about today's global market. The author was able to capture my attention throughout the book. This is not easy because I get bored if a book is difficult to read. I would strongly recommend the book if your interested in the future of global markets and how they will impact our lives.
Ashley is a well known marketing thought leader, LinkedIn Top Voice in marketing and an Asia-Pacific Top 25 Innovator. She has lived and worked in Greater China for over 15 years and is your go-to person for everything related to China marketing. Through her marketing agency, Alarice, she has worked with some of the world's biggest brands and through ChoZan, she has given Chinese digital marketing training to teams at major corporations throughout Asia and globally. She has a large following on LinkedIn, where she publishes her China insights daily, as well as on her Instagram and YouTube channels.
She's been a member of Alibaba's Global Influencer Entourage from 2017 to 2019, a member of JD's Global China Experts Group in 2018, and worked directly with a Tencent co-founder to conquer Western social media from 2017 to 2019.
Having already published three Amazon top sellers, Unlocking The World's Largest E-Market: A Guide to Selling on Chinese Social Media, Working with Bloggers, Influencers and KOLs, and New Retail: Born In China Going Global, Ashley is always looking for ways to educate people on opportunities in China.