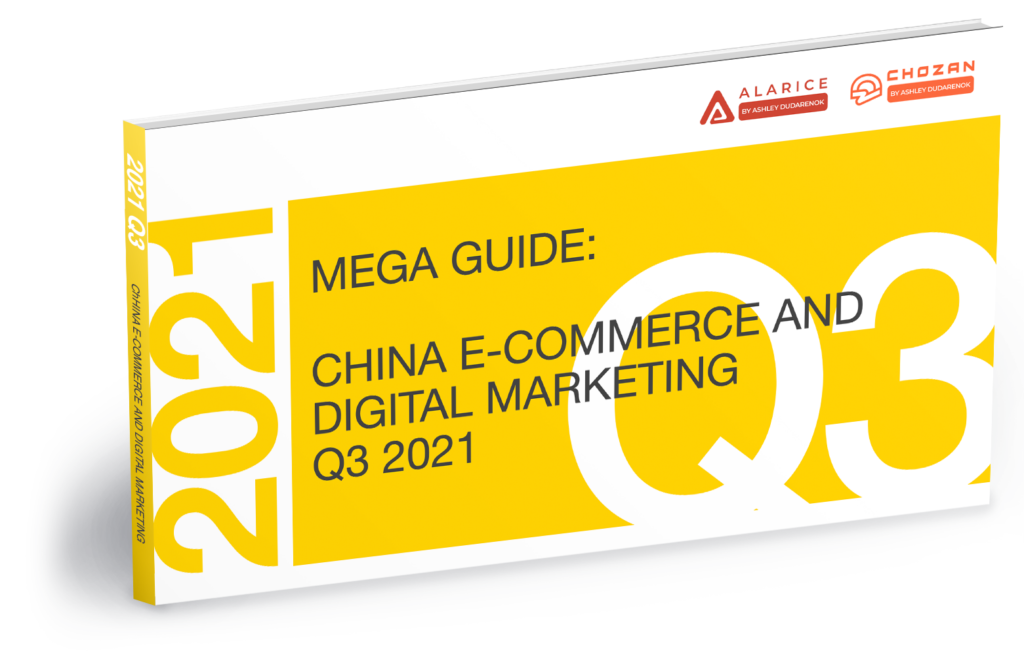 THE MEGA GUIDE: CHINA E-COMMERCE AND DIGITAL MARKETING, Q3 2021
This 690+ page report will provide you with the latest insights about China's digital space, covering major consumer groups and the most popular social media and ecommerce platforms. You will also find up-to-date, actionable advice on China marketing strategies and latest industry updates from 50+ China experts and the ChoZan marketing team.
An overview of China's economy in Q3 2021 
Latest trends affecting China's development 
Insights on China's major consumption powers by Gen Z, Super moms. Pet owners, Lower-tier city dwellers, Seniors etc 
15 key consumption economies in China in 2021
Emerging consumer groups such as Gen Z moms, delicate man, night owls etc 
New Consumption trends
E-commerce and livestreaming ecommerce in 2021
Insights on major ecommerce platforms 
Latest results of 618 2021 and other ecommerce shopping festivals 
Major Chinese social media updates in 2021
Your marketing calendar for Q3 2021
China's KOL landscape 
Industry overview: FMCG, Luxury, F&B, Automobile, Travel 
More than 50 top China experts' opinions on the Chinese digital trends you need to pay attention to in Q2 2021
And actionable tips for market entry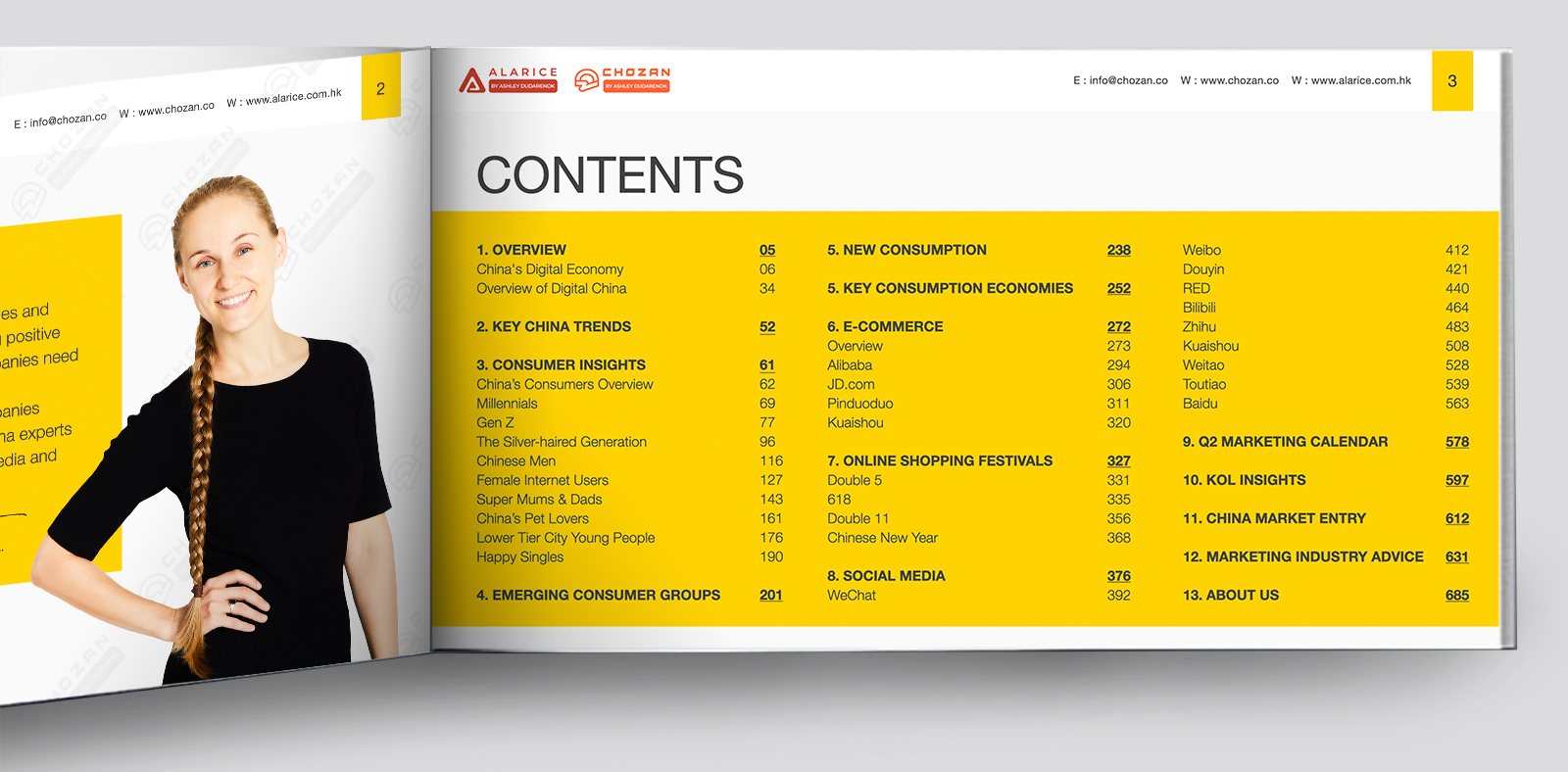 ChoZan team prepared another China Mega Guide: E-commerce and Digital Marketing, Q3 2021 to help marketers and China watchers get latest insights on China's economic development, in addition to ecommerce and digital marketing trends. In Q3 of 2021 China's digital space was re-transformed by new regulations, rules and consumer demands. While China's major economic indicators keep showing positive growth, Covid-19 caused shifts in consumers' behaviour, to which companies need to keep close attention. We collected the latest insights and developed detailed profiles of major consumer groups in China, such as:  
Millennials: China's 400+ million millennials represent a huge and emerging consumer group with a large impact on the economy. Most millennials own smartphones that are constantly in use and used in more versatile ways than their counterparts in the West. Millennials enjoy luxury brands. Forecasts expect them to make up 40% of global luxury goods sales by 2024, with around 58% of that group aged 18 to 30. It's key for brands to understand the consumer behaviours of millennials.
Gen Z: Post-95s, Gen Z, or Dotcom kids. They go by many names and are a truly global generation, shaped by the technology of the 21st century. Gen Z will make up 27% of the population by 2025. About half will earn an university degree They'll have an average of 18 jobs across 6 careers and 15 homes. Around 2,000,000,000 Gen Zs globally
The Silver-Haired Generation: Chinese seniors are eager to benefit from China's fast-growing mobile technology. Accounting for 13% of the population in 2015 and with 255 million in 2020, the senior group is expected to account for 25% by 2050. WIth such eagerness to adopt new technology and tools, brands should look to meet the needs of the older generations, who desire experiences, social connections and learning opportunities.
Female Internet Users: Chinese women with higher education and greater participation in the workforce have more financial autonomy and personal freedom. 56% of the female population completed secondary school and enrolled in tertiary education, while only 46% of men do so. Women are spending more on themselves. Cosmetics sales rose 13% in 2019, while aesthetic medical services have grown 24% in five years. Not only are women spending on themselves, but they're also responsible for three quarters of household purchasing decisions. Women represent a significant power in China's market.
Chinese men: Chinese men are starting to care more about their appearance and this trend will continue in 2021. In 2020, about 30% of cosmetic medicine consumers in China were male.
Super Moms and Dads: The replacement of China's one child policy with the two child policy in 2015 has created an organic push for the maternity and baby products market. The sector is expected to maintain an annual growth rate of 20-30% for the next ten years. Post-90s super moms account for 70% of related product categories, according to JD platform data. They have become a major market force, preferring trendy products while being less price-sensitive.
Pet Lovers: China's pet lovers share overlaps with millennials and happy singles. The pet industry is growing but there's still lots of untapped potential. Pet lovers are creating unique lifesyles and communities that include socializing and accessorising. Additionally, pet owners are willing to pay for quality products.
Lower Tier City Youths: 930 million Chinese people live in cities designated third tier or lower and in rural areas, but this previously overlooked group has had significant growth in recent years with consumption expected to reach US$8.4 trillion by 2030. Lower tier city young people in what the Chinese call "sinking cities" aren't sinking at all. They're spearheading this growth.
Happy Singles: The 260 million single adults in China generally have more disposable income and are spending on shopping, socializing and travelling. Chinese singles are looking for experiences, enjoyment, and fulfilment. Men account for the majority of the single population.
In this report you will also find emerging consumer groups gaining more power in H2 2021:
Gen Z moms
Delicate men 
Medical Beauty Devotees
Night Owls 
In order to help companies navigate market entry we also collect latest industry insights and best practices for ecommerce and social media platforms:
WeChat, Weibo, Red, Douyin, Zhihu and others
Tmall, JD and Pinduoduo
In this report ChoZan team monitors latest insights in Q3 of 2021 to help companies identify new opportunities and act on it for the following industries: 
FMCG
F&B
Luxury
Travel
Automobile
Education
Our founder Ashley Dudarenok has also interviewed more than 50 China experts to get their take on the recent developments in the Chinese economy, consumer landscape, digital marketing and ecommerce space.  
Download ChoZan's Mega Guide: China E-commerce and Digital Marketing Q3 2021 to get not only insights and trends, but also your marketing calendar.  Or contact the ChoZan team to get answers for your China marketing strategy planning. 
CHINA Q3 2021 KEY HIGHLIGHTS
China's e-commerce market is projected to reach USD 1,260,359 in revenue during 2021, this would put them way over other major players such as the US and Japan.
China's economy has been rapidly recovering since the first quarter of 2021, with China's GDP expected to grow 8% in the same year.
The number of Chinese monthly internet users has increased in the first half of 2021 but this number has not exceeded the highest traffic of 116 million active users in 2020 Q2.
The medical beauty industry in China is growing. The market size is expected to reach 311 billion RMB in 2023.
Douyin has held their Double 5 festival this year from April 30th to May 9th. Due to the event period marking the beginning of summer, summer apparel items became best sellers during 2021 Double 5 on Douyin.
Cross-platform KOLs are now the trend. More than 67% of cross-platform KOLs operate on 2 platforms with the most popular combination being Douyin and Kuaishou.
Ashley Dudarenok is a China marketing expert, serial entrepreneur, global keynote speaker, 3 time bestselling author, vlogger, podcaster, media contributor and female leadership spokesperson. She was recognized as a LinkedIn Top Voice in Marketing in 2019 and chosen as an Asia Pacific Top 25 Innovator by the Holmes Report. She is the Founder of China-focused social media agency Alarice and China insights and training company ChoZan. Ashley is an active supporter of women in leadership and business and is the creator of the self-development and mentorship program FIRE
.
Jacqueline Chan is Project Director at Alarice and ChoZan. She has hands-on experience in account management for multinational brands in the FMCG, luxury and hospitality sectors. She knows how to develop and execute in-depth digital marketing strategies on the most popular Chinese social media platforms, like WeChat and Weibo, and run creative campaigns on platforms such as Douyin, RED, Zhihu and more.
Wendy Chen is the Head of Digital Products at ChoZan. She's one of the leading experts on KOL campaigns and China's fan economy. As a marketing manager at Alarice, Wendy leads account management projects on niche social media platforms and helps brands to launch creative campaigns on Bilibili, RED, Douyin and other Chinese social media platforms.
Natalia Drachuk is Marketing Director at Alarice and ChoZan. For the last 5 years at Alarice Natalia has guided clients and developed global marketing strategies and social media plans.
Maureen Lea is a writer, editor, copywriter and educator who has worked in many genres and formats. She specializes in research, finding patterns and making data understandable.
ChoZan's training and resources will increase your expertise about the Chinese market, Chinese consumers, Chinese social media, KOL/influencer marketing and China's technology landscape. This includes:
The China Marketing Circle is an exclusive membership group for China watchers with weekly insights, trends, strategies and case studies related to consumers and marketing in China.