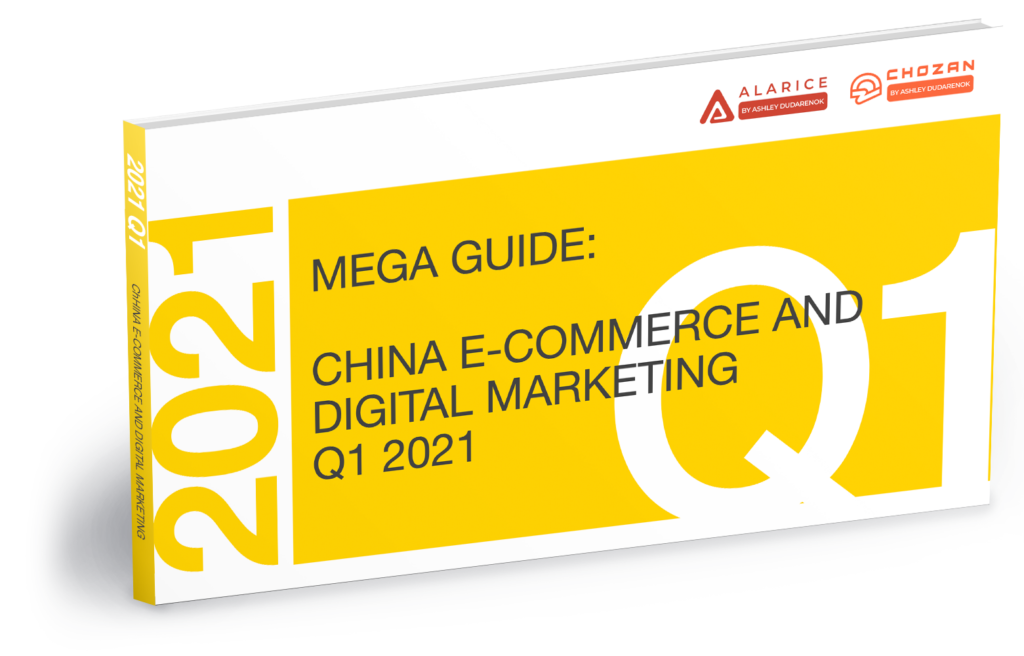 THE MEGA GUIDE: CHINA E-COMMERCE AND DIGITAL MARKETING, Q1 2021
This 600+ pages report will give you a comprehensive overview of the major trends and happenings in China's e-commerce and digital marketing in Q1 2021. Our ChoZan team has put together key information and data and interviewed over 50 China experts to give only the most up-to-date, actionable insights.
An overview of China's economic recovery and growth in Q1 2021
Economic trends in China in Q4 2020 and Q1 2021
The most important China consumer group insights for Gen Z, the silver-haired generation, powerful women and more
Key consumption trends in early 2021
E-commerce in 2021, the major players and changes you need to understand
Everything you need to know about China's online shopping festivals in Q1 and Q2 2021
Major Chinese social media updates in 2020 
Your marketing calendar for Q1 2021
More than 50 top China experts' opinions on the Chinese digital trends you need to pay attention to in Q1 2021
China market entry in 2021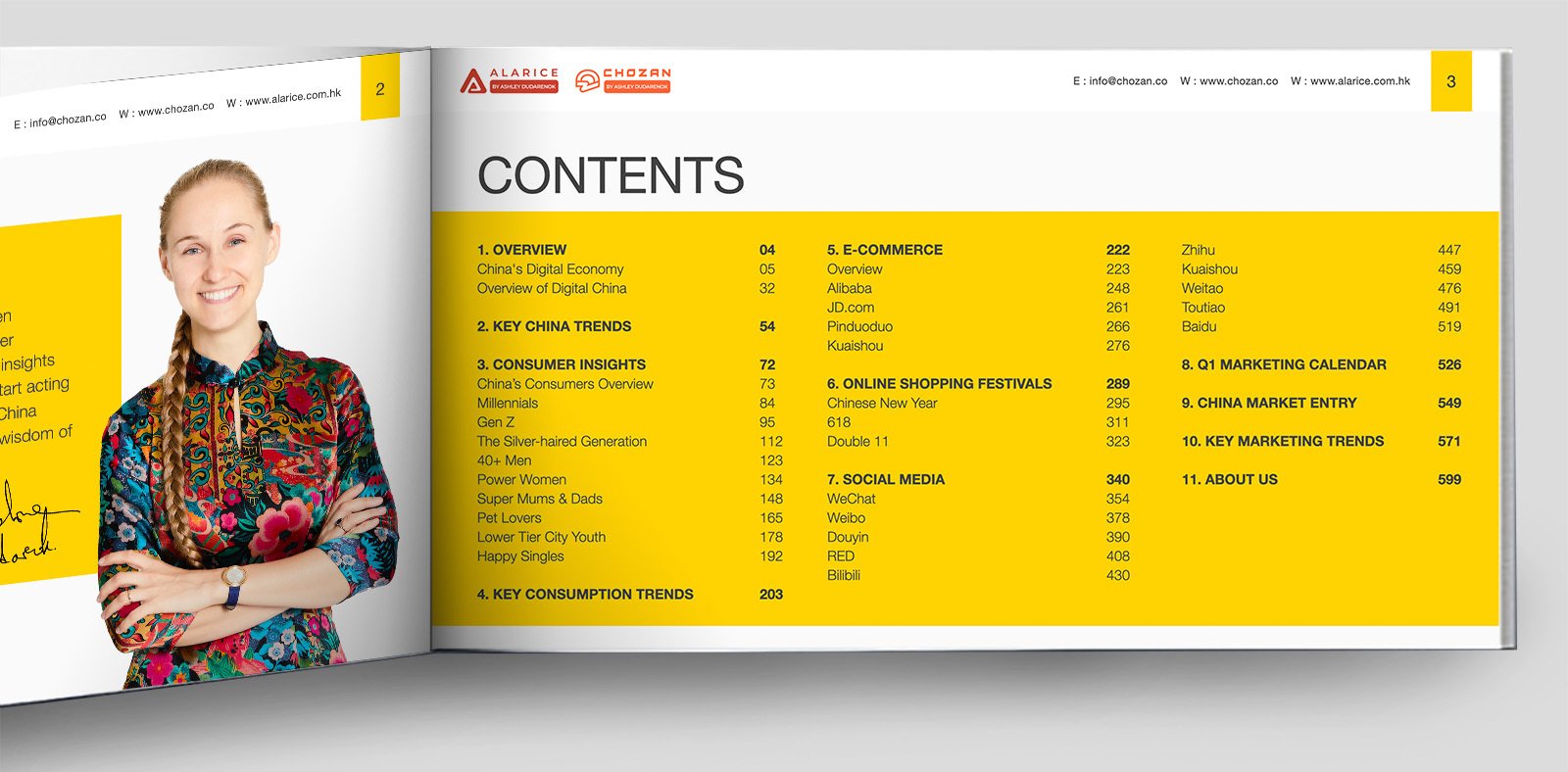 The Mega Guide: China E-commerce and Digital Marketing Q1 2021 is ChoZan's latest mega report in a series of quarterly, forward-looking reports about  ecommerce and digital marketing in China. 
2021 is expected to be one of the most promising years for China's tech giants as many have recently announced their plans for upcoming IPOs. As a result, we expect that China's digital economy will contribute even more to GDP growth in 2021. At the end of 2020, it was estimated at near 100 trillion RMB despite Covid-19. Although China shows positive economic recovery, the digital space will not stay the same as it's being reshaped by new regulations and laws. To help companies navigate the fast-changing conditions of the China market, we've included new sections interviewing China experts about major China trends to pay attention to in 2021. We are excited to help western brands to succeed in China, contact us if you have any China related questions. 
Every day ChoZan's China marketing experts collect information on consumer groups, their shopping behavior, preferences, demands and interests. Apart from an extensive overview of 9 major consumer groups our team also summarizes 9 China consumption trends for Q1 2021: The Sleep Economy, The Blind Box Second Wave, The Home Economy, Meal Replacements, The Health Conscious Economy, Guochao, The Pet Economy and Domestic Luxury Consumption. In this report you'll find more about these trends and the following consumer groups:
Millennials
Gen Z
The Silver Haired Generation
Chinese Men 40+
Power Women
Super Moms and Dads
China's Pet Lovers
Lower City Youth
Happy Singles
This mega report will also provide insights on four major e-commerce platforms – Taoba/Tmall, JD, Pinduoduo and Kuaishou. We also collect the latest numbers and insights on China's biggest shopping festival, Double 11, and the most import holiday of the year, the Spring Festival. Livestreaming and gamification already went to the next level during Double 11 2020 with 3D views, virtual idols and cat care games.  We're excited to see further development during Chinese New Year.
Following the huge trend of private traffic in China, ChoZan also reviewed functionality updates on major Chinese social media platforms:
To inspire your marketing strategy and campaigns, ChoZan not only prepared a Q1 marketing calendar, but added new sections about China market entry in 2021 and the most common mistakes. China Marketing expert Ashley Dudarenok talked to more than 50 China experts to get their opinion on what will be different in China in 2021 and what companies need to pay attention to. If you plan to enter China in 2021 or want to stay updated about major marketing and e-commerce trends, download ChoZan's Mega Guide: China E-commerce and Digital Marketing Q1 2021 to get the latest knowledge. China Q4 E-commerce and Marketing Outlook is available here. 
CHINA Q1 2021 KEY HIGHLIGHTS
Millennials enjoy luxury brands. Forecasts expect them to make up 40% of global luxury goods sales by 2024, with around 58% of that group aged 18 to 30.
There are 764 Taobao villages with a transaction volume of 50-100 million yuan and a total of 745 with a transaction value of more than 100 million yuan.
Right after the release of 'Mini Shop' on the WeChat platform, Youzan's and Weimob's stock fell 10% and 12% respectively.
As one of China's most popular content distribution platforms, Toutiao is serving over 120 million daily active users (DAU) and 260 million monthly active users (MAU).
When it comes to the Bilibili platform, the proportion of users with a bachelor's degree or higher is 10% higher than that of the whole network.
A majority of Douyin content creators are Gen Z (60%) and from lower-tiered cities (tier 4 or below – 44%).
Ashley Dudarenok is a China marketing expert, serial entrepreneur, global keynote speaker, 3 time bestselling author, vlogger, podcaster, media contributor and female leadership spokesperson. She was recognized as a LinkedIn Top Voice in Marketing in 2019 and chosen as an Asia Pacific Top 25 Innovator by the Holmes Report. She is the founder of China-focused social media agency Alarice and China insights and training company ChoZan. Ashley is an active supporter of women in leadership and business and is the creator of the self-development and mentorship program FIRE
.
Jacqueline Chan is Project Director at Alarice and ChoZan. She has hands-on experience in account management for big multinational brands from the FMCG, luxury and hospitality sector. She knows how to develop and execute in-depth digital marketing strategies on the most popular Chinese social media platforms, like WeChat and Weibo, and run creative campaigns on platforms such as Douyin, RED, Zhihu and more.
Mason Ku is Marketing Director at Alarice and ChoZan. For the last 7 years at Alarice, Mason helped big corporate clients from all over the world to successfully enter China and effectively allocate marketing budgets for campaigns. His knowledge and expertise are highly beneficial for both B2C and B2B projects. Mason has hands-on experience in account management for brands from the following industries: FMCG, hospitality, finance and banking.
Wendy Chen is the Head of Digital Products at ChoZan. She's one of the leading experts on KOL campaigns and China's fan economy. As a marketing manager at Alarice, Wendy leads account management projects on niche social media platforms and helps brands to launch creative campaigns on Bilibili, RED, Douyin and other Chinese social media platforms.
Natalia Drachuk is Marketing Director at Alarice and ChoZan. For the last 5 years at Alarice Natalia develops global marketing strategies and social media plans.
Maureen Lea is a writer, editor, copywriter and educator who has worked in many genres and formats from full length books on academic topics to short, fun rhymes. She specializes in research, finding patterns and making data understandable.
ChoZan's training and resources will increase your expertise about the Chinese market, Chinese consumers, Chinese social media, KOL/influencer marketing and China's technology landscape. This includes:
The China Marketing Circle exclusive membership group for China watchers with weekly insights, trends, strategies and case studies related to consumers and marketing in China.