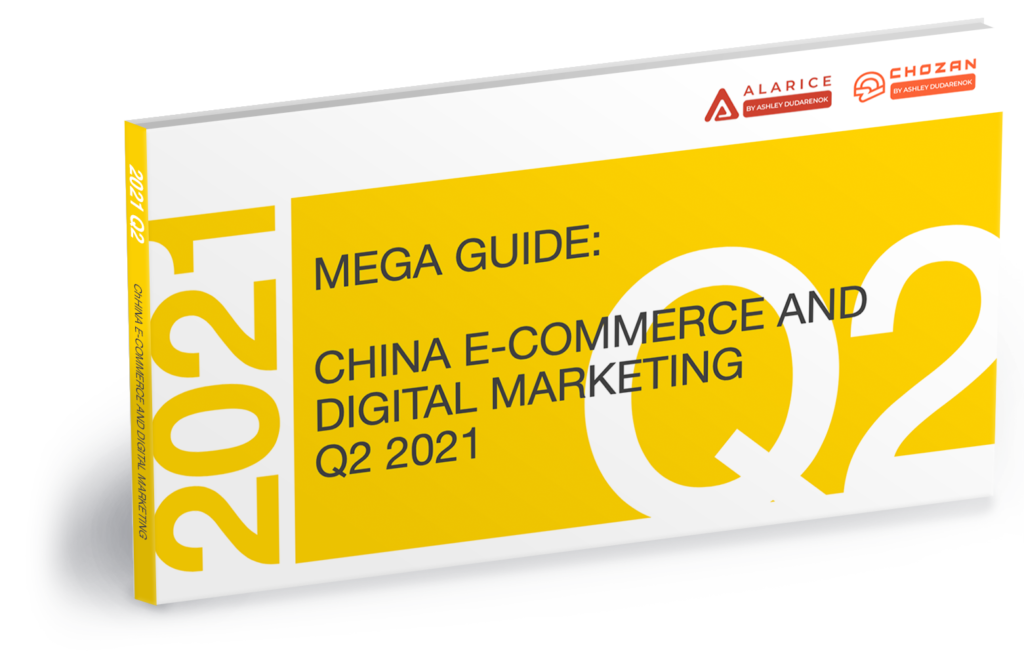 THE MEGA GUIDE: CHINA E-COMMERCE AND DIGITAL MARKETING, Q2 2021
This 650+ page report will equip you with latest insights on 9 major consumer groups, 3 emerging consumer groups and major trends and happenings in Chinese e-commerce and digital marketing in Q2, 2021. Apart from putting together key information and data, our ChoZan team has interviewed over 50 China experts to give the most up-to-date, actionable advice on China marketing strategies.
An overview of China's economic recovery and growth in Q2 2021
Economic trends in China in Q2 2021
Insights on the most important consumer groups in China: Millennials, Gen Z, the silver-haired generation, women who shop online and more
An overview of the new consumers groups: Night Owls, Medical Beauty Devotees, Health Fitness Fans
15 key consumption economies in China in 2021
E-commerce and Chinese cross-border e-commerce in 2021
Insights on Alibaba, JD, Pinduoduo, Kuaishou and changes you need to understand
Everything you need to know about China's online shopping festivals in Q2 2021 including China's Double 5 festival
Major Chinese social media updates in 2021
Your marketing calendar for Q2 2021
China market entry in 2021
More than 50 top China experts' opinions on the Chinese digital trends you need to pay attention to in Q2 2021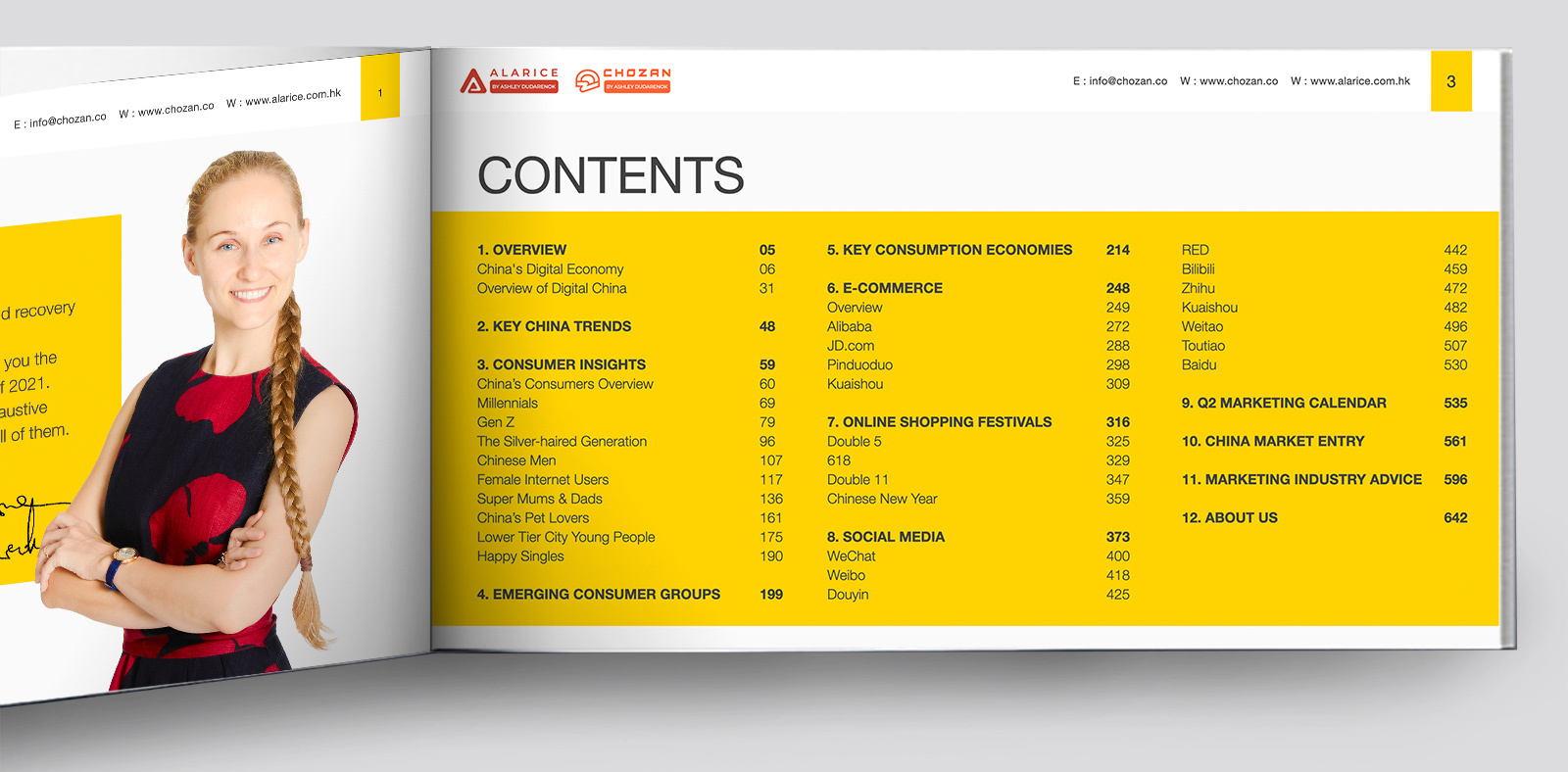 ChoZan's new Mega Guide: China E-commerce and Digital Marketing, Q2 2021 is a comprehensive overview of the latest changes and trends in e-commerce and digital marketing in China.
In Q1 2021, China's economy showed positive recovery, and its GDP grew 18.3% compared to last year's deep downturn. Total online retail sales of consumer goods reached 10.5 billion RMB, with 33.9% YoY growth. While China's consumption trends are positive and it gives companies new opportunities, competition with local brands has become more intense. In order to help companies better understand modern Chinese consumers ChoZan's China marketing team monitors changes in their shopping behavior, preferences, demands and interests on a daily basis. In our Mega Guide you'll find 15 major consumption economies trending in China right now:
The Night Economy
The Lazy Economy
The Sleep Economy
The Pet Economy
The Home Economy
The IP Economy
The Blind Box Economy
and many more
Apart from an extensive overview of 9 major consumer groups we also have insights on 3 new consumer groups. In this report, you'll find consumption behaviour, preferences and demographic information on:
Millennials
Gen Z
The Silver-Haired Generation
Men Over 40
Female Internet Users
Super Moms and Dads
Pet Lovers
Lower Tier City Youth
Happy Singles
Night Owls
Medical Beauty Devotees
Health Fitness Fans
We're excited to help Western brands succeed in China. Contact us if you want to have a better understanding of your target consumer groups and develop your China marketing strategy. 
In this Mega Guide, you'll find insights about 3 major e-commerce festivals: 618, Double 11 and CNY. We've also included the most important data you need to know about Shanghai's new Double 5 promotion.
Social keeps merging with e-commerce, so we also have analysis of developments on four major e-commerce platforms – Taobao/Tmall, JD, Pinduoduo and Kuaishou – and functionality updates for China's major social media platforms:
China Marketing expert Ashley Dudarenok talked to more than 50 China experts to get their marketing advice for the following industries: B2B, Luxury, Jewellery, FMCG, Hospitality and more.
Download ChoZan's Mega Guide: China E-commerce and Digital Marketing Q2 2021 to get insights, trends and your marketing calendar  and campaign ideas. Our Q1 Mega Guide is available here. If you have any China related questions, please don't hesitate to contact us. 
CHINA Q2 2021 KEY HIGHLIGHTS
The total online retail sales of consumer goods reached 10.5 billion RMB, with 33.9% YoY growth in 2021 Q1.
Because of the pandemic, there's been a change in the purchase intentions of Post-95s. More than 70% of them are now buying for their families instead of just for themselves.
Accounting for 13% of the population in 2015 and with 255 million in 2020, the senior group is expected to account for 25% by 2050.
 COVID-19 accelerated the fresh grocery e-commerce industry with nearly 370% growth on WeChat compared to the last year.
Food, Care, and Womenswear products were the highest purchased categories from 618 live streams with 36.6% of user order amounts from live streams between 201-600 RMB.
The user scale of Tencent, Alibaba, and Baidu has exceeded 1 billion, and the TouTiao system has increased by 7.1% year-on-year.
Ashley Dudarenok is a China marketing expert, serial entrepreneur, global keynote speaker, 3 time bestselling author, vlogger, podcaster, media contributor and female leadership spokesperson. She was recognized as a LinkedIn Top Voice in Marketing in 2019 and chosen as an Asia Pacific Top 25 Innovator by the Holmes Report. She is the Founder of China-focused social media agency Alarice and China insights and training company ChoZan. Ashley is an active supporter of women in leadership and business and is the creator of the self-development and mentorship program FIRE
.
Jacqueline Chan is Project Director at Alarice and ChoZan. She has hands-on experience in account management for multinational brands in the FMCG, luxury and hospitality sectors. She knows how to develop and execute in-depth digital marketing strategies on the most popular Chinese social media platforms, like WeChat and Weibo, and run creative campaigns on platforms such as Douyin, RED, Zhihu and more.
Mason Ku is Marketing Director at Alarice and ChoZan. For the last 7 years at Alarice, Mason helped big corporate clients from all over the world to successfully enter China and effectively allocate marketing budgets for campaigns. His knowledge and expertise are highly beneficial for both B2C and B2B projects. Mason has hands-on experience in account management for brands in the FMCG, hospitality, finance and banking sectors.
Wendy Chen is the Head of Digital Products at ChoZan. She's one of the leading experts on KOL campaigns and China's fan economy. As a marketing manager at Alarice, Wendy leads account management projects on niche social media platforms and helps brands to launch creative campaigns on Bilibili, RED, Douyin and other Chinese social media platforms.
Natalia Drachuk is Marketing Director at Alarice and ChoZan. For the last 5 years at Alarice Natalia has guided clients and developed global marketing strategies and social media plans.
Maureen Lea is a writer, editor, copywriter and educator who has worked in many genres and formats. She specializes in research, finding patterns and making data understandable.
ChoZan's training and resources will increase your expertise about the Chinese market, Chinese consumers, Chinese social media, KOL/influencer marketing and China's technology landscape. This includes:
The China Marketing Circle is an exclusive membership group for China watchers with weekly insights, trends, strategies and case studies related to consumers and marketing in China.