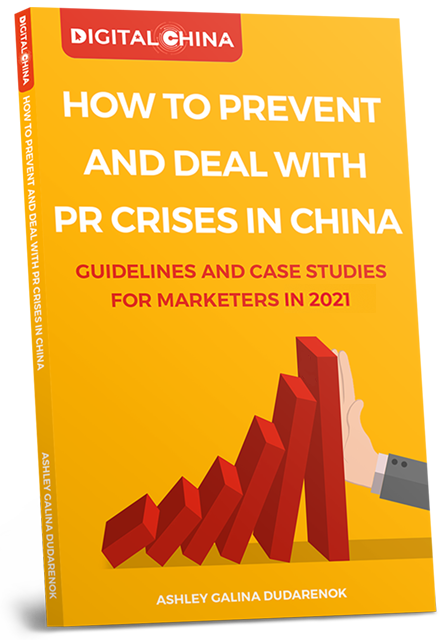 HOW TO PREVENT AND DEAL WITH PR CRISES IN CHINA
This book has been written to help companies avoid PR Crises when dealing with China. Find out examples of mistakes and PR Crises and get practical advice on how to respond to certain political, social, cultural, taste and preferences issues.
This book is meant to help brands avoid some common PR mistakes. It's not an exhaustive list or the final word. Things in China change quickly, especially with a range of critical events overlapping in 2020 and 2021. 
However, if you're aware, flexible, and ready to tackle the issues at hand, you have every chance of success.
Here's an excerpt to give you a taste.

"Effective Ways to Avoid Problems
Make sure all employees are aware of your company's code of conduct, values and social media policies. During your on boarding process and at regular intervals after that, employees should be made clearly aware of all policies and guidelines around expected standards of behavior both in person and online, while at work and while off duty. This includes how you expect people to approach issues like natural disasters, local and global emergency situations and the consequences for breaching these policies. Keep an eye on your staff and listen to fellow employees who report issues.
If an employee goes rogue and makes offensive statements, stay on top of things and react promptly. Don't wait. Act swiftly and communicate in Chinese and English on multiple public channels to show your seriousness and sincerity. In a market and society that moves as fast as China's, people are less understanding of a slow pace. And make sure you understand the pace. Your country's fast might be China's slow.
"How to do Damage Control
Xiaomi Makes Lemons Out of Lemonade. In 2015, Xiaomi co-founder and CEO, Lei Jun took the stage in New Delhi as Xiaomi launched one of its first products for the international market. This was his first time speaking English at a launch event. It's likely that he chose to do this to better communicate with an Indian audience and so he could talk to the audience directly rather than through an interpreter.
Given that his language skills were very basic, this was a brave choice. He approached the venture with gusto and good humor and laughed with the audience as, early in his speech, he had to correct himself quickly after he mistakenly said that he was very happy to be in China. He gamely kept going and delivered his announcement that everyone in the audience would receive a Mi Band, the brand's version of a Fitbit, in clear but sometimes broken English, to loud cheers from the audience. Throughout the speech, he loudly repeated the phrase "Are you OK?" several times, seeming to mean "Are you excited?"
Even though his English wasn't accurate, he was well received for a few reasons. Not only were they all Mi fans, happy to have the company's CEO on stage in front of them and grateful for a free gift, the audience was made up largely of English second language speakers who understood the difficulties of learning a new language. They seemed to appreciate Lei Jun's effort and willingness to make mistakes just to communicate with them personally. The brand is hugely popular in India.
Although a minority seemed to view the speech as a PR fail, it was embraced by Mi fans and the internet at large when it was remixed and autotuned to go with a cheery, humble tune. There was even a second remix done with a patriotic Chinese folk tune. It went viral and became a hit on blogs, industry news sites and social media, spreading the Xiaomi brand name and some joy right along with it.
"Ashley is an up-to-date, enthusiastic and passionate expert in business marketing and social media in China. She is very focussed on giving effective advice on the best strategies in the market. I strongly recommend her"
Elisabetta Borghi, GrandVision NV
"Ashley is an expert on the latest trends in Greater China and Southeast Asia. She's passionate about her work and her energy is very visible, even from her LinkedIn profile."
Tiziana Tini, Digital Marketing and Communication Consultant
"Ashley doesn't only create content that's incredibly interesting and valuable, but also shares her inspiration and spreads knowledge of the fast-changing, growing economy that Westerners need to adapt to when expanding into China."
Jia Song, China Enterprise Business Center
COMPLETE THE FORM BELOW TO DOWNLOAD THE BOOK