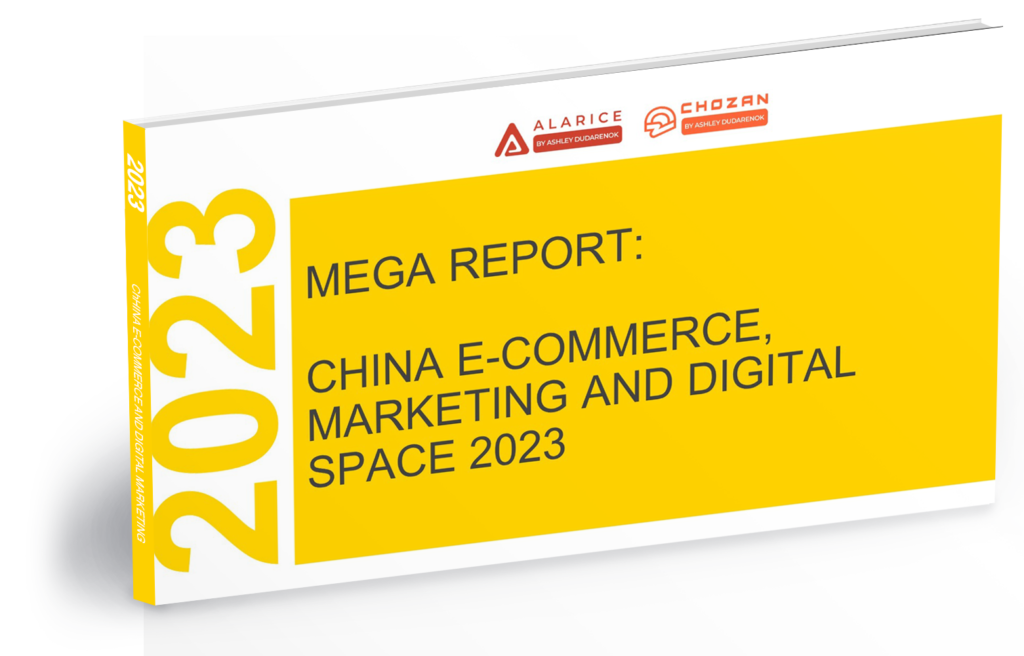 THE MEGA GUIDE: CHINA E-COMMERCE, MARKETING AND DIGITAL SPACE 2023
This 640+ page report will give you the most up-to-date information on China's digital sector, encompassing significant consumer groups as well as the most prominent social media and ecommerce sites. You'll also find current, actionable advice on China marketing tactics and industry news from 50+ China experts and the ChoZan marketing team.
Economic overview and lockdown impacts on China 
Important regulations
Top 5 consumer behaviour trends 
China's Metawave
Consumers insights from 15 most prominent consumer groups
20 key consumption economies of 2023
Top 8 industry guides: luxury, sports, beauty, fitness, fashion, education, electronics & maternity
6 major ecommerce platforms insights: Alibaba, JD, PDD, Kuaishou, Douyin, WeChat
Top 7 shopping festivals updates: 11.11, 618, CNY, Women's Day, Chinese Valentine's, Golden Week & Double 12 
Livestreaming ecommerce insights of 2023
Social media insights: WeChat, Weibo, Douyin, RED & Bilibili
KOLs and Influencers overview 
Marketing Calendar for 2023 
China Market entry guide, and more.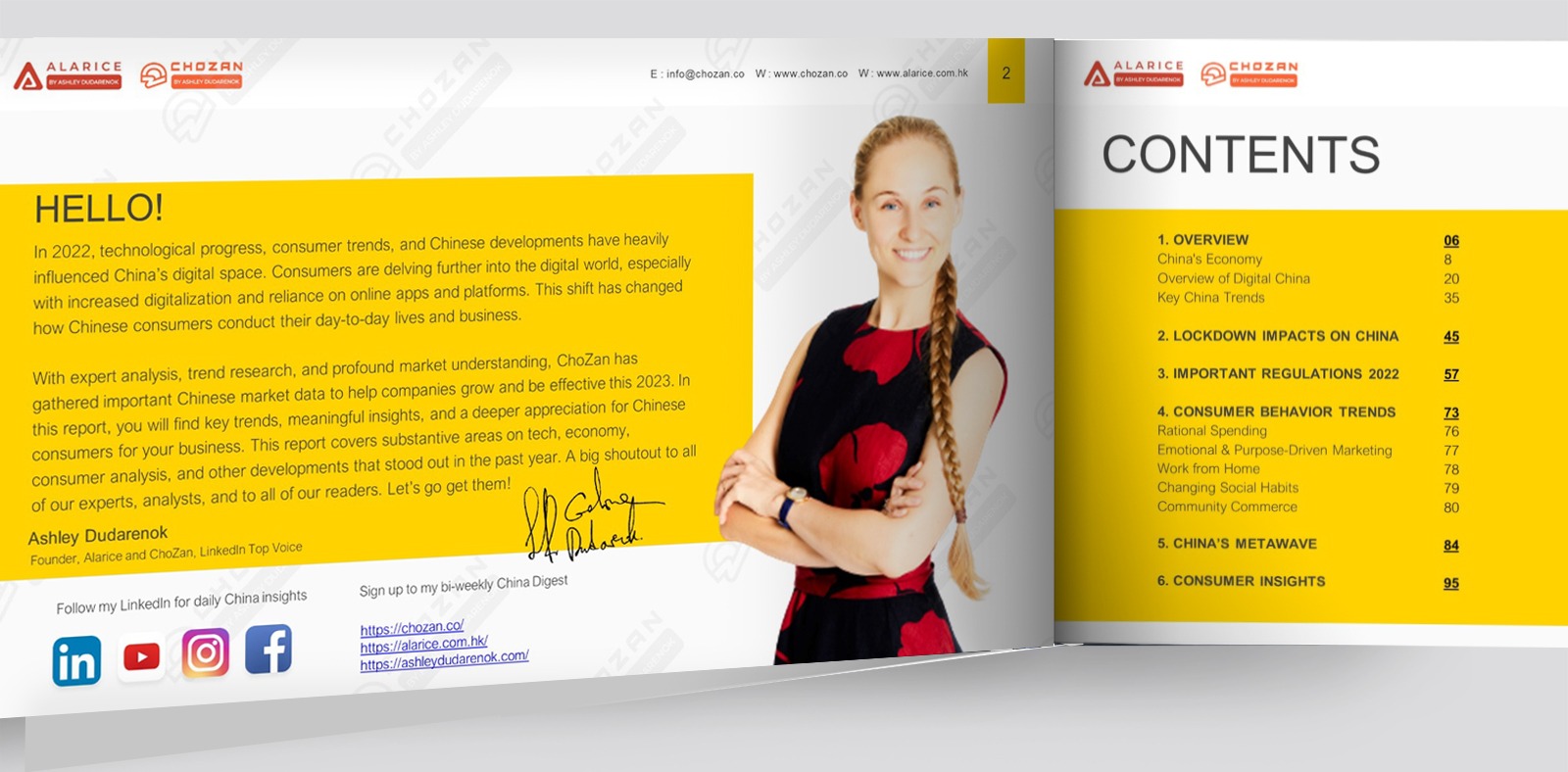 The ChoZan team created a new China Mega Guide for 2023 to assist marketers and China watchers in gaining the most up-to-date information on China's economic development, as well as ecommerce and digital marketing trends. New regulations, standards, and consumer expectations reshaped China's digital world last year. Companies must pay particular attention to changes in consumer behavior driven by Covid-19. We gathered the most recent information and created extensive profiles of significant consumer groups in China, such as: 
Millennials: China's 400+ million millennials represent a massive and emerging consumer demographic with a significant economic influence. Most millennials own smartphones, which they use more frequently and in more diverse ways than their Western counterparts. Luxury brands are popular among millennials. According to projections, they will account for 40% of global luxury goods sales by 2024, with 58% of that group aged 18 to 30. Understanding millennial consumer behavior is critical for brands.
Gen Z: Generation Z, or Dotcom kids. They go by many names and are a truly global generation molded by 21st-century technology. By 2025, Gen Z will account for 27% of the population. Approximately half will graduate from university. They will have an average of 18 jobs spread among six careers and fifteen dwellings. There are around 2,000,000,000 Gen Zs worldwide.
The Silver-Haired Generation: Chinese elders are keen to take use of China's rapidly expanding mobile technology. The senior population accounted for 13% of the population in 2015 and is predicted to account for 25% by 2050. With such excitement to accept new technologies and tools, brands should look to address the demands of older generations, who seek experiences, social connections, and educational possibilities.
Female Internet Users: Chinese women with more education and greater labor-force engagement enjoy greater financial autonomy and personal independence. Only 46% of men completed secondary school and enrolled in university education, compared to 56% of women. Women are spending more time and money on themselves. Not only do women spend money on themselves, but they also make three-quarters of household purchases. Women wield considerable power in China's market.
Chinese Men: Male consumption consciousness is rising quickly, with quality and brand becoming the decision factor of concern. Rapid increase in spending power in beauty and luxury goods. Men aged 31-50 are the main consumers of big-ticket items such as home appliances and cars. Men aged 51 and above have increased acceptance of trendy ornaments.
Super Moms and Dads: It is anticipated that the industry would continue to expand at a rate of 20-30% each year over the next ten years. According to data collected by the JD platform, "post-90s super mothers" account for 70% of sales in linked product categories. They choose trendy products and are less price sensitive, which has allowed them to become a significant force in the market.
Pet Lovers: Pet owners in China are similar to millennials and happy singles. The pet market is expanding, but there is still much untapped potential. Pet owners are developing distinctive lifestyles and groups that include socialization and accessorizing. Furthermore, pet owners are willing to spend a premium for high-quality items.
Lower Tier City Youths: Young people in lower-tier cities are spending more time buying online, with the amount of time spent on e-commerce sites increasing by 40 minutes per month, an increase of around 10% per month year on year.
Happy Singles: China's 260 million single individuals have more discretionary income and spend it on shopping, socializing, and traveling. Chinese singles seek experiences, pleasure, and fulfillment. Men constitute the vast bulk of the single population.
In this report you will also find emerging consumer groups that gained more power in 2022:
Green Consumers
Coffee Lovers 
Sports Devotees
Camping Enthusiasts 
Smart Home Appliances Consumers 
In order to assist businesses in entering new markets, we collect the most recent industry data and best practices for ecommerce and social media platforms:
WeChat, Weibo, Douyin, RED, Bilibili
Alibaba, JD, Pinduoduo, Kuaishou and more
In this report, the ChoZan team analyzes the most recent insights in 2022 to assist businesses in identifying and acting on new possibilities in the following industries: 
Luxury
Cosmetics & Beauty
Health & Fitness
Education
Electronics & Home Appliances
Mother & Baby and more
This report also includes emerging consumer trends that appeared in China over the last year:
Rational Spending: As people become more logical and rational, it will be harder for up-and-coming firms to quickly expand their customer bases.
Emotional And Purpose-Driven Marketing: People are more receptive to marketing that appeals to their emotions and sense of purpose now that they are more aware of the world around them.
Work From Home: Since working from home has become increasingly common, many are on the lookout for products and services that will help them feel pampered, look their best, and learn something new without having to leave the house.
Changing Social Habits: Through mixed experiences, consumers socialize differently. Brands may use consumer-driven live streaming and online events to link communities virtually.
Community Commerce: The 1km proximity economy has risen enormously with the staged opening of cities post-recovery.
Ashley Dudarenok, our founder has also interviewed over 50 China professionals to gather their perspectives on recent developments in the Chinese economy, consumer landscape, digital marketing, and ecommerce arena. 
Download ChoZan's Mega Guide: CHINA E-COMMERCE, MARKETING AND DIGITAL SPACE 2023 to get not only insights and trends, but also your marketing calendar. Or contact the ChoZan team to get answers for your China marketing strategy planning.
CHINA 2022 KEY HIGHLIGHTS
China's retail sales growth staged a fragile rebound in the third quarter, falling slightly to 2.7% in July before rising to 5.4% in August before falling again to 2.5% in September.
Despite depreciation of the RMB versus the USD, the RMB's exchange rate against a basket of major currencies, as assessed by the CFETS RMB index, has remained relatively constant.
China had approximately 470 million live streaming e-commerce users, an increase of 5.33 million compared with December 2021.
In 2022, the total number of KOLs saw an increase by 15% year on year. The number of KOCs increased by 5.5% which kept the highest growth rate.
Celebrity endorsement rules were tightened. New standards ban endorsing nutritional supplements, medical products, cigarette products, and tutoring services.
During Double Eleven, the advertising expenditure of beauty brands accounted for the largest proportion, as high as nearly 70% of the total advertising expenditure.
Ashley Dudarenok is a China marketing expert, serial entrepreneur, global keynote speaker, 3 time bestselling author, vlogger, media contributor and female leadership spokesperson. An award-winning marketer with first hand experience as a member of Alibaba's Global Influencer Entourage, Jingdong and Pinduoduo's Global China Experts Group.
Sabba Irfan is the Marketing Manager at Alarice and ChoZan and has experience in a variety of genres and formats. She specializes in research, pattern recognition, and data interpretation.
Jacqueline Chan is Project Director at Alarice and ChoZan. She has hands-on experience in account management for multinational brands in the FMCG, luxury and hospitality sectors. She knows how to develop and execute in-depth digital marketing strategies on the most popular Chinese social media platforms, like WeChat and Weibo, and run creative campaigns on platforms such as Douyin, RED, Zhihu and more.
Syca Jiang is the Head of Research and Strategy at Alarice and ChoZan with over 5 years experience in developing China market research and strategies for world leading brands. Syca is an expert at tapping into the latest market trends and seeing things from the local consumers' perspective. Syca excels at imparting in-depth, actionable insights that optimize the brand's China marketing strategy.
ChoZan's training and resources will increase your expertise about the Chinese market, Chinese consumers, Chinese social media, KOL/influencer marketing and China's technology landscape. This includes: