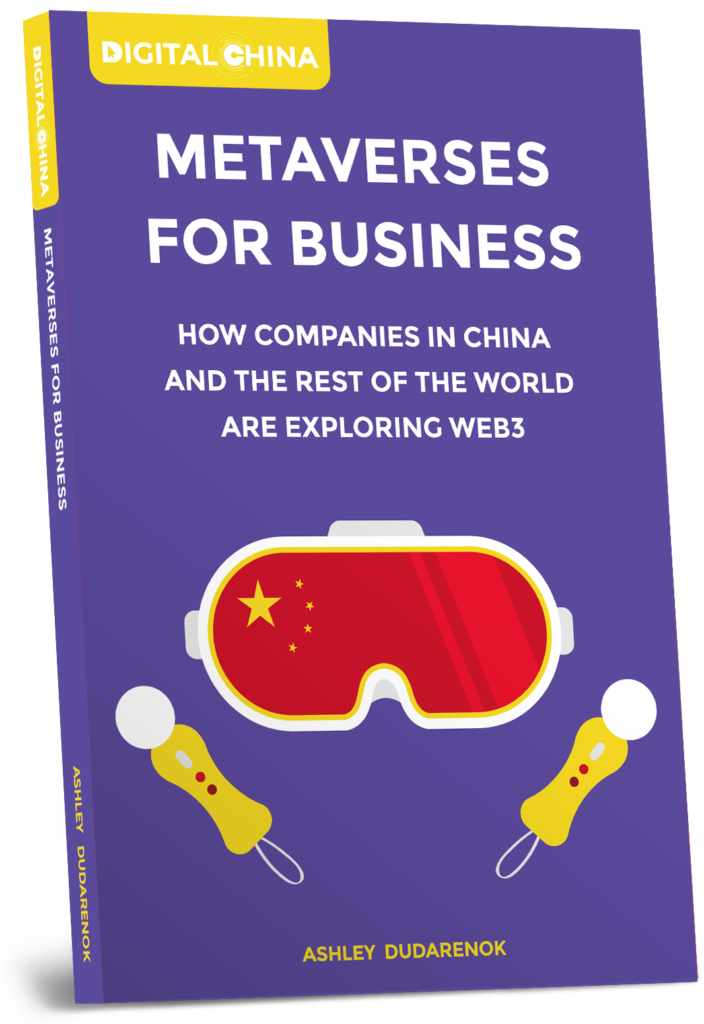 METAVERSES FOR BUSINESS: HOW COMPANIES IN CHINA AND THE REST OF THE WORLD ARE EXPLORING WEB3
While the hype surrounding the metaverse has waned, its importance from a tech perspective hasn't. This book will help all those who have wondered what a metaverse is, what it's for, how much it's worth, which companies are creating it in China and the West, which countries are ahead of the game and how businesses are using metaverses and Web3. 
This book is for brands that want to understand the next iteration of the internet, how to use it now and in the future to connect with customers and how to future proof your business. 
There are different perceptions of and approaches to the metaverse and Web3 in China and the West. This book helps you to understand those differences and the impact they may have on your company.
Here's an excerpt to give you a taste.

How Chinese and Western Brands are Using Metaverses and Web3
China:

YueHua Entertainment
Yuehua Entertainment debuted a virtual girl group called A-SOUL on November 23, 2020. In December, their single "Quiet" was released. They have gone on to become hugely popular and on January 28, 2022, they joined the Olympic Games interactive music carnival. The band members do regular livestreams and Q & As on Bilibili.

Florasis
Chinese beauty brand Florasis already had a virtual persona named Xiao Wanzi that made contact with the brand's customers and private traffic through the brand's WeChat account. The brand added a digital idol named after it in June, 2021. The digital character personifies the brand and its emphasis on traditional Chinese culture and beauty. It also helps to avoid the pitfalls of using influencers or celebrities as brand ambassadors.

The West:

Nike
It created a virtual world called Nikeland within Roblox's platform from November 18th to December 7th, 2021. It featured Nike buildings and places to have snowball fights, play tag or play dodgeball. Nike could use the venue to preview products, allow Roblox users to co-create items, see what kind of virtual items are popular with consumers and sell branded virtual items.

In December, 2021, the brand bought virtual sneaker designer RTFKT, which is pronounced "artifact". Reports said it spent 11 million USD on the creation of virtual sneakers that it calls cryptokicks. In April, 2022, a pair of particularly rare cryptokicks sold for 45 ETH, or around 130,000 USD at the time.

McDonalds and Panera
In February, 2023, McDonalds filed trademarks to sell virtual goods, services and restaurants. The filings were noticed by Josh Gerben, a trademark lawyer who tracks new filings and posts about them on social media.

The filings included options to operate virtual restaurants featuring actual and virtual goods and operate virtual restaurants featuring home delivery. This allows the company to set up virtual restaurants in online worlds and control its branding should others infringe on their trademark or copyright.

Metaverse Concerts
In February, 2019, Fortnite held an in-game concert featuring the artist Marshmello. This live concert had over 10.7 million concurrent viewers, much larger than the most attended in-person concert but not yet rivalling the viewer numbers for widely broadcasted live events like the Super Bowl Halftime Show, which can have audiences of over 100 million.
Different Perceptions and Generational Divides
Metaverses in the West, at least at the moment, are primarily for young people. This creates a massive generational divide. 51 percent of metaverse users are 13 or younger. 78.7 percent of users are 16 or younger and 83.5 percent are 18 and under. This is largely because of the dominance of big platforms like Roblox, Minecraft and Fortnite (a metaverse-style game) which are used primarily by this age group to play, create games, build virtual spaces and socialize. Roblox is seen as the largest of these and has about 230 million monthly active players. 
Many adults don't understand what metaverses are, think they're video games, see them as childish or consider them a waste of time, especially now, with so many urgent economic and health challenges. 
A report from Bain found that 53 percent of younger metaverse gamers would prefer to inherit a vacation home in the metaverse rather than on a real exotic island. Gen Z can see the potential of metaverse platforms because they use successful ones like Minecraft and Roblox. A survey by McKinsey shows that Millennials and Gen Z expect to spend almost 5 hours per day on metaverse platforms in the future. Gen X and Baby Boomers gave lower estimates. 
Most people in China use smartphones to surf the internet, connect with others, make purchases, pay their bills, buy plane tickets, make appointments, hail cabs and much more. Smartphones are very much all-in-one devices that people rely on for everything.
A 2017 KPMG study found that 71 percent of Chinese people would prefer to lose their wallet rather than their phone and data from the China Internet Network Information Center (CNNIC) showed that by the end of June, 2022, 99.6 percent of Chinese people use a mobile phone and they spend 29.5 hours online every week.
People in China are more optimistic about extended reality and metaverse technology. These attitudes showed up in a survey by Ipsos. When asked how they would describe their feelings about the possibility of engaging with XR in their daily life, 78 percent of people in China were somewhat or very positive. This was higher than in any of the other surveyed countries.
"The metaverse is the next iteration of the internet we have been building for the last 40 years but in a 3D realm, vs. the text, picture and video web we have today. When it arrives in the next 5-10 years, it will encompass all facets of our lives from school to 
work to play and everything in between. And from now to then, there will be many rocky roads as the world and China figure out how to actually build such a solution and all the rules needed to properly operate it."
Alvin Wang Graylin, China President & Global VP of Corporate Development at HTC
"Some people believe there should be "one" metaverse where many virtual 
worlds exist inside that one mega-metaverse. But this is the most idealized version of how society or the internet operates. Judging by what tech companies are doing at this early stage, it's clear that they want to keep their walled gardens up 
for as long as they can."
Nina Xiang, Author of Parallel Metaverses
"New revenue streams and business models present a whole new level of possibility for brands to reach their customers and fans. It's not just about monetary conversions. It's another touchpoint and becomes a layer of experiential, reimagined and 
immersive experience to further enhance a brand's story. Co-creation and community activation will play a significant role in delivering to the community."
Olivia Lee, Founder of Livvium, Web3 Strategist and Digital Fashion Collector
COMPLETE THE FORM BELOW TO DOWNLOAD THE BOOK
GET IN TOUCH TO LEARN MORE ABOUT CHINA DIGITAL MARKETING