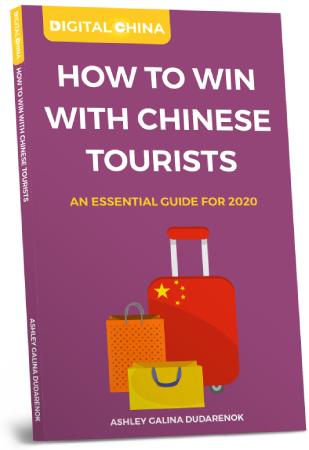 HOW TO WIN WITH CHINESE TOURISTS: AN ESSENTIAL GUIDE
If you've ever thought about attracting Chinese tourists to your location, shop or brand, this is the book for you. Find out who China's outbound tourists are, where they're going, what they're buying and why.
Modern Chinese tourists have become a mainstay in global tourism. The United Nations World Tourism Organisation shows the number of Chinese travellers going abroad climbed from 2.8 million in 1997 to about 73 million in 2018. This means that as of 2018, China was fourth in terms of international visits behind Germany, the United States and Britain.
Would you like to attract more of these Chinese travellers to your location, shop or brand? Then this is the book for you. Find out who China's outbound tourists are, where they're travelling, what they're purchasing and why.
Here's an excerpt to give you a taste.
China has the world's largest pool of tourists and in the past decade, Chinese tourism has seen outstanding growth. Now more than ever, Chinese people are travelling. With growth in the larger economy and an increase in disposable income, people are also spending more on travel and in their destination. 
According to data from the China National Tourism Administration (CNTA), in 2000 there were only 4.5 million outbound trips. In 2018, there were 149.72 million. Purchases while travelling accounted for 11% of per-capita spending in 2018, which is twice the level recorded in 2011. 
Changes in Chinese travellers' behaviour have also been noted in recent years. They're adapting more "Western" travel habits. Instead of just going sightseeing and shopping, they're more willing to engage in in-depth experiences of local lifestyle and culture. Unique, tailor-made travel services are also a new trend. For example, some are moving from 5-star hotels to boutique hotels or Airbnb homestays and bespoke tours are becoming more popular. 
We've created this mini book for those in the tourism industry who want to understand Chinese outbound tourists and recent trends in order to attract them and provide the best service to them. If you've ever asked yourself "How can my business benefit from the increasing number of Chinese travellers?", this book will answer that question.
In the past 8 years, I've worked with over 300 brands helping them tap into China. Since 2016, I've been a speaker at over 90 events and run my signature Chinese social media masterclasses across Asia, Europe and the Middle East. You're in safe hands. 

Modern Chinese Tourists: Who Are They and How are They Travelling?
So, who's coming to visit? Modern Chinese tourists aren't one group and are changing and developing every year. Some traits cross demographic boundaries, like the fact that women make up 53% of Chinese tourists, while others don't. And things are changing rapidly because of current events and trade tensions. Understanding the differences and preferences of these groups is crucial to attracting Chinese tourists and increasing the most important kind of marketing – word of mouth.
Here's some of the key information as things stand in November 2019.
Millenials
One of the most desired consumer groups among marketers all over the world is millennials and China is no different.
Chinese millennials, born in the 80s and 90s and now between 20 and 39 years old, are hitting prime consumption age. Described as educated, open-minded and tech-savvy, they make up 31% of China's total population, representing 415 million consumers. BCG estimates that by 2021, millennials will make up 46% of China's urban population. They will experience increasing purchasing power and will gradually become the main consumers of products and services.
In tourism, millennials play a vital role in shaping trends, as they represent 55% of all Chinese travellers and according to a Coresight Research survey they take an average of 2.3  trips per year. They tend to be more independent and have sophisticated demands.
While other travel groups pay greater attention to climate, exchange rates and prices, millennials are ready to pay more and go farther in order to experience unique cultures, cuisine and greater shopping options. Some call it the "experience it all" approach and it's expected that they'll keep these habits and preferences as they age.
This group is also more spontaneous and makes the largest number of last minute bookings. Usually their trips are inspired and encouraged by influencers on platforms such as WeChat, Weibo and Xiaohongshu.
Millennial travellers are ready to spend a significant amount of their income on travel and on average spend more per day (US$ 346) than other groups (US$ 320).
Millennials are also affecting their parents' travel choices, especially when they travel in groups with older family members."
"Great and relevant content! Professional and knowledgeable speaker with contagious energy."
Michelle Ng, Harley-Davidson
"Ashley opened our eyes to how the Chinese are leading innovation in the social media space, and how we can learn from them."
Coen Tan, Lead Trainer at Ministry of Influence
"Ashley doesn't only create content that's incredibly interesting and valuable, but also shares her inspiration and spreads knowledge of the fast-changing, growing economy that Westerners need to adapt to when expanding into China."
Jia Song, China Enterprise Business Center
COMPLETE THE FORM BELOW TO DOWNLOAD THE BOOK
GET IN TOUCH TO LEARN MORE ABOUT CHINA DIGITAL MARKETING TRAINING