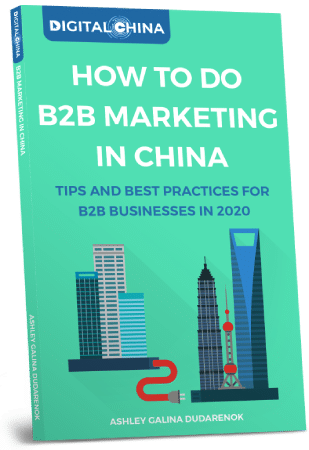 HOW TO DO B2B MARKETING IN CHINA: TIPS AND BEST PRACTICES FOR B2B BUSINESSES
If you are a B2B company operating in China, this book is for you. Find out how to set yourself apart in the B2B space through the power of digital marketing and online platforms.
China is a global manufacturing hub and home to many of the world's largest trade fairs. It's also a global center for research and development, prototyping, AI, 5G, green technology, facial recognition and data analysis. For businesses, it's a very important place to develop connections, partnerships and a reputation with other businesses.
If you're a B2B company looking at the China market, this book is for you. Find out how to set yourself apart in the B2B space through the power of digital marketing and online platforms.
Here's an excerpt to give you a taste.
There's a belief among some that marketing only works for B2C companies. B2B marketing looks and feels different from B2C marketing but it's been around forever and is even more necessary in a world full of increasing disruptions and challenges.
As one of the world's largest economies and a world centre for manufacturing, China provides ample opportunities for B2C and B2B brands alike. However, B2B marketing in China is a bit different from the West.
Traditional trade shows, conference calls and meetings are irreplaceable aspects of B2B marketing now and in the future. However, a digital presence is important and has a strong effect when establishing business relationships. Most Chinese B2B companies also prefer a B2C selling approach and there are cultural differences in business etiquette and the dealmaking process that can't be ignored.
Flexibility, patience, a willingness to learn and adapting to local culture and practices is also necessary. Part of that adaptation involves lots of talking over dinners, understanding the negotiation process and being optimized for the mobile internet. Technology and personal interactions meld and overlap in China and for B2B businesses, one can't replace the other.
We've created this mini book for B2B companies in order to help them understand cultural differences, the Chinese digital marketing landscape and best practices. So if you have questions about getting attention from Chinese businesses, this book will help you to find your answers and create your B2B digital marketing strategy.
The Digital Channels You Need to Know
In 1999, near the start of China's digital transformation, a group of people led by Jack Ma, started a B2B website called Alibaba.com. It was an English-language B2B website aimed at small businesses around the world that wanted to connect with manufacturers and suppliers in China. It's next website, also launched in 1999, was 1688.com, a Chinese-language B2B marketplace for domestic companies.
We all know how that went. Today, Alibaba is one of the world's largest tech companies. It has expanded into financial technology, cloud storage systems, entertainment, media and offline grocery stores. And it all started with B2B.
According to a July 2019 interview with John Caplan, head of North American B2B at Alibaba Group, "B2B e-commerce is a $23.9 trillion market — six times larger than B2C e-commerce." So let's get started with a list of digital channels for B2B in China that you need to know. It starts with one that everyone already knows.
1. Alibaba.com
The granddaddy of them all. Jack Ma chose Alibaba as the name for the first site after the character Ali Baba from the folktale. He tested the name while he was in San Francisco and found it was recognized by people from all over the world.
Alibaba.com is a huge multi-language portal for small businesses world-wide who are looking for suppliers and manufacturers. While most of the suppliers on the site are from China, international companies are also represented.
Menus on the homepage allow for 15 different languages, regional settings and for prices to be indicated in currencies from all over the globe.
The category menu on the homepage lists 9 product categories and the full menu lists 12 more with countless subgroups that include everything from firefighting supplies to balloons. You can buy everything from a single toy to crude oil (500,000 barrels is the minimum buy). It's fair to say that whatever your size or industry, there's something here for you."
"Great and relevant content! Professional and knowledgeable speaker with contagious energy."
Michelle Ng, Harley-Davidson
"Ashley opened our eyes to how the Chinese are leading innovation in the social media space, and how we can learn from them."
Coen Tan, Lead Trainer at Ministry of Influence
"Ashley doesn't only create content that's incredibly interesting and valuable, but also shares her inspiration and spreads knowledge of the fast-changing, growing economy that Westerners need to adapt to when expanding into China."
Jia Song, China Enterprise Business Center
COMPLETE THE FORM BELOW TO DOWNLOAD THE BOOK
GET IN TOUCH TO LEARN MORE ABOUT CHINA DIGITAL MARKETING TRAINING