OUR DIGITAL CHINA SERIES
BOOKS AND GUIDEBOOKS
We love reading and learning and we hope you do too. We regularly publish guides and books to inform and educate people on China, its marketing and technology landscape, its consumers, tourists and influencers. Check out our titles here.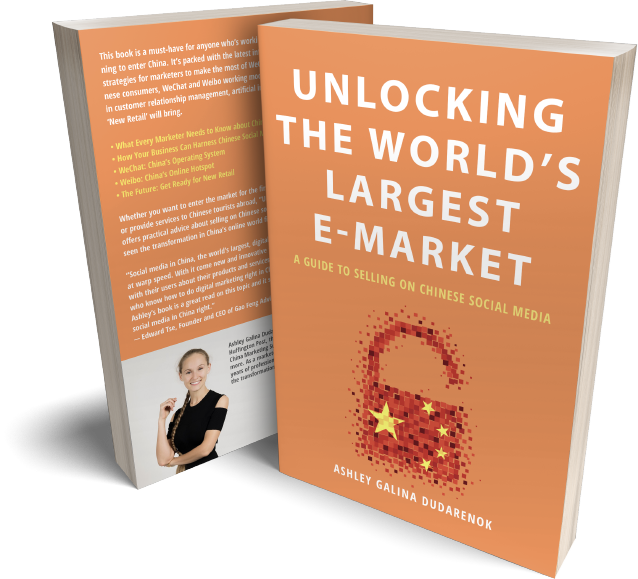 UNLOCKING THE WORLD'S LARGEST E-MARKET:
A GUIDE TO SELLING ON CHINESE SOCIAL MEDIA
Co-authored with Michael Zakkour
If you want to expand your business to the world's largest e-market, this is the book you need.
In this extended and updated edition, Ashley Galina Dudarenok expands her analysis to include the booming technology scene in China, where two giants — Alibaba and Tencent — are engaged in an epic rivalry. You'll also learn about new technologies, like supercomputing, blockchain technology and artificial intelligence.
This book is a must-have for anyone who's working with Chinese social media or planning to enter China. It's packed with the latest information, actionable insights and strategies for marketers to make the most of WeChat and Weibo. You'll learn about Chinese consumers, WeChat and Weibo working models and the outlook for digital trends in customer relationship management, artificial intelligence and what kind of changes 'New Retail' will bring.
What Every Marketer Needs to Know about China
How Your Business Can Harness Chinese Social Media
WeChat: China's Operating System
Weibo: China's Online Hotspot
The Future: Get Ready for New Retail
Whether you want to enter the market for the first time, expand your presence in China or provide services to Chinese tourists abroad, "Unlocking the World's Largest E-market" offers practical advice about selling on Chinese social media from someone who has seen the transformation in China's online world firsthand.
HERE'S AN EXCERPT TO GIVE YOU A TASTE
In this book, "the China market" is used as shorthand for speed and clarity but the truth is China is not one market. Different groups and regions have different needs and experience different trends. It's actually a collection of 34 distinct markets, which correspond to China's administrative divisions. 
Think about it. You'd never sell to someone in Iceland the same way you'd sell to someone in Italy. And you'd never sell to someone in rural Arkansas the way you'd sell to someone in Los Angeles. They're different. 
The same principle applies in China and that's what makes it a much more complicated market than people realize. There are no one-size-fits- all situations or solutions when one talks about China. 
In this book, broad trends and market forces are outlined. Most apply to 1st and 2nd tier cities and the middle class throughout the country but you must do research for your industry, your product, the region you are entering and so on before entering the market. 
There are 2 uniting forces:
Mandarin 
Mandarin, also known as Putonghua, is the national language which was adopted nationwide in 1932. Its pronunciation is based on the Beijing dialect and it's written using simplified Chinese characters. Whether you're in Urumqi, Harbin or Guangzhou, people speak Mandarin in addition to any local dialect. 
Social Media Mania 
Every day, Chinese people log in to their social media accounts to receive the latest news, connect with friends and family and contact brands and vendors to make enquiries, complaints and purchases. 
They also browse on a variety of online sales channels, including Taobao, Tmall and JD to find the latest products and sales campaigns. Convenient mobile payment apps, like Alipay and WeChat Pay, and express delivery services facilitate their online purchases.
Very informative and concise. It makes all the basics of China's digital landscape accessible to everyone. Perfect to launch your brand on this market.
Arnaud Fratini
Brand Consultant, Creative Capital China
Ashley is a never-ending source of valuable information. Her first bestseller, Unlocking the World's Largest E-Market, is the best tool for whoever wants to face the Chinese market and sell products online.
Alberto Antinucci
China Business Expert
An extremely insightful book about the Chinese digital ecosystem. This book is one of the best books that I have ever read on e-commerce: many case studies and examples. Galina is an incredible writer and communicates complex topics in a very understandable and clear way. You will learn everything from Weibo sales to WeChat official accounts.
Vadim Mishin
Business Development Director, Techrock
As an aspiring business owner and China enthusiast, I can't tell you how much I enjoyed reading Unlocking the World's Largest E-Market: A Guide to Selling on Chinese Social Media. Such an insightful book on such a complicated but exciting marketplace is something that has made me even more driven to begin my journey in selling to China.
Alex John
Business Development Manager, Duologi
Ashley is a well known marketing thought leader, LinkedIn Top Voice in marketing and an Asia-Pacific Top 25 Innovator. She has lived and worked in Greater China for over 15 years and is your go-to person for everything related to China marketing. Through her marketing agency, Alarice, she has worked with some of the world's biggest brands and through ChoZan, she has given Chinese digital marketing training to teams at major corporations throughout Asia and globally. She has a large following on LinkedIn, where she publishes her China insights daily, as well as on her Instagram and YouTube channels.
She's been a member of Alibaba's Global Influencer Entourage from 2017 to 2019, a member of JD's Global China Experts Group in 2018, and worked directly with a Tencent co-founder to conquer Western social media from 2017 to 2019.
Having already published three Amazon top sellers, Unlocking The World's Largest E-Market: A Guide to Selling on Chinese Social Media, Working with Bloggers, Influencers and KOLs, and New Retail: Born In China Going Global, Ashley is always looking for ways to educate people on opportunities in China.