OUR DIGITAL CHINA SERIES
BOOKS AND GUIDEBOOKS
We love reading and learning and we hope you do too. We regularly publish guides and books to inform and educate people on China, its marketing and technology landscape, its consumers, tourists and influencers. Check out our titles here.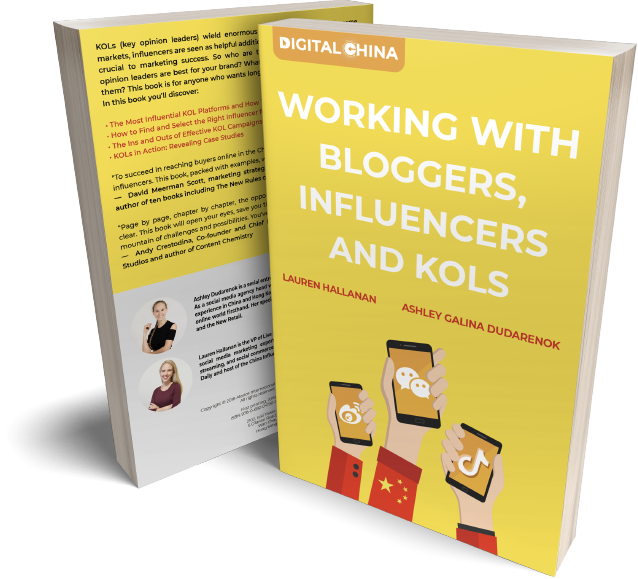 DIGITAL CHINA:
WORKING WITH BLOGGERS, INFLUENCERS AND KOLS
Co-authored with Lauren Halloran
Want to know more about influencer marketing in the world's largest and fastest growing online market? This is the second book in our series guiding you through China's digital space. China is one of the most attractive markets in the world and collaborating with bloggers, KOLs and influencers is essential if you want to find a place in the consumer's heart. Don't know where to start? This book will help newcomers and experienced marketers alike gain insight and take action.
The Most Influential KOL Platforms and How They Work
How to Find and Select the Right Influencer for You
The Ins and Outs of Effective KOL Campaigns
KOLs in action: Revealing Case Studies
If you need a clearer understanding of one of the most dynamic marketing areas in China, this book is for you.
Digital China: Working with Bloggers, Influencers and KOLs will help you to get the most from your
cooperation with influencers in China. Don't miss your chance to get ahead of the game.
HERE'S AN EXCERPT TO GIVE YOU A TASTE
A KOL is a key opinion leader. In the West, they're called influencers or thought leaders. They can be bloggers, online personalities or internet celebrities. Working with KOLs on Chinese social media is not just a necessity for businesses entering the market but also a key component in the marketing strategy of some of the world's most famous brands.
Influencers have a stronger influence in China than they do in the West. They have follower bases who see their opinions and suggestions as credible and influential but they don't just spread information. They also promote attitudes and approaches that affect the buying decisions of their followers and readers. Many also excel in driving online sales and unlike bloggers in some other regions, it's not unusual for them to engage in direct sales.
With the expansion of official WeChat* accounts and with the growth of new platforms, their followers continue to grow, increasing their influence and value.
Who are these KOLs? How do they operate? And why do Chinese consumers look to them so consistently? Let's find out.
If you are new to digital marketing, Digital China: Working with Bloggers, Influencers, and KOLs by Ashley Galina Dudarenok is a great place to start. Using her experience and first-hand knowledge of digital marketing, the author presents the information in a clear way that even beginners can follow and understand. The author explains the rise of collaborating with bloggers, influencers, and KOLs (key opinion leaders) to find consumers. If you are trying to get people to your website or sell products, working with these types of people can do huge things for your business. While the book is written specifically for China, the lessons the author shares can be used anywhere since the internet is universal.
While I've been marketing in the US for nearly a decade, I have little experience in China. The insights and clear, thoughtful writing in this book helped break down the complexities of this space. In addition to explaining the evolution of China's influencer market, co-authors Ashley Galina Dudarenok and Lauren Hallanan offer practical tips on working with Chinese KOLs (key opinion leaders). I recommend this book to any marketer or entrepreneur looking to break into the Chinese market!
Ashley is a well known marketing thought leader, LinkedIn Top Voice in marketing and an Asia-Pacific Top 25 Innovator. She has lived and worked in Greater China for over 15 years and is your go-to person for everything related to China marketing. Through her marketing agency, Alarice, she has worked with some of the world's biggest brands and through ChoZan, she has given Chinese digital marketing training to teams at major corporations throughout Asia and globally. She has a large following on LinkedIn, where she publishes her China insights daily, as well as on her Instagram and YouTube channels.
She's been a member of Alibaba's Global Influencer Entourage from 2017 to 2019, a member of JD's Global China Experts Group in 2018, and worked directly with a Tencent co-founder to conquer Western social media from 2017 to 2019.
Having already published three Amazon top sellers, Unlocking The World's Largest E-Market: A Guide to Selling on Chinese Social Media, Working with Bloggers, Influencers and KOLs, and New Retail: Born In China Going Global, Ashley is always looking for ways to educate people on opportunities in China.