It's crucial for business owners to navigate complex external environments. China boasts one of the world's largest markets and it's constantly evolving at a rapid pace, so it poses unique challenges. 
It has industry giants like Alibaba, ByteDance, and Tencent serving people's entertainment and consumption needs. Each has different functions, audiences, and marketing methods, creating an intricate and interconnected online ecosystem. As for consumers, they're segmented into various groups based on gender, age, region, and interests, with new content grabbing their attention every day.
To succeed in China's business landscape, brands must continuously track and analyze trends, gain insights and reshape their products, services, and overall consumer experiences to cater to Chinese consumers. This is trendwatching.
What does trendwatching accomplish?
Trendwatching can target two different kinds of patterns: Macro trends that affect markets and industries and targeted trends that are occurring in specific sectors or for certain competitors. 
Useful trendwatching is timely, accurate and presents data and evidence. It can help businesses do everything from getting a jump on the competition to avoiding a PR crisis.
Let's take a look at its two main functions:
Providing information and data that can be used strategically
Every day, an enormous amount of information is generated in the Chinese market. According to data from WeChat in January 2023, WeChat Channels saw over a 100% YoY increase in the number of daily active creators. The number of creators with 10,000 or more followers skyrocketed by 308% and the number of livestreamers with high-quality content jumped 614%.
Content is also being churned out daily on other social media platforms, like Douyin, Kuaishou and Red. Sorting through this huge volume of material is one of the challenges of trendwatching. The faster and more efficiently brands can capture significant consumer changes and policy shifts, the more valuable the insights are. Quickly acquiring trend information not only helps brands seize opportunities but also helps mitigate risks. 
The recent BMW marketing incident serves as a prime example. 
On April 19th, 2023, two staff members at the BMW Mini booth at the Shanghai Auto Show were distributing small tubs of Luneurs ice cream to car show attendees. A video shows two Chinese visitors asking for ice cream and being told by the Chinese booth staff that all the ice cream had been given away. Then the video shows a foreign man in a suit approaching and the women not only smilingly hand him a small tub of ice cream but also open it for him. The incident caused "BMW Mini" to trend on social media. And not in a good way.
According to information from BMW, 300 tubs of free ice cream for the public were given away but there were still a few tubs of ice cream that had been set aside for BMW staff at the show. The man who the women gave the ice cream to was a BMW staff member and the women were temporary workers hired locally for the show, not regular BMW staff. However, the perception of unfairness and ideas about ill treatment of Chinese citizens had already taken root on social media and people were quickly up in arms.  
BMW issued a brief apology on Weibo saying the incident was caused by poor internal management and that it would improve training. It also deleted the Weibo hashtag "BMW distributes ice cream at the auto show." However, this response was seen as perfunctory and failed to appease Chinese netizens. The incident caused BMW's market value to drop by 21.6 billion euros. 
After the incident, the other brand involved, Luneurs ice cream, quickly published a lengthy article and conducted an investigation. The article emphasized that Luneurs is a Shanghai-born brand and confirmed that the incident had nothing to do with them. This got a good response from netizens and received 117 times more likes than their average post.
Based on trends triggered by the incident, other car brands kicked into gear to take advantage of the situation and get as much attention and goodwill as possible. Xpeng Motors added free ice cream delivery in the afternoon, and Jietu Motors followed suit. Audi dealers went a step further by not only distributing free ice cream at the auto show but also creating a short video with the announcement "Ice cream is only given to Chinese people."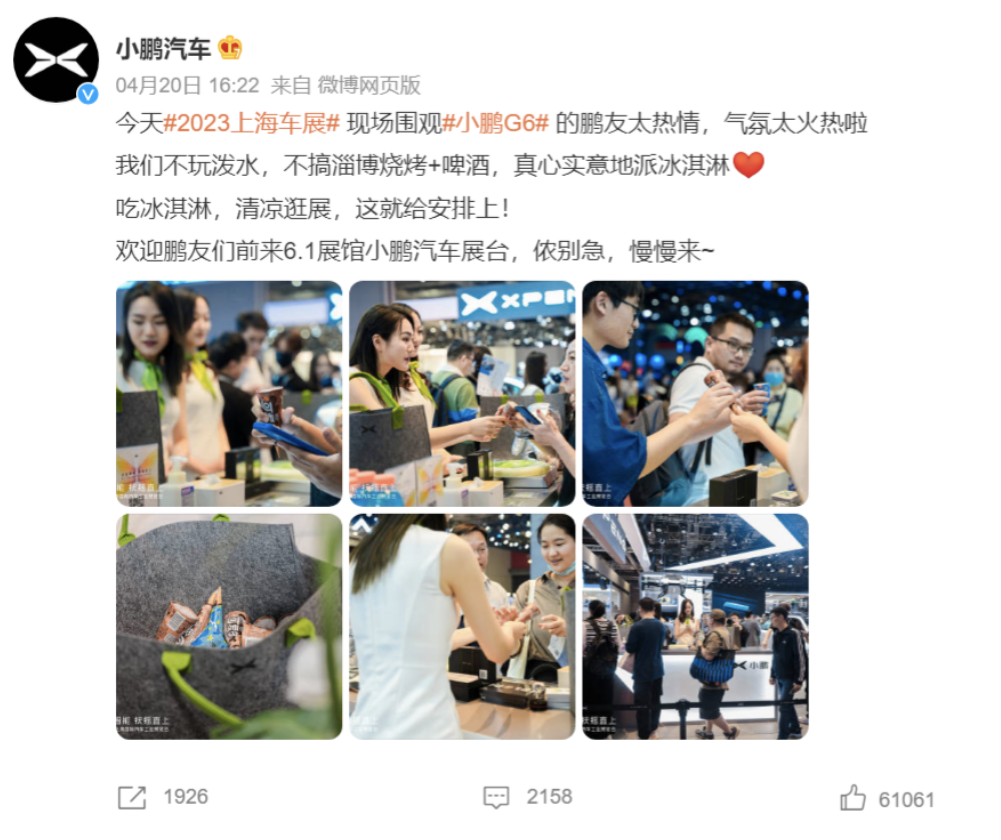 XPeng Motors posts on Weibo about offering ice cream at the Shanghai car show.
Source: Weibo
Xpeng's Weibo post received over 60,000 likes, far surpassing other content on the account before and after the incident. 
Obtaining key information in real-time enables brands to stay abreast of the latest technological applications, changes in consumer sentiment, and social events, thereby avoiding risks and seizing marketing opportunities. This is the primary role of trend observation.
Identifying insights that'll give you a jump on the competition
It's crucial to not only gather the most accurate, up-to-date information but also to analyze and interpret this data in a way that can guide a brand's strategy. 
For example, China's duty-free market has rapidly expanded in recent years and tourism is rebounding after the end of strict Covid policies so it's important to consider how changes like this might impact product prices and consumer trends.
The opening of the Haikou International Duty-Free City in Hainan, which is billed as the world's largest duty-free shop, attracted 44,000 customers in October 2022 and racked up single-day sales exceeding 60 million yuan. During the 2023 Spring Festival, the complex had over 270,000 visitors. 
However, duty-free cosmetics in Hainan aren't as affordable as they were during the height of the pandemic. Prices for some Estée Lauder and SK-II products have increased from tens to hundreds of yuan. An Estée Lauder set used to cost 1,100 yuan and now it costs over 1,500 yuan after discount.
This is partly due to global price increases. It's also due to the strategies of Hainan's duty-free operators. 
Over the past three years, tourism has been heavily impacted by pandemic restrictions and Chinese consumers' shopping habits have been influenced by livestream shopping. Duty-free shops had to compete on price to capture market share. With the return of tourism, a more stable competitive landscape, and several key entities becoming publicly traded companies with performance requirements, the prices of many products in Hainan have substantially increased. 
The opposite is true for gold jewelry, which has become a popular commodity in Hainan due to the island's tax-free policy. It's 50-60 yuan per gram cheaper than in Mainland China. After the Chinese government adjusted its Covid policy, tourists in Sanya even queued up for more than 3 hours to buy gold.
Using these insights can help brands make informed decisions quickly, like adjusting pricing strategies or creating campaigns that involve gold jewelry, to capitalize on opportunities in a rapidly changing market
Excellent trend insights extract strategic suggestions from complex facts, helping brands to swiftly make the best strategic choices.
What pain points does trendwatching target?
1  R&D: Cater to consumer trends and develop popular products
One of the major challenges in global expansion is the localization of R&D. Brands need to do research and observe consumer behavior in different markets to adjust product functions and packaging designs. This not only improves revenue but also allows for the incorporation of local cultural innovations and experiences, which resonates with consumers and builds trust and loyalty.
Trendwatching can significantly enhance this R&D process. Let's look at an example. A collaboration between Crocs and Popmart, a local fashion brand in China, demonstrates the benefits of such an approach.
Popmart's brand slogan is "light up passion and bring joy." Through extensive cross-branding with popular brands and IP, the company has established itself as the leading trendy toy brand among young Chinese consumers. Crocs identified Popmart's cute toy and blind box trend as something that could align with its brand. In 2022, the blind box market was worth nearly 50 billion yuan and was still attracting young people with its unique collections and social appeal. This led them to develop shoes with Jibbitz in blind boxes featuring Popmart's famous tiny doll series, Crybaby.
The collaboration included a pair of classic Crocs shoes and seven Jibbitz blind boxes. The yellow-striped pattern on the upper part of the shoe was designed by Molly, the artist who created Crybaby. The Jibbitz blind box also featured a 3D design. There were six regular blind boxes from the Crybaby Parade series, while the seventh was specially designed for Crocs and had never been released before.
2  Marketing: Use hot topics to create influential campaigns
Campaigns that align with social trends reach a broader audience, and campaigns that understand consumer trends can establish deeper connections with consumers. Effective marketing can elevate brand value and increase product sales. Xiaomi's case is a great example of this.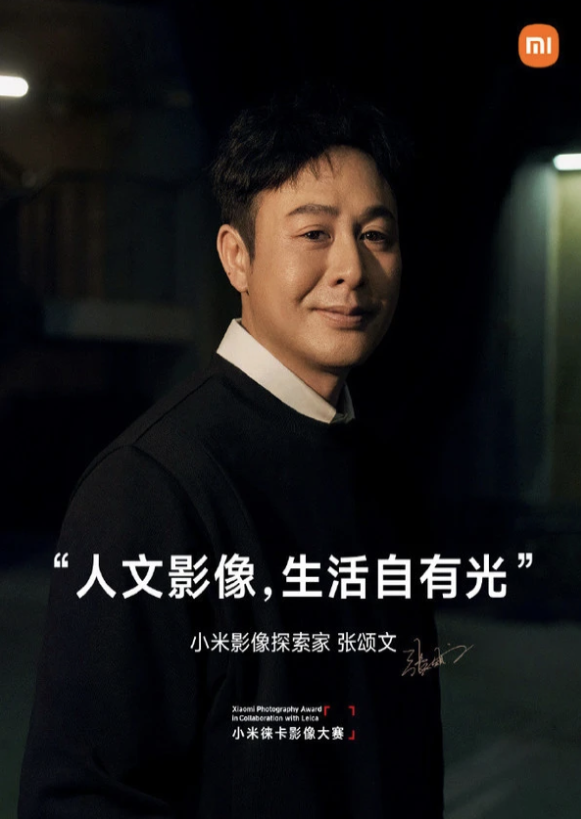 Actor and director Zhang Songwen endorses Xiaomi.
Source: Weibo
In 2023, the Chinese TV series The Knockout broke multiple records and became the most talked-about topic. Fast-moving Xiaomi jumped on board and invited lead actor Zhang Songwen to co-produce a promotional video for their Xiaomi 13 Ultra. A lot of photos in the video were taken by Zhang Songwen himself using Xiaomi's new mobile phone. Zhang emphasizes his love for the details of daily life in the short ad. 
Before its official release in April, the pre-order volume tripled compared to the previous generation Xiaomi 12SU. Online commenters also mentioned that they purchased it because they recognized Zhang Songwen. A great example of the effectiveness of following social trends to increase reach and product sales.
3  Sales: Provide consumers with a more interesting shopping experience
Since 2021, the metaverse and Web3 have emerged as global phenomena and China is no exception. Digital collectibles have provided a new avenue for brand sales. 
In 2022, 53.3% of Chinese digital collectible consumers were young people driven by novelty and curiosity (57.7%), future appreciation potential (57.6%), and collection value (52.9%). Women accounted for a slightly higher proportion (62.2%).
Taking advantage of this trend, many platforms and brands have incorporated metaverse technology into their sales strategy to provide consumers with a more engaging shopping experience. L'Oréal and Tmall's collaboration during Valentine's Day, 2023 serves as an excellent example of this sales strategy.
During Valentine's Day, seven L'Oréal brands collaborated with Tmall to offer personalized services such as voice greeting cards, product engraving, and electronic greeting cards. The platform also featured a smart gift box recommendation function that used consumer descriptions of gift recipients to match corresponding Valentine's Day gift boxes, providing a more tailored gift-giving experience.
Gift recipients were able to enjoy a unique online "unboxing" experience against a backdrop of a beautiful metaverse featuring romantic castles and fireworks. This innovative shopping experience provided consumers with a fresh and exciting way to receive gifts.
Conclusion
The above cases illustrate how trendwatching can be a powerful tool for brands from product development and marketing design to the sales experience. Keeping a close eye on trends allows brands to respond quickly to opportunities and risks and stay ahead of their competitors. In-depth insights and trend data can help brands find the most effective way to reach and motivate consumers.
Trendwatching is an essential investment for any brand looking to establish a foothold in the Chinese market. Understanding is the first step toward building a stronger business.
If your brand needs trendwatching guidance, we can provide customized services and products. Contact us and tell us about your specific needs.