Live streaming in China is becoming the most popular video format with more than 325 million online viewers in total, or 45.8% of Chinese netizens, according to The Chinese Live Streaming Report 2016. The revenue in live streaming is increasing along with its popularity and it's predicted to be a US$5 billion market by the end of 2017 according to Credit Suisse.
With over 200 live streaming platforms focusing on different markets and viewers — such as gamers, fashionistas, e-commerce, etc. — there is plenty of diverse content but the differences between some platforms is increasingly small. Which platforms are the most popular? Which platform is best for your brand?
Here's a list of the top 5 live streaming platforms in China.
---
1. Meipai
Meipai was launched in May 2015. It initially focused on short videos and has become a leading short video platform in China.
In January 2016, Meipai released its live streaming function. After only 6 months, its live stream total reached 9.52 million and its live stream audience reached over 570 million. During live streaming, users can send online virtual gifts, which increases engagement and interaction.
The most unique features of Meipai are the special effects that can be added to short clips, called MV (music video) effects, which are very attractive to young women who care about beauty and fashion. This demographic match makes Meipai a great live streaming choice for fashion or luxury marketing campaigns.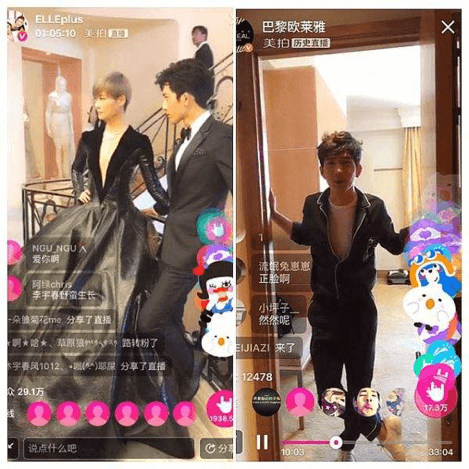 ↑ Screenshots from L'Oreal's Cannes Film Festival 2016 live streams.
For example, as sponsors of the Cannes Film Festival 2016, L'Oreal invited Chinese celebrities Gong Li, Li Bingbing, Li Yuchun and Jing Boran to live stream behind-the-scenes segments on the festival's official Meipai account. The streams received 160 million likes in total.
During the live streams, Li Yuchun introduced L'Oreal products and highly recommended one lipstick that she used during the festival. After 4 hours of live streaming, the featured lipsticks were told out in L'Oreal's Tmall flagship store.
---
2.Yizhibo
Yizhibo was launched in May 2016. Within 2 months there were more than 300 Chinese celebrities with registered Yizhibo accounts interacting with fans.
↑ Yizhibo platform
Yizhibo is partnered with Weibo so users can do Yizhibo live streams within Weibo without installing any new applications. Because of Weibo's huge user base, this cooperation has greatly increased Yizhibo's exposure and popularity. If your brand is planning a marketing campaign that integrates Weibo and live streaming, Yizhibo* is the best choice.
---
3. Tmall Live Streaming
Tmall's live streaming platform was launched by Alibaba and appears as channel on Tmall's app.
It primarily functions as a "See now, Buy now" platform. Users can watch live streams and shop at the same time. Any Tmall flagship brands can apply to set up their own live streams. Live streaming can provide a more realistic simulated shopping experience, increase engagement and and help to spur purchases.
↑ KFC's live stream on Tmall
In September 2016, KFC opened its flagship Tmall store and launched live streaming immediately. During the live streams, KFC invited KOLs, Ma Weiwei, Xiao Xiao, and Yan Rujin, who are known from a popular talk show, to promote KFC products. The streams led to over 25,000 views.
KFC is not alone. Tide has also successfully used Tmall live streaming. Maybelline invited famous Chinese actress Angelababy to live stream on Tmall, which resulted in selling out the featured lipsticks.
---
4. Huajiao Live
Officially launched in June 2015, Huajiao Live features hundreds of homemade live shows. One year after launching, Huajiao Live released VR Zone. It's the world's first 3D live streaming platform with 10 million monthly active users.
VR Zone live streamers film with binocular cameras. When users wear 3D VR glasses to view the live stream, they can see more realistic 3D scenes.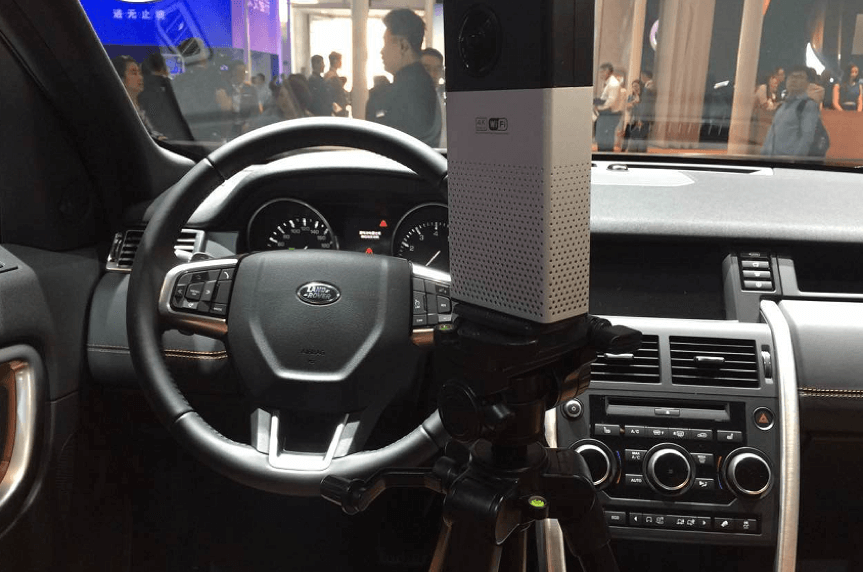 ↑ A Huajiao 3D live stream of the latest Land Rover
To promote VR Zone, Huajiao Live spent 50 million RMB and gave away 100,000 3D viewing headsets and 1000 3D cameras. They also used car shows to feature the new technology. In April 2016, Huajiao Live did a 3D live stream during the Beijing International Auto Show. The new Land Rover was the highlight of the show. Millions of users stayed at home and used their cellphones to enjoy an up close look at the new model.
Virtual reality live streaming would also work well for sports events, concerts and fashion shows.
---
5. Inke
Inke started in May 2015 and has over 17 millions monthly active users.
Inke's content is known for avoiding any content that has violent or risqué overtones and maintains a positive, family-friendly brand image. Inke's philosophy is that anybody can live stream.
↑ A teacher launching a class live streaming on Inke.
Inke provides opportunities for cooperation with industries and organizations in areas like e-commerce, finance, philanthropy and education. For example, Inke asked users to live stream real stories of people in need to promote charitable giving and concern for public welfare.
In another example, during "Airpocalypse" in Beijing in 2016, many teachers used Inke to live stream lessons. Inke could be used to live stream tutorials or other educational content related to your brand.
Live streaming is becoming a new place for brands to communicate with Chinese audiences. When brands plan to launch live streaming campaigns in China, the first step is to choose the platform that has the functions or characteristics you're looking for.
---
How do you open official brand accounts on live streaming platforms? How can you use them for marketing campaigns? How can you attract a large audience in a short time via live streaming?
If you have any queries or want to know more about live streaming in China, please leave a comment.
---
To get deeper insights into Chinese social media marketing and utilizing it to serve your business, join ChoZan, a training and resources platform for Chinese social media marketers.
Please follow our official WeChat account to get more updates about the latest news, feature updates and case studies.
Share this article on your favourite social media