Douban is an interest-based social networking platform. It's seen as a combination of Goodreads, IMDb, Blogger, Facebook, Pandora, Spotify, Ello and Fancy.com.
So what is Douban like? How do people use it? Read on.
---
1. User and Content Characteristics
Douban has over 60 million registered users and 150 million unregistered frequent visitors. Most of them are degree holders who live in major cities and lead a middle-class lifestyle. They use Douban, a forum-like social media platform, to share their views and ideas on topics they're interested in.
Hence, most of the content on Douban is more niche focussed than other Chinese social media platforms, which targets the general public more.
Douban is a community site based on organic content generated by users, a large proportion of which are reviews of books and movies in addition to art and hobby-related content. The content has shaped the development of Douban and it has become more interest and topic-oriented over time.
Compared to most Chinese social media platforms, most information on Douban can be accessed without registration.
The major difference between registered users and unregistered visitors is that the latter can only browse the site, but they can't leave comments or create events and campaigns.
---
2. Major Sections of Douban
i. Douban Movies, Books, Music 豆瓣电影/读书/音乐
Registered users can upload their reviews on books, movies and music in this section. It's seen as credible due to its large user base, which contributes a huge amount of comments and opinions.
Douban extended its functions to make it more than merely a platform of reviews. For example, Douban Music provides music streaming for some local indie music, and Douban Movies sells tickets online.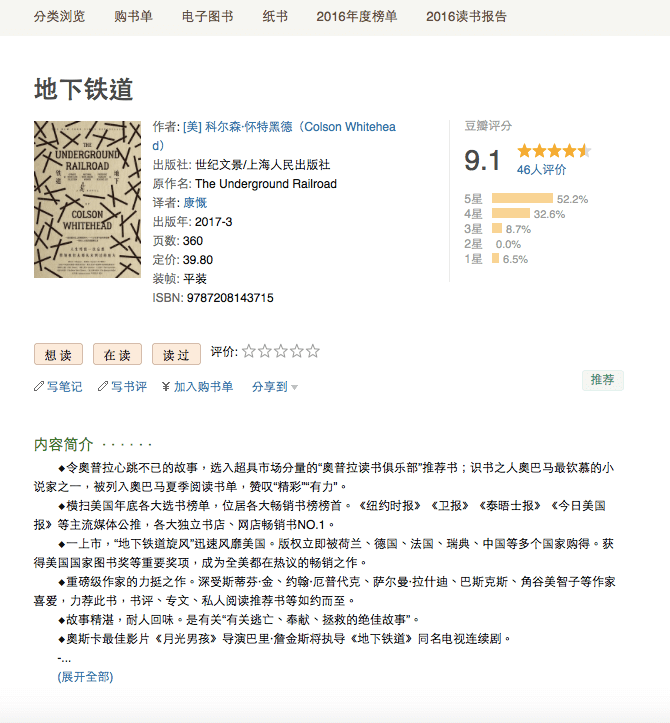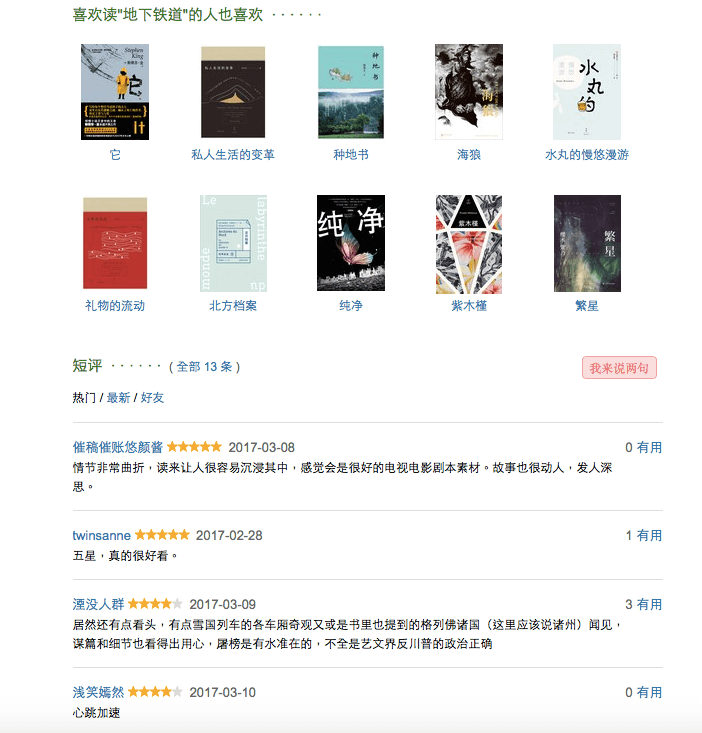 ↑ Book description; Reviews and suggested books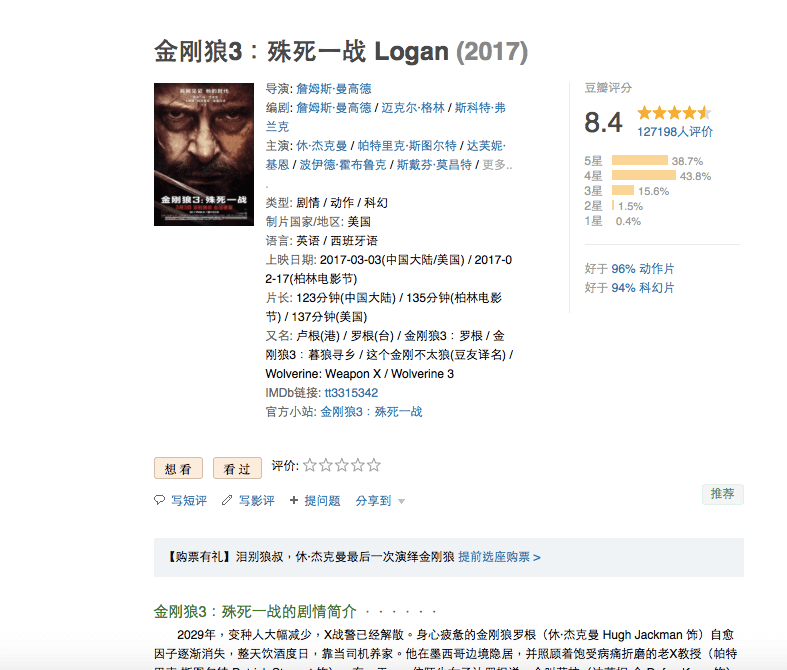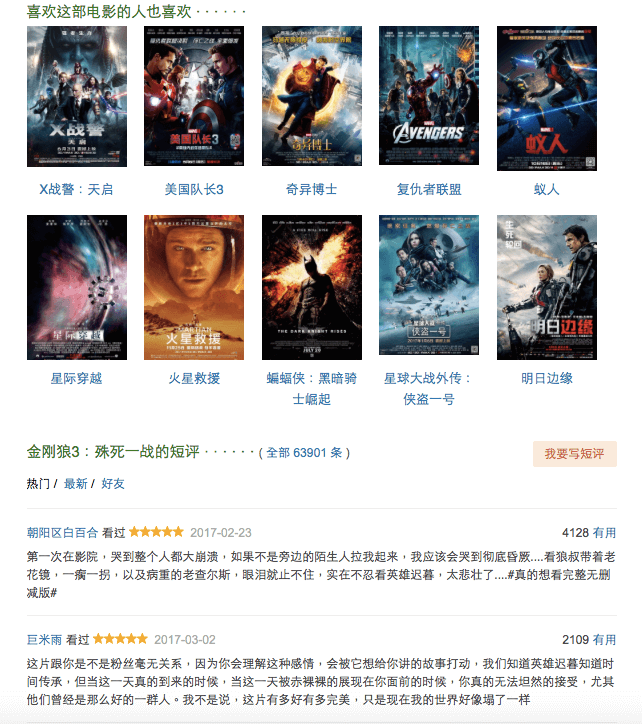 ↑ Movie description; Reviews and suggested movies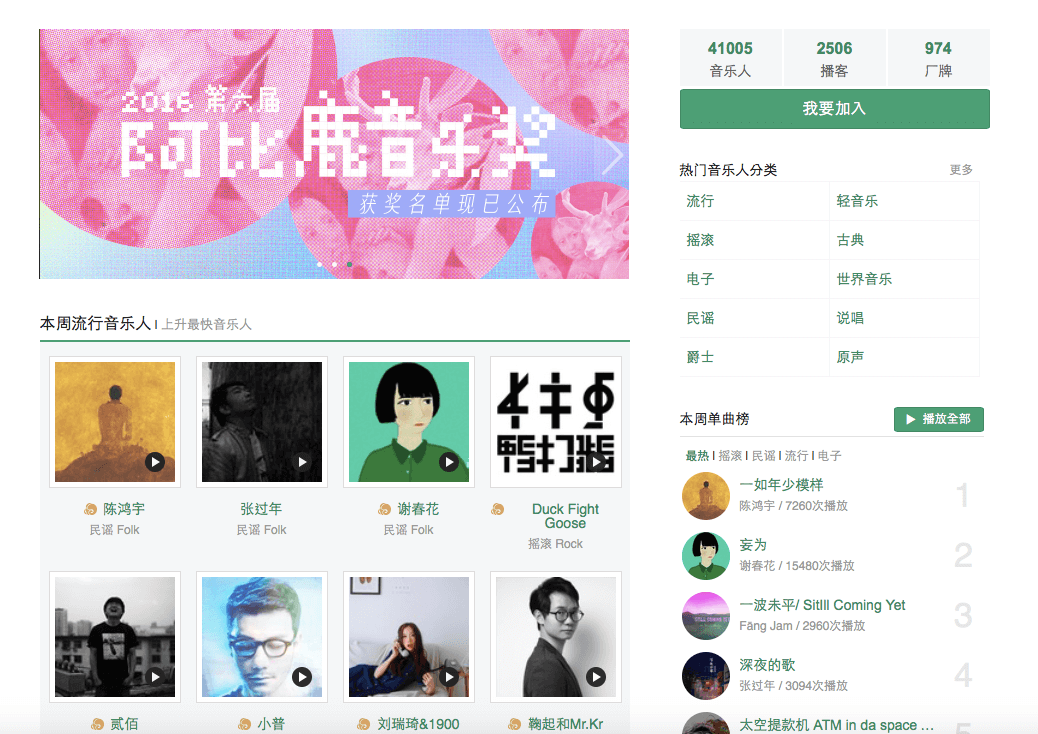 ↑ Suggested songs on the Douban homepage
ii. Douban FM 豆瓣FM
Similar to other music streaming platforms, users are able to create their own playlists. The Personal FM channel is free of charge. For brands, it charges 200,000 RMB per month to set up an official channel. Popular playlists are featured on the homepage.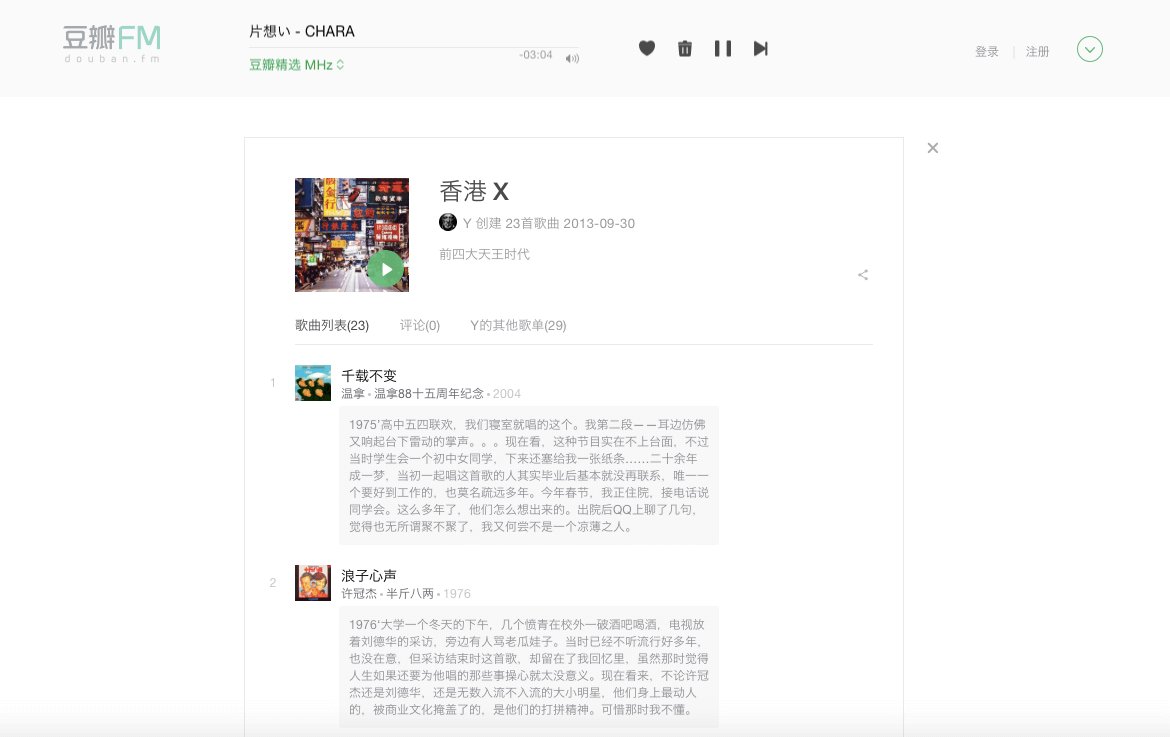 ↑ The music streaming interface in Douban FM
iii. Douban Stuff 豆瓣东西
Douban Stuff is a platform for users to recommend and share comments and views on specific products, mostly clothes, shoes and furniture. It's directly linked with major e-commerce platforms in China like Taobao.
Users can insert links of products from the e-commerce platform and review the product in Douban Stuff. Users can click the external link to the e-commerce site to buy the reviewed items. Similar to Douban FM playlists, users are able to create a "Dou-list" of their favorite items.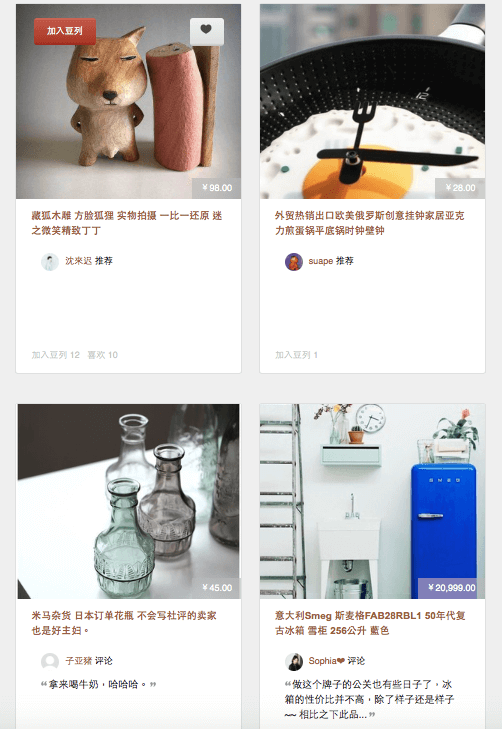 ↑ Items can be saved to Dou-list by clicking red button on the top left hand corner.
iv. Douban Market 豆瓣市集
Different from Douban Stuff, Douban Market is an e-commerce platform similar to Taobao. Shops and brands can create an online store on Douban Market. However, the selection of brands on this platform is limited to some creative lifestyle products approved by Douban.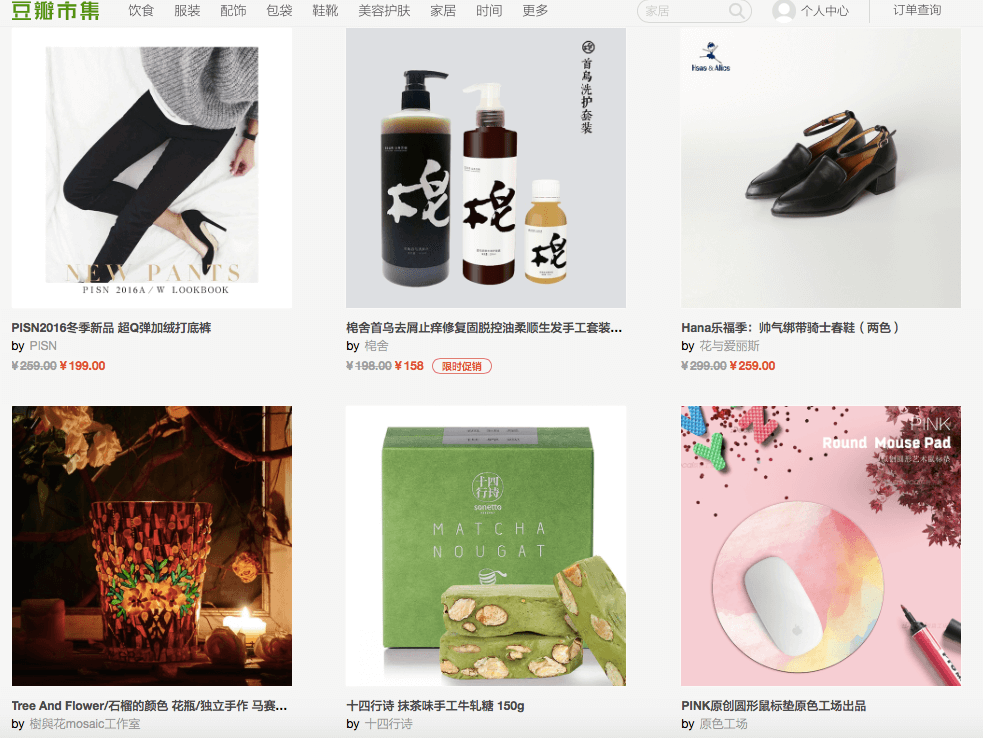 ↑ Hot items are shown on the homepage of Douban Market.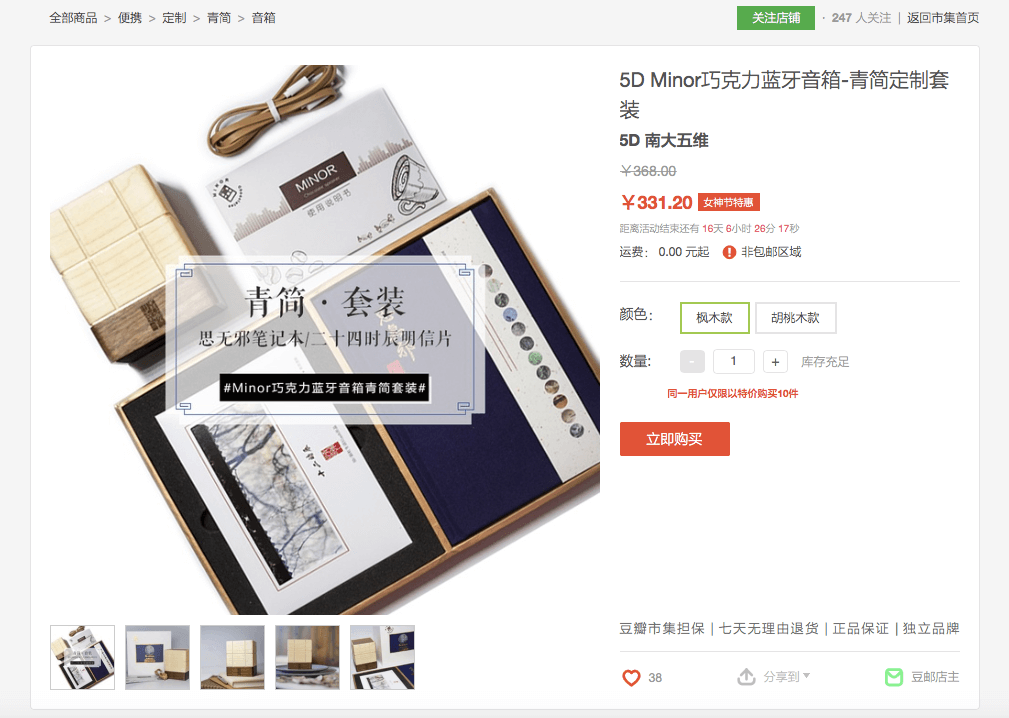 ↑ Product features and purchase options are shown clearly.
v. Douban City Events 豆瓣同城
Registered users can view coming city events and create new ones on Douban City Events. There are not many restrictions on the type of event: It can be a festival, an exhibition, a movie screening or a live theatre performance.
Douban City Events not only provides precious opportunities for Douban users that share similar interests to meet in real life but is also a great promotion platform for brands to promote their offline marketing events.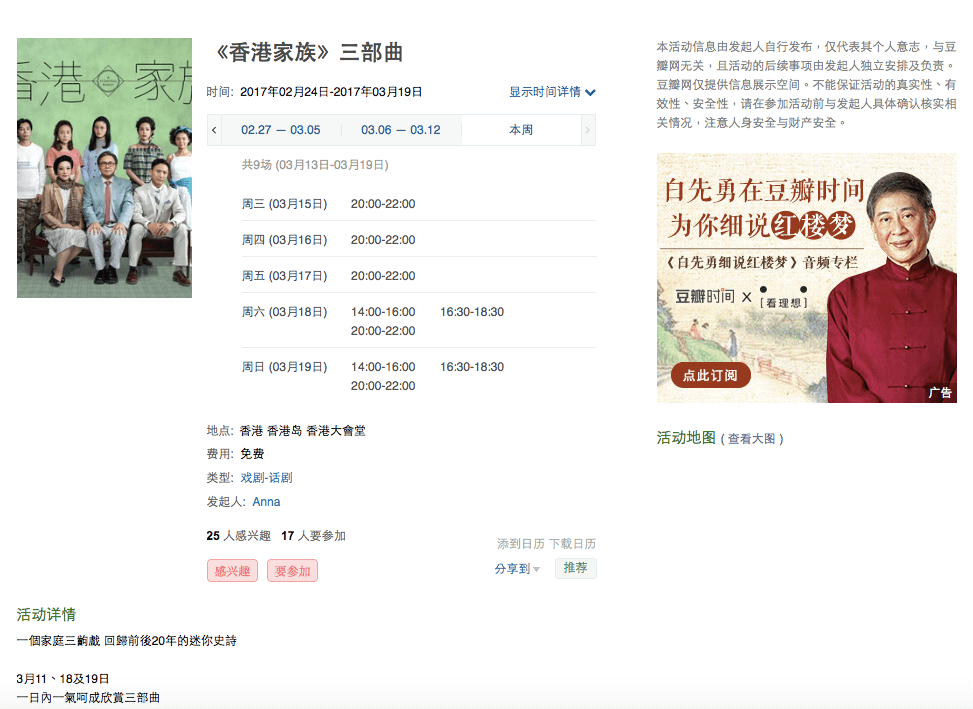 ↑ Events can be promoted on City events.
vi. Douban Online Campaigns 豆瓣线上活动
Douban online campaigns allow users to participate in online promotional events usually by sharing photos or written posts on a specific topic. Prizes can also be set for the campaigns as incentives to encourage participation and interaction.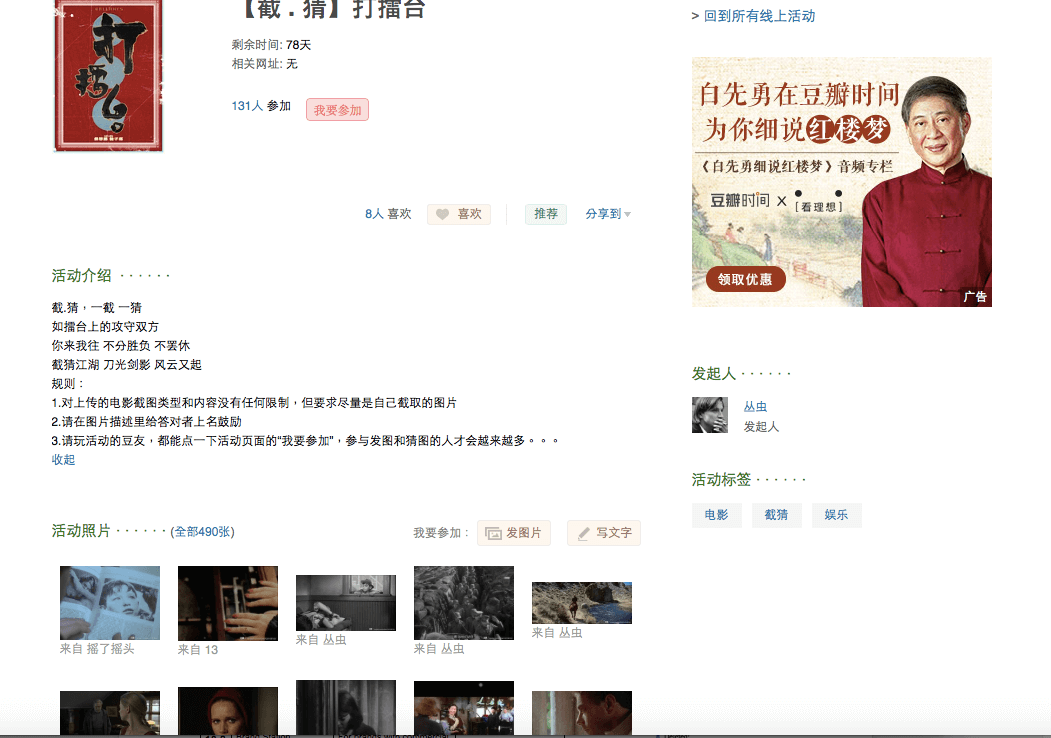 ↑ This campaign ask users to guess the name of movies based on images of key scenes. Participants can answer or provide questions to the campaign.
vii. Douban Groups 豆瓣小组
Douban Groups is an online forum in Douban.
They're divided into different categories:
Culture.

Travel & Photography.

Entertainment.

Fashion.

Lifestyle.

Technology.
Users can create a specific theme for their group and add sub-topics. Each category is a big cluster of users and individual groups are small niches serving specific interests.
This clear segmentation can help marketers locate specific interest groups more easily.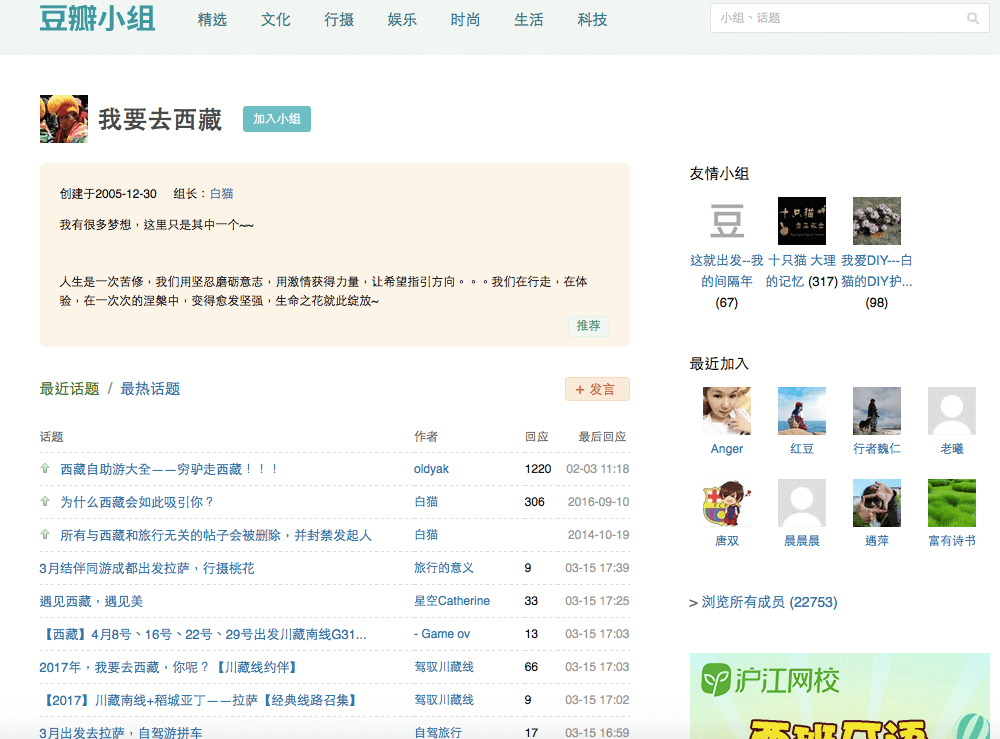 ↑ The group is talking about traveling in Tibet, and there are specific topics below.
viii. Douban Stations 豆瓣小站
Douban stations is a separate site independent from the main Douban site. It features functions such as blog posts, online polls and city events.
Douban Stations are categorized into 6 different types:
Ordinary Station : For individuals or groups who want to showcase and share topic-related content with others.
Brand Station : For brands with commercial or advertising needs

Music Station :

For individual musicians or bands to release original music and interact with fans.

For individual DJs or DJ groups.

For music labels to publish their latest news.

City Station :

For organizations or groups that regularly organize city events.

For offline stores with physical venues and business hours.

Publisher Station : For publishing companies that have published at least 20 books to announce book launches, book signings or reading salons

Movie Station :

For movie producers and production companies to promote movies.

For cinemas to update movie/ticket information as well as offer coupons and discounts,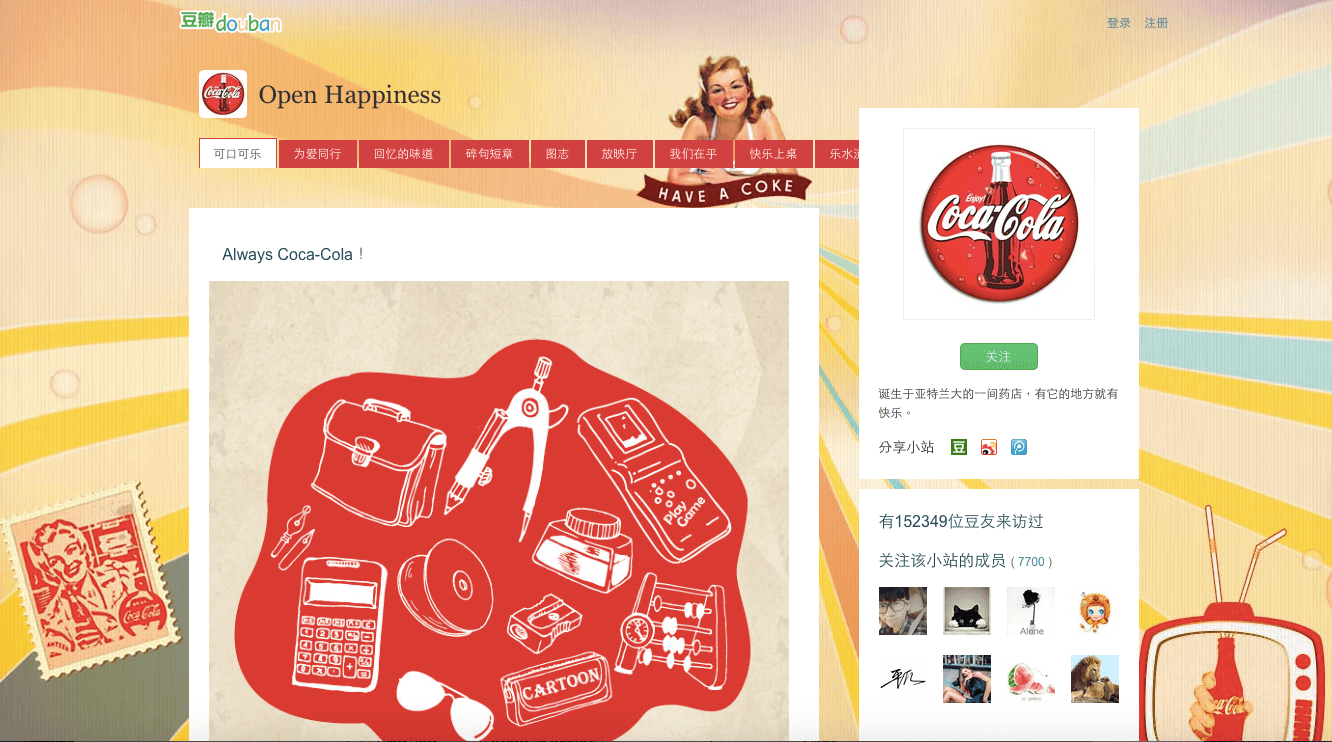 ↑ Coca-Cola's Douban station has photos, information on marketing events, blog posts and a rundown of the brand's history.
---
3. Douban marketing options
Douban offers interest-based advertising to target audiences more specifically. It understands its user base so well that it can provide more in-depth and integrated marketing options.
First, brands can pay to put up banner ads that appear on the website. Below is an example of banner ads on Douban homepage.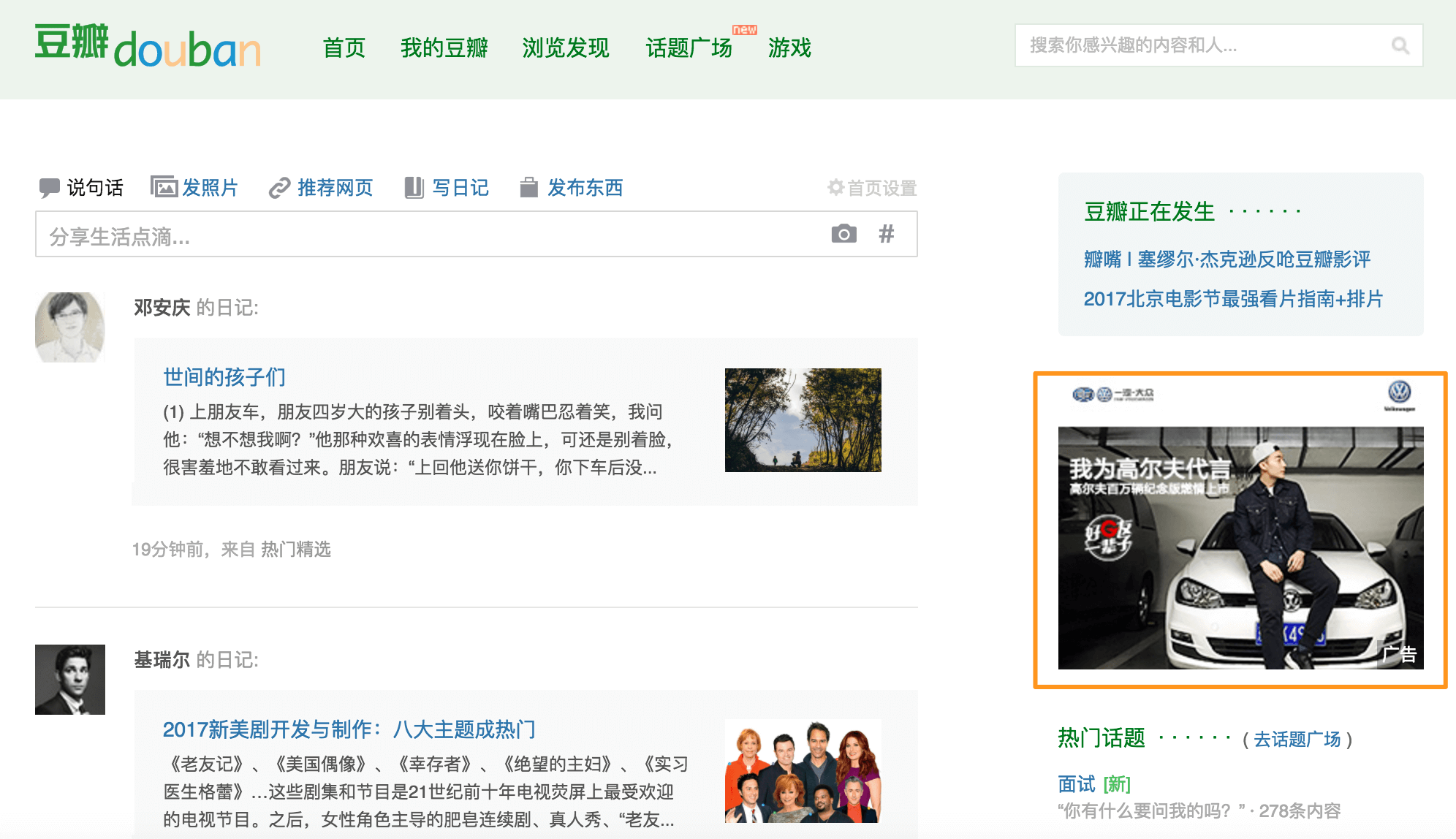 Then, brands can consider setting up their own Brand Station. Douban also provides a premium version of Brand Station with advanced functions.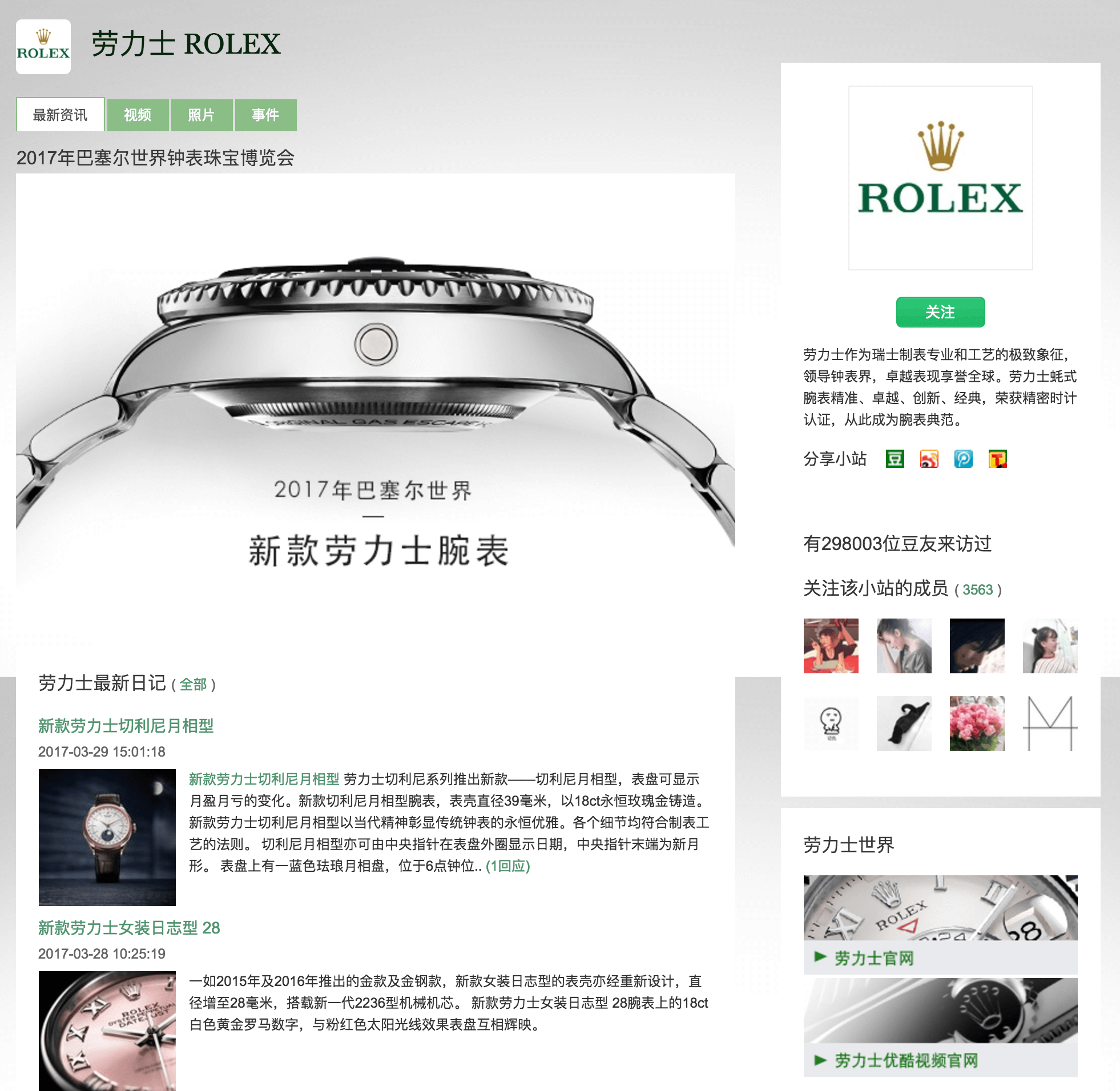 ↑ The well-known luxury watch brand Rolex's Brand Station on Douban.
Advertisers can also make good use of the multimedia advertising options to promote their brands and products in the format of audio ads and video ads. For example, brands can pay for a 15-second audio ad on Douban FM, or put up banner-like video ads on the website.
For the e-commerce industry, Douban Market and Douban Stuff help marketers make their products visible to target customers with direct links to their external online store. Customers may also buy directly on Douban.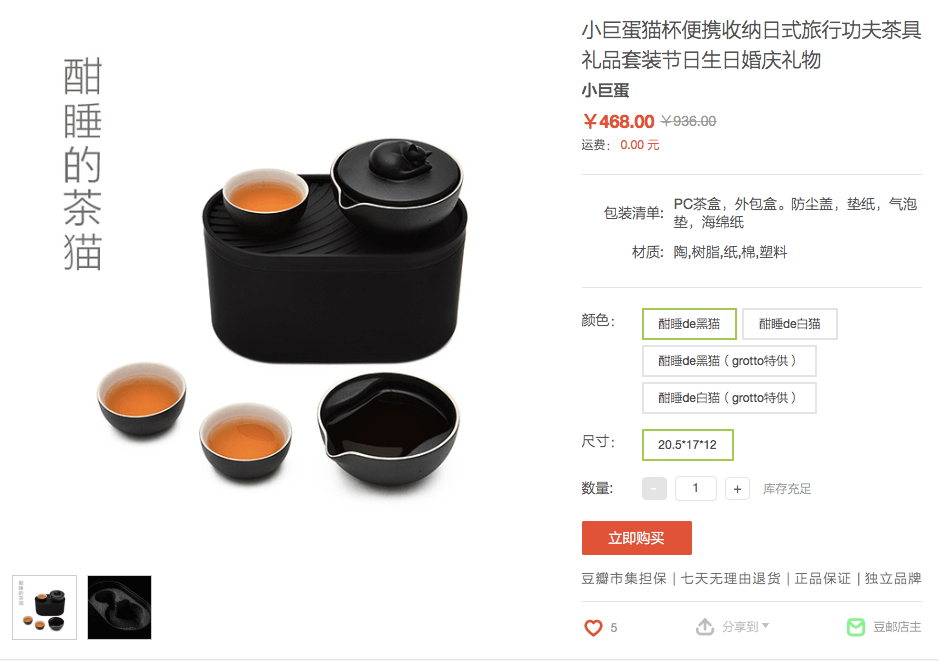 ↑ Brands can launch products for customers to buy directly on Douban.
---
What do you think of Douban? Are you interested in doing marketing on Douban? Please leave a comment below.
---
To get deeper insights into Chinese social media marketing and utilizing it to serve your business, join ChoZan, a training and resources platform for Chinese social media marketers.
Please follow our official WeChat account to get more updates about the latest news, feature updates and case studies.
Share this article on your favourite social media