Ranging from influential celebrities and bloggers to featured communities and interest pages, Weibo KOLs (Key Opinion Leaders) are sophisticated enough to amass a large number of followers thanks to their content creation talent.
For emergent brands and products, a Weibo KOLs' follower base and public credibility enable effective promotion to an extensive audience.
There are 4 key ways to promote with Weibo KOLs.
---
1. Sponsored Posts
This is the most popular way that KOLs are used in advertising for brands on Weibo. They publish brand-featured content in their own iconic voice. They can also repost designated content directly from a brand's official account. This costs less but is not as effective.
Case Study: Sponsored posts for Suning's "418 Sales Campaign"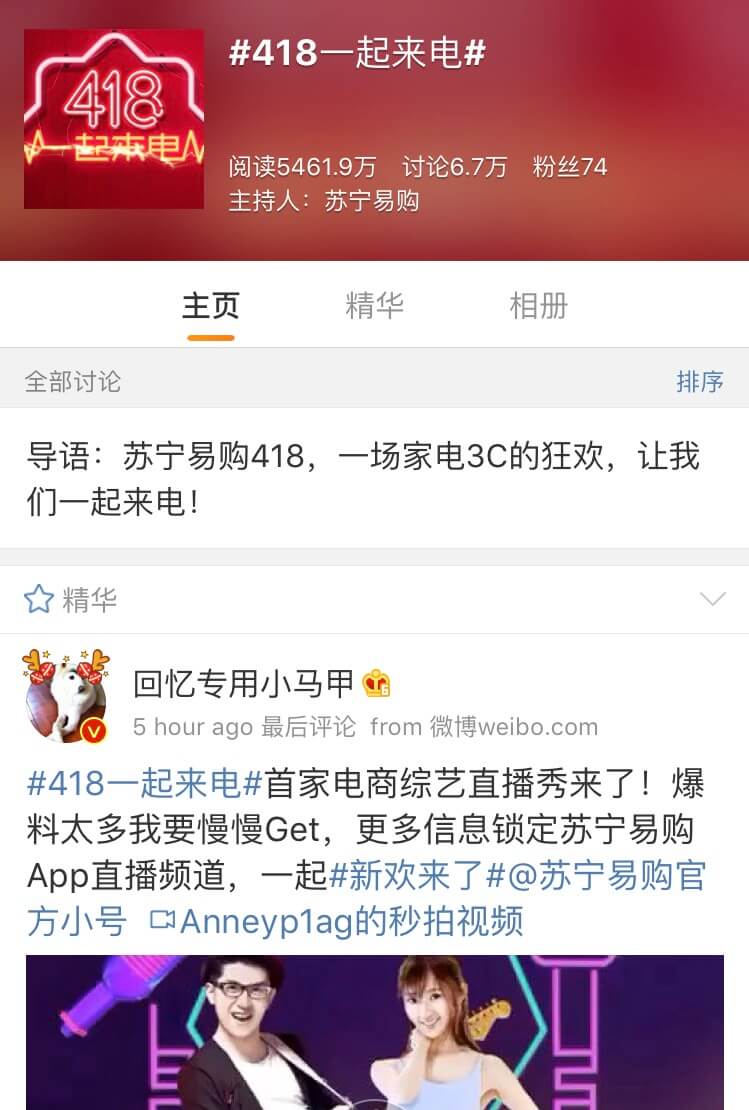 Suning, one of the largest non-government domestic appliance retailers in China, turned to Weibo KOLs to promote its "418 Sales Campaign".
It chose bloggers with considerable influence such as 回忆专用小马甲 (Hui Yi Zhuan Yong Xiao Ma Jia) and 英国报姐 (Ying Guo Bao Jie). Hui Yi Zhuan Yong Xiao Ma Jia is well-known for its funny pet-centered content including abundant daily posts of the blogger's adorable pets.
It's popular among pet lovers and younger readers. Ying Guo Bao Jie concentrates on British-related news and cultural criticism.
Having promotional content with campaign hashtags posted first by Hui Yi Zhuan Yong Xiao Ma Jia and then reposted by Ying Guo Bao Jie. Suning successfully amplified its message about the "418 Sales Campaign" to a wide audience.
---
2. Product Reviews
Brands often make full use of product reviews written by Weibo KOLs to win credibility and greater media exposure. Followers trust KOL testimonials. This promotes trust between customers and the brand and can spur purchasing behavior among those who want to emulate the KOL.
Case Study: A video review of Bobbi Brown products by Kevin凯文老师
Kevin is a widely recognized fashion designer with a good reputation in the cosmetics industry. His Weibo posts contain diverse and professional fashion-related news. He also posts tutorials, product reviews and recommendations. He spoke highly of a new set of Bobbi Brown products and made a comprehensive video review for them.
---
3. Giveaways through KOLs
Giveaways by KOLs overwhelmingly inspire comments, likes and reposts among followers. Brands can take advantage of a blogger's influence to launch giveaway campaigns in cooperation with popular Weibo accounts and select the winner from the participants.
Giveaways often spark rapid public interest in the sponsored products.
Case Study: SK-II giveaway campaign with gogoboi

gogoboi, one of the most influential fashion bloggers on Weibo, set up a giveaway campaign with SK-II. It was in Q&A form with a twist. Participants had to answer a question after watching a video and then repost it to others with the answer.
Selected participants with right answers on their reposts were rewarded with sponsored SK-II star products.
---
4. Participating in a Campaign
For this kind of involvement, invited KOLs must be powerful enough to lead promotional campaigns. Weibo KOL involvement in a campaign dramatically increases the influence of the campaign among the general public and generates curiosity.
Case Study: Mizijun and the Weibo campaign launched by Pizza Hut
Mizijun (密子君) is well-known for her compelling competitive eating videos on Weibo. She was engaged in a Weibo campaign set up by Pizza Hut for its new product promotion.
The campaign was entitled "Show Your Excited Look When Eating"(#秀出吃货高潮脸#), allowing participants to upload their selfies with excited looks when eating pizzas of new flavors, and then the most popular 70 participants would be selected as the winners according to their number of "Like". Mizijun was invited in the campaign as well and made a competitive pizza-eating video for Pizza Hut.
As a result, the video triggered over 1500 reposts and 2500 comments within merely six hours.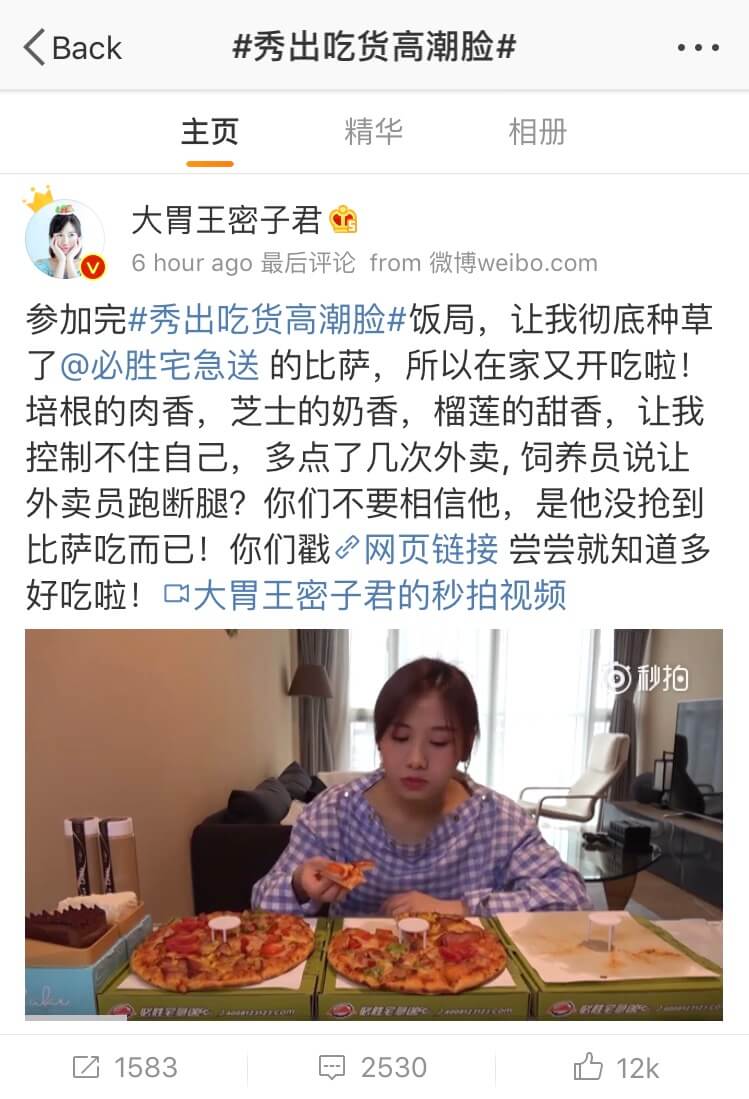 Case Study: Jiang Xin and the Xiaokaxiu app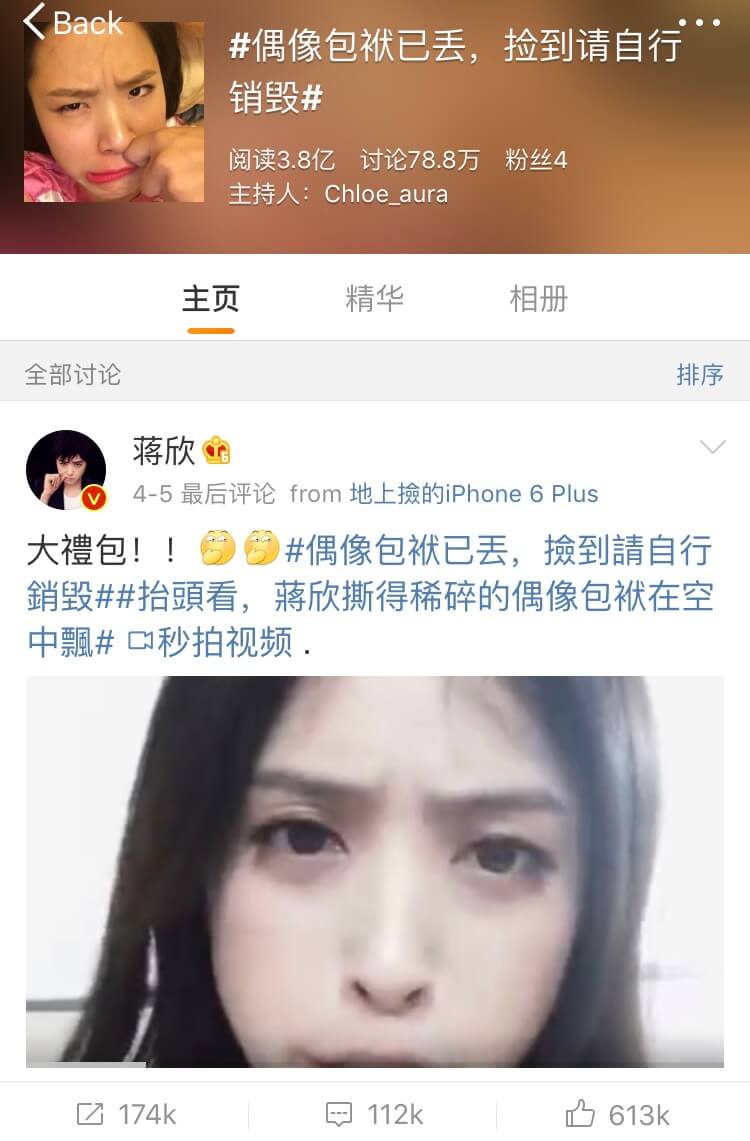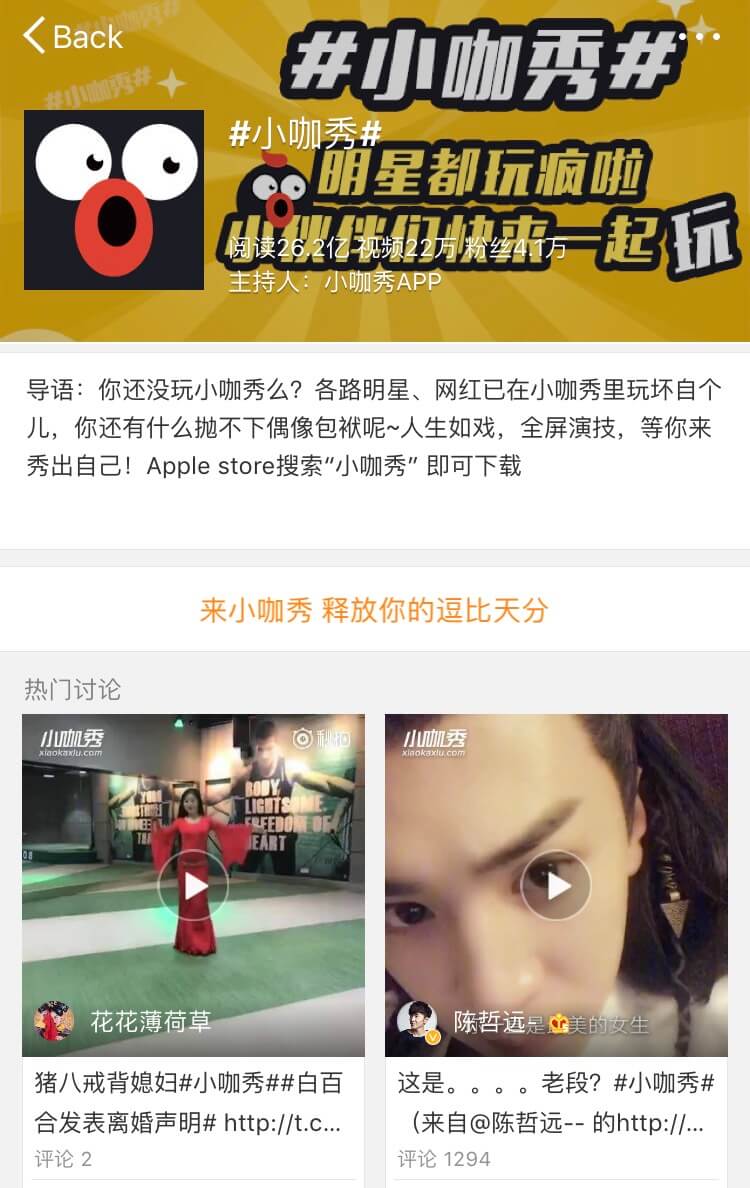 Xiaokaxiu (小咖秀) is a video application that allows users to make funny lip-synch videos. The campaign entitled "The Funniest Lip-synch Contest" (#爆笑对嘴大赛#), set up by Xiaokaxiu, was a big sensation on Weibo.
Jiang Xin (蒋欣), one of the most popular actresses in China, actively participated in the campaign and even branded her video with the Weibo topic "I gave up my image. Please don't give it back to me even if you find it." (#偶像包袱已丢,捡到请自行销毁#).
As a result, "蒋欣" and "小咖秀" were listed together in the hot search rankings.
---
Weibo KOL engagement contributes greatly to credibility, media exposure and enables a wider reach to potential customers. By means of compelling content or influential campaigns, brands can effectively promote at a more reasonable price.
Do you have any questions about Weibo KOLs? Want to know more about Weibo? Please leave a comment below or send us a message.
---
To get deeper insights into Chinese social media marketing and utilizing it to serve your business, join ChoZan, a training and resources platform for Chinese social media marketers.
Please follow our official WeChat account to get more updates about the latest news, feature updates and case studies.
Share this article on your favourite social media