China's cloud landscape has evolved rapidly in recent years, offering immense opportunities for brands looking to establish a strong digital presence in the world's largest consumer market. With cloud landscape's vast population and rapidly growing middle class, China is a unique market that demands agile, scalable solutions to meet the ever-changing needs of consumers. The cloud infrastructure in China has matured significantly, offering robust computing power, data storage, and advanced analytic capabilities. Brands that leverage China's cloud ecosystem can unlock new avenues for growth, streamline operations, enhance customer experiences, and gain a competitive edge in this dynamic market. 
To get a solid, comprehensive view of the Chinese marketing landscape, guides like ChoZan's Mega Report 2023 can help brands look for marketing insights. 
These six concepts can also give brands a basic idea of how China's cloud landscape can help them thrive in 2023.
1 Cloud providers are local Chinese companies
Only local companies can own and operate cloud services and infrastructure in the country
Foreign cloud companies need to partner with local companies to operate. Microsoft has partnered with China-based 21Vianet to run its data centers, and Beijing Sinnet Technology is the local firm that works with AWS. IDC's latest "China Cloud Professional Services Market (Second Half of 2022) Tracker" report shows that in the second half of 2022, the overall market size reached 138.7 billion yuan, a year-on-year increase of 17.6%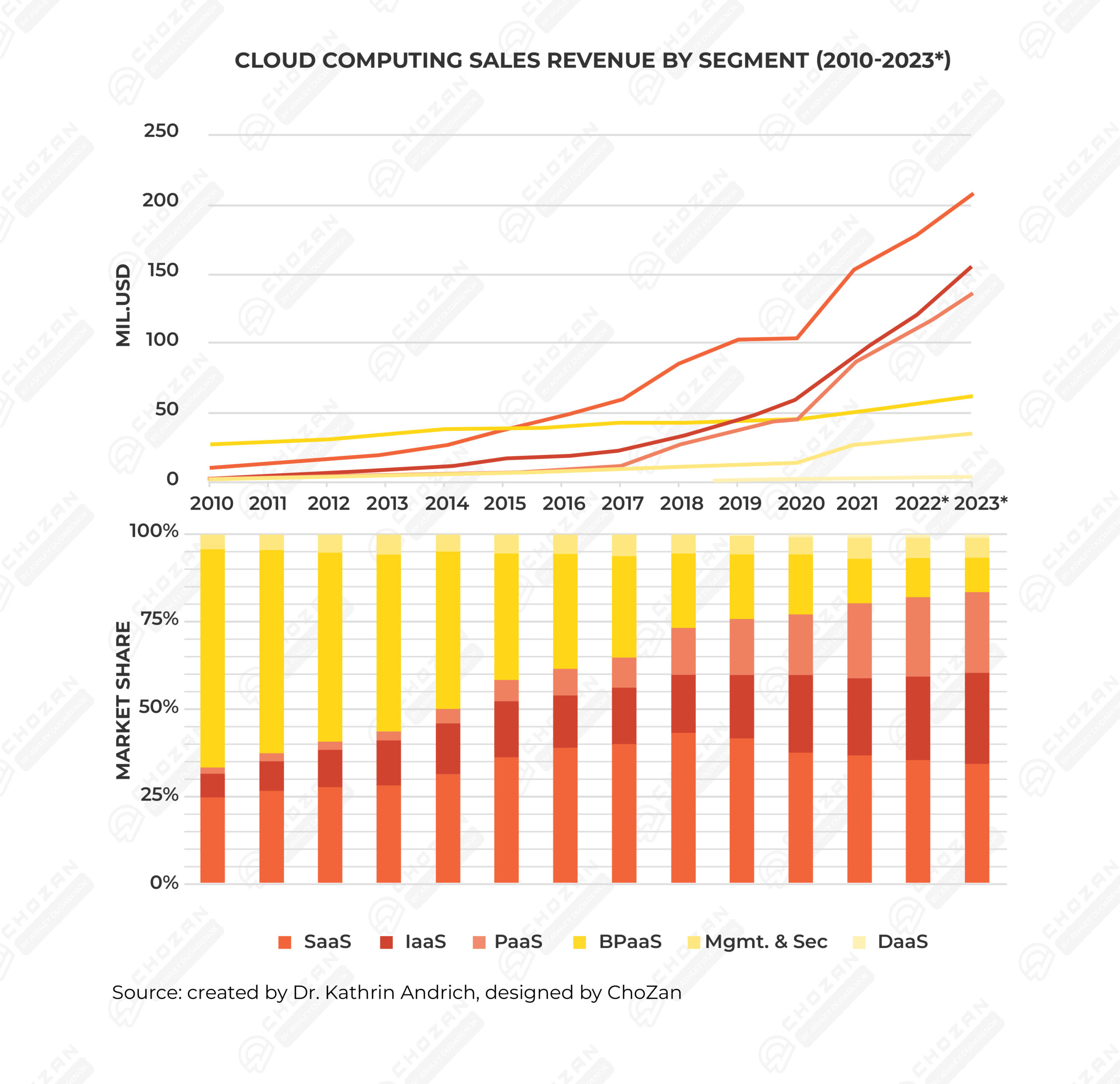 Source: created by Dr. Kathrin  Andrich
2 The market is dominated by big Chinese tech companies
Tech companies are offering deals to increase their market share
Alibaba, Huawei, and Tencent have all been engaging local governments across the country to secure lucrative contracts. Competition is fierce but returns on investment are high. Aside from lowering prices, cloud service providers entice clients by packing other resources into their service contracts, such as referral traffic and advertising. Good Future Group, one of China's largest education groups, migrated from Alibaba Cloud to Tencent Cloud because Tencent promised advertising resources for the firm.
Baidu's Smart Cloud division is aggressively pursuing growth opportunities. It currently holds a 28.1% market share in the smart cloud segment, maintaining its top position for four consecutive years. The company has firmly established itself as a leader in the AI cloud service market, which is projected to reach RMB 7.46 billion (USD 1.1 billion) in 2023
3 Cloud tech's growth still has a long way to go
There is a huge market for cloud services in China, and it is growing fast
Cloud services form a sizable market in China, and are only picking up speed as companies of all stripes digitize their businesses and internal systems. By 2024, 70% of China's top 500 organizations will have implemented a multi-cloud management strategy across public and private clouds. Cloud computing has been widely used in various government departments across the country. Beijing's city government wants to normalize using the cloud for all aspects of business and public services and the national government spent close to RMB 5 billion on cloud services in 2020, with a growth rate of 25% year-on-year.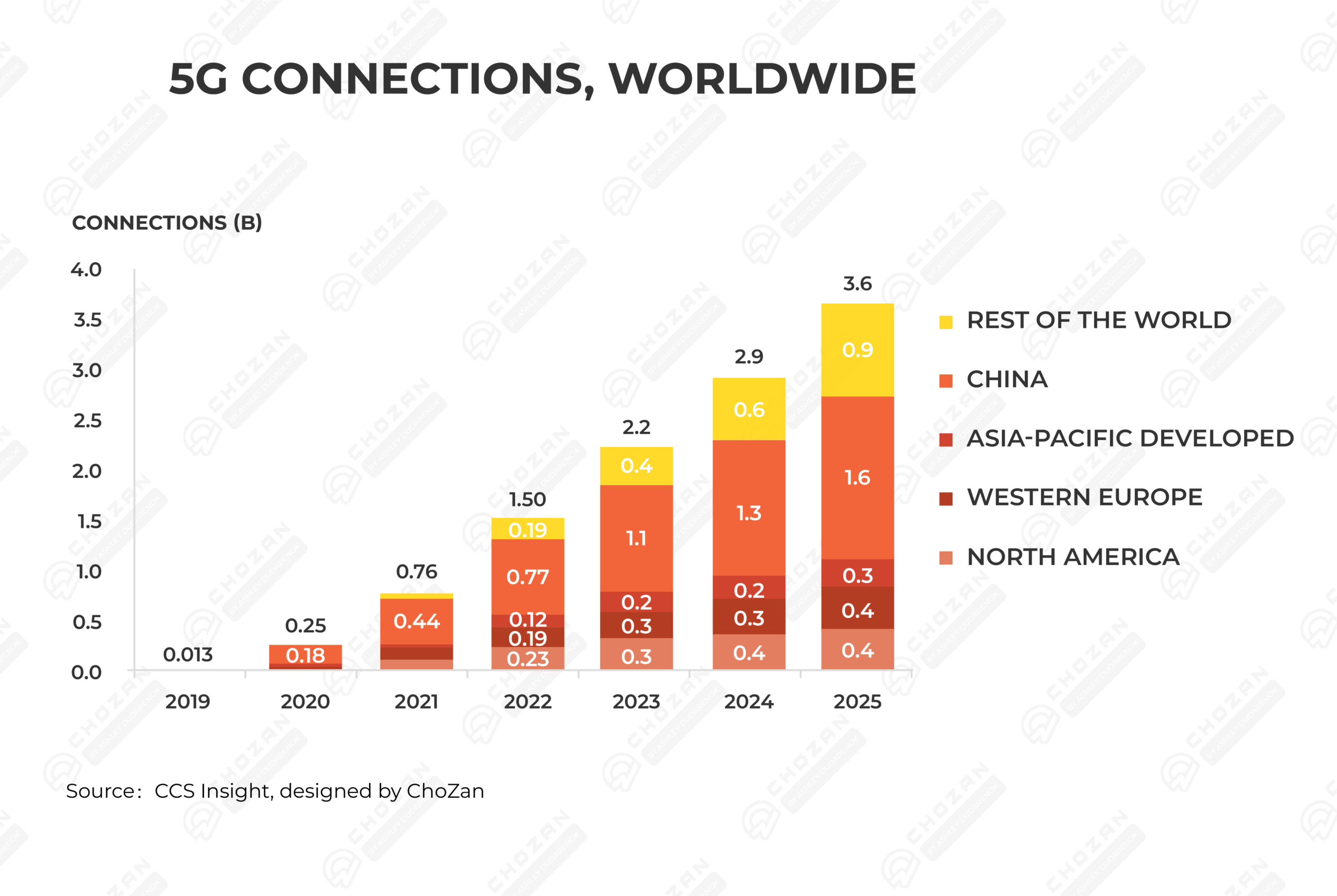 Data source: CCS Insight – 5G Adoption to Surge as 5G Smartphones Proliferate and Prices Tumble
4 China's 5G is rewriting market ecosystems
Cloud tech with China's 5G restuctured the whole market
5G remote network roaming means that when the carrier does not have 5G network coverage, users can access the 5G network of other operators and continue to use it.
A number of operators are using the most updated 5G iteration and there was a joint announcement by four operators to officially launch the world's first 5G remote network roaming trial in Xinjiang. Applications such as 5G new calling have also become a focus. It uses the most up to date protocols to provide smooth, high definition video with real-time interaction.
5 Service providers are expanding globally
Cloud tech enables brands in China to expand their operations globally with relative ease
Alibaba Cloud accounted for 7 percent of the global public cloud infrastructure services market in 2022, ranking third place together with Google Cloud after Amazon Web Services and Microsoft Azure, the two US cloud computing giants, according to a Forrester Research's report. Advancements in AI tech like generative AI are opening new avenues for the evolution of cloud computing. MaaS (Model as a Service), where language learning models are maintained for private or paid usage via cloud services, is an idea that's been gaining traction in recent years.
Between 2020 and 2022, the percentage of global users using security software via the cloud increased from 35.7% to 41.1% as using cloud security services grows in popularity around the world.
20% of global cloud security deployments prioritized preventing cloud misconfigurations. Scalability and efficiency are the two main drivers of cloud security usage. The most obvious benefit of global cloud security defense is the improvement of the cloud security ecosystem, with 55.5% of users having a positive attitude towards it. With cloud providers offering data centers in multiple regions, brands can deploy their services closer to their target markets, reducing latency and enhancing user experience. Additionally, cloud services often provide global content delivery networks (CDNs) that help deliver content faster to users worldwide.
6 Optimize business operations
Cloud tech provide more innovative and intelligent operations for businesses
By 2027, 45% of enterprises will save more than $100 million annually by using event-driven automation to improve resiliency, reduce repetitive IT operations, and move to fully autonomous digital infrastructure. Organizations will favor technology partners who can deliver consistent application deployment experiences across cloud, edge, and dedicated environments.
Cloud technology in China offers numerous advantages to brands seeking to enhance their operations and stay competitive in the rapidly evolving digital landscape. With scalability, cost efficiency, improved collaboration, data security, global reach, and innovation opportunities, brands can leverage cloud services to streamline their processes, expand their reach, and deliver exceptional experiences to their customers. 
Embracing cloud technology can be a game-changer for brands in China, empowering adaptability to changing market demands and unlocking new opportunities for growth. Cloud technology is just one of the cutting-edge technologies in China's marketing game. To explore more technology and get further insights about how to successfully navigate China's marketing scene in 2023, this handy guide serves as a valuable primer. Contact us and tell us about your specific needs.
Sources:
https://www.linkedin.com/pulse/6-things-you-need-know-chinas-cloud-/
https://kr-asia.com/cloud-computing-giants-compete-for-market-share-as-tencent-baidu-and-alibaba-release-q1-financial-reports
https://www.zdnet.com/article/alibaba-to-spin-off-cloud-unit-take-two-others-to-ipo/
https://baijiahao.baidu.com/s?id=1765681423701117808&wfr=spider&for=pc
https://finance.eastmoney.com/a/202306022740661697.html
http://www.ikanchai.com/article/20230414/536181.shtml 
http://www.myzaker.com/article/64394c958e9f090d5b034a8d 
https://think.szonline.net/zhbd/20230426/202304617002.html