The rise of new consumer brands is one of the most notable phenomena in the Chinese business landscape in recent years. These new brands have rapidly developed by targeting high-demand markets that established brands have overlooked and gaining a foothold in the market. 
For example, the cosmetics brand Perfect Diary (完美日记) went public on the New York Stock Exchange after just three years of operation, while the beverage brand Genki Forest (元气森林) achieved astounding 43-fold sales growth in four years, reaching 8.5 billion RMB in 2022. A wide range of new consumer products and brands take turns trending on social media, shaping the new lifestyles of young people.
According to Winshang.com, as of February 2023, there have been 29 rounds of investment and financing for new consumer brands. In addition to this, with 325 financing rounds throughout 2022, it's clear that new consumer brands are continuously receiving enthusiastic support from venture capital firms and have optimistic development prospects. What's led to the rise of new consumer brands? What makes them "new" and how have they been achieving success? Let's take a look.
Factors Shaping China's Consumer Market
Macroeconomic Conditions
There's no doubt that China is one of the world's largest consumer markets, with promising domestic demand. Despite challenging economic times, the IMF predicts that China's GDP growth rate will reach 5.2% in 2023. It's also making swift progress in areas such as 5G, smart terminals, the mobile internet, big data, artificial intelligence, and the Internet of Things. This has increased production, marketing, distribution and transportation efficiency for new consumer brands and products.
Support for Domestic Brands
National pride is at an all-time high, and more and more consumers want to spend their money on traditional Chinese culture and Chinese products. People are eager to find a sense of identity, belonging, and achievement by supporting Chinese brands so, in 2022, the growth rate for national trend brands was three times that of regular brands.
Policy Endorsement
The Chinese government has supported domestic brands and business initiatives at the national and local level with policy support. They've introduced favorable policies and major strategies related to the consumers, entrepreneurship and national brand products to promote the continuous growth of consumer demand, accelerate consumption upgrades, drive economic consumption and guarantee industrial development.
Changes in Demographics – Gen Z
Gen Z, those aged 11 to 26, is an emerging consumer group in China and brands are keen to get them on board as they move toward the prime consumption ages of 18 to 36. Although many live at home and are dependent on their parents, they're still spending. A report by Guiyuan Securities from September 2022 showed that there are 233 million Gen Zers in China and they spent nearly 5 trillion yuan in 2021. Gen Z and young Millennials are key to the rise of new consumer brands in China.
Gen Z as Consumers
Generation Z refers to people born between 1997 and 2012. They're mobile internet natives and make up a large part of online discourse and traffic. Born and raised in a rapidly developing nation during relatively healthy economic times, they tend to be affluent, more confident than previous generations, with a greater willingness to express themselves. They also have a strong interest in and connection to social media. 
As consumers, they tend to be more concerned about emotional needs, appearances and personalization. They care a lot about how products look and like exclusive items. They select not only the brand but the image that comes with it and brands are their tools for expressing themselves and shaping their personal image. If a brand enhances their identity, they'll buy from them, become repeat customers and spread the word.
How Have Brands Reacted to Gen Z?
New consumer brands have been faster than traditional brands in customizing products and adapting their strategies to respond to the needs of Gen Z. They've also adapted their marketing and sales approaches to suit Gen Z and show them products they like. This is tied in tightly to the characteristics of new consumer brands. 
What's New About New Consumer Brands in China?
The "new" in new consumer brands in China refers to the new media, concepts, products, and supply chains that go along with the new production and consumption logic in China. 
New Supply Chains
New supply chains are comprehensive networks that are more efficient, flexible, and responsive to the needs of consumers. By leveraging the latest technology and digitization, new consumer brands in China optimize their supply chains and gain a competitive advantage.
One of the best examples is Haidilao. It has expanded into every level of the catering industry's supply chain including food supply, base materials, human resources, and interior decoration, with each link operating as an independent company. This ensures optimal raw material costs while guaranteeing the taste and quality of its dishes, which is the cornerstone of its competitiveness. This is also one of the reasons for Haidilao's high valuation. It's not just a restaurant chain. It's a business group with interests in the entire supply chain.
New Media
The growth of new media has changed China's consumer products sector. Young people are drawn to social media, short videos, livestreaming and discount group buying apps. New consumer brands use these kinds of new media to engage with consumers. They leverage social media, e-commerce platforms, and other digital channels to reach consumers and build brand awareness.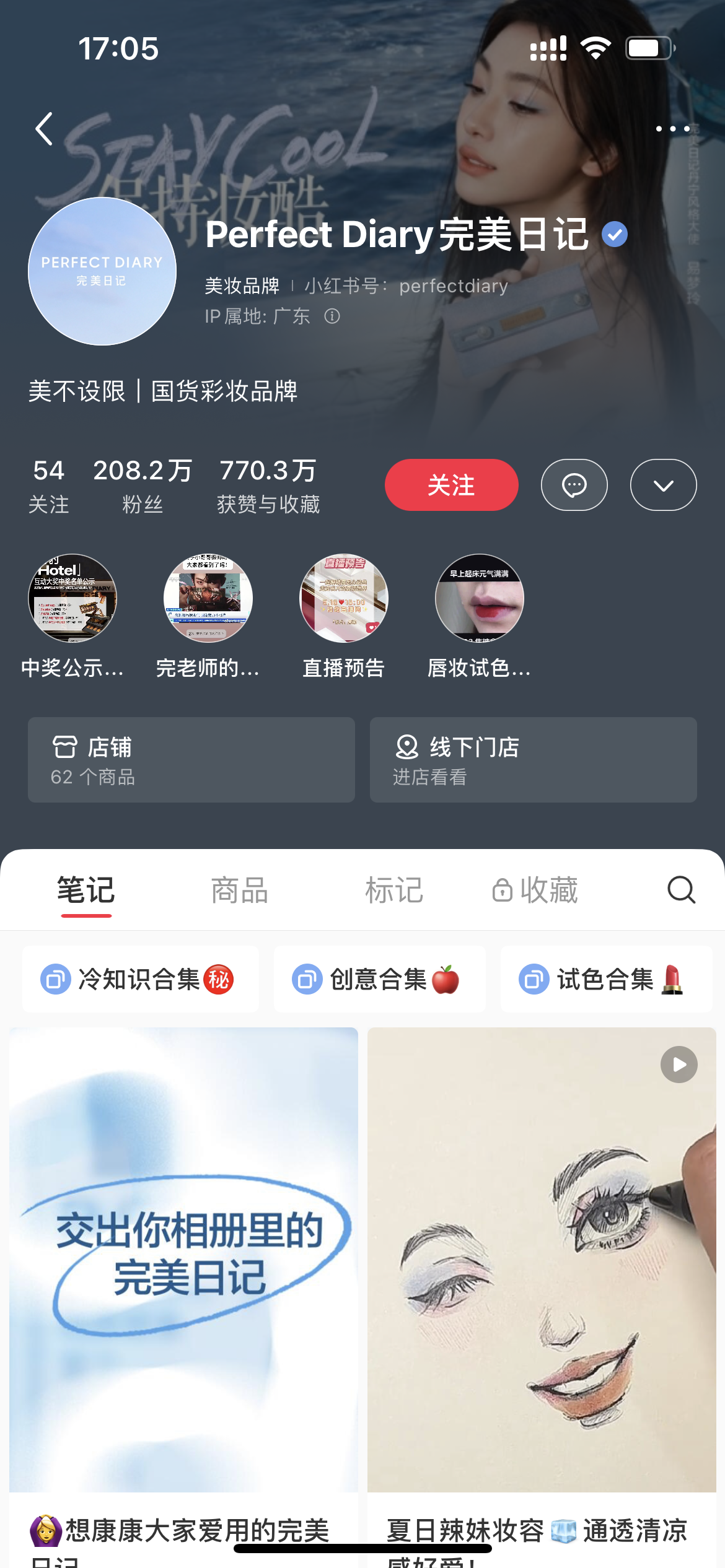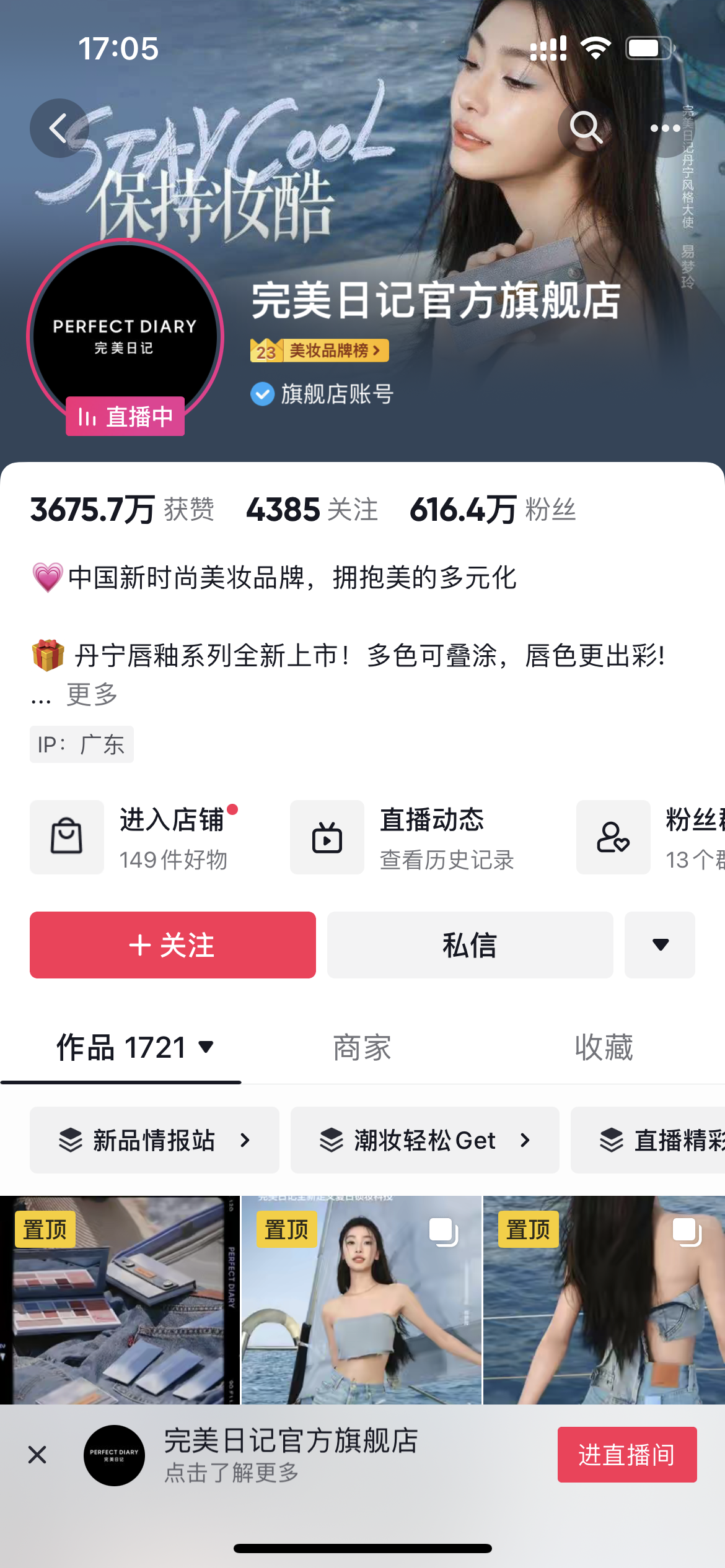 Images of Perfect Diary's Red and Douyin homepages with online store entries and livestreaming access. Screenshots via Red and Douyin.
For example, they use Douyin to spread engaging content, Red and Weibo to reach a wider audience, and e-commerce platforms like Alibaba's Tmall and JD.com to sell their products directly to consumers.
New Products
Providing customized, personalized, special or niche products is the way new consumer brands survive and get big. 
Self-heating technology for ready meals has been around for a long time. A chemical reaction happens when water is mixed with minerals that are provided in a special bag. This reaction heats water and creates steam in an outer plastic dish while the food remains in a separate inner dish. This technique was first used in militaries to heat soldiers' rations. Then companies like Heater Meals in the United States began selling them to the public in 1994. 
In China, starting around 2018, companies started using this method for popular meals such as hot pot, rice dishes, and instant noodles. Self-heating food took off and became a sought-after option. This led to the rise of several brands that offered better taste and quality. One of the top players is Zihaiguo (自嗨锅), which has introduced five product lines in just two years and has a market valuation of over US$ 2 billion.
Implications for Global Brands Marketing in China
Selecting A Social Media Matrix
New consumer brands can't succeed without the help of social media. These brands invest their main marketing resources into social media platforms, utilizing third-party KOLs and KOCs for brand promotion and advertising. This enables influence and virality. First, KOLs influence a large number of consumers who learn about the product with many buying it, especially in groups or for special discounts. After this, if all goes well, the trend goes viral and more and more people hear about it as things snowball. These brands are looking for an explosive effect in the short term with different products to help spread the brand's name.
Rasi has done this well. It's an up-and-coming skincare brand that focuses on "minimalist real formulas + ingredient upgrades". It launched in 2020 on a number of online channels. Then, it started working with top livestreamers like Li Jiaqi, who focuses on Tmall. The brand's flagship store on Tmall now has over 1 million fans. According to its founder, Rasi's average Tmall unit price is 246 yuan, its average repurchase cycle from its own private domain traffic is 14.5 days and its average revenue per user is 1,159 yuan.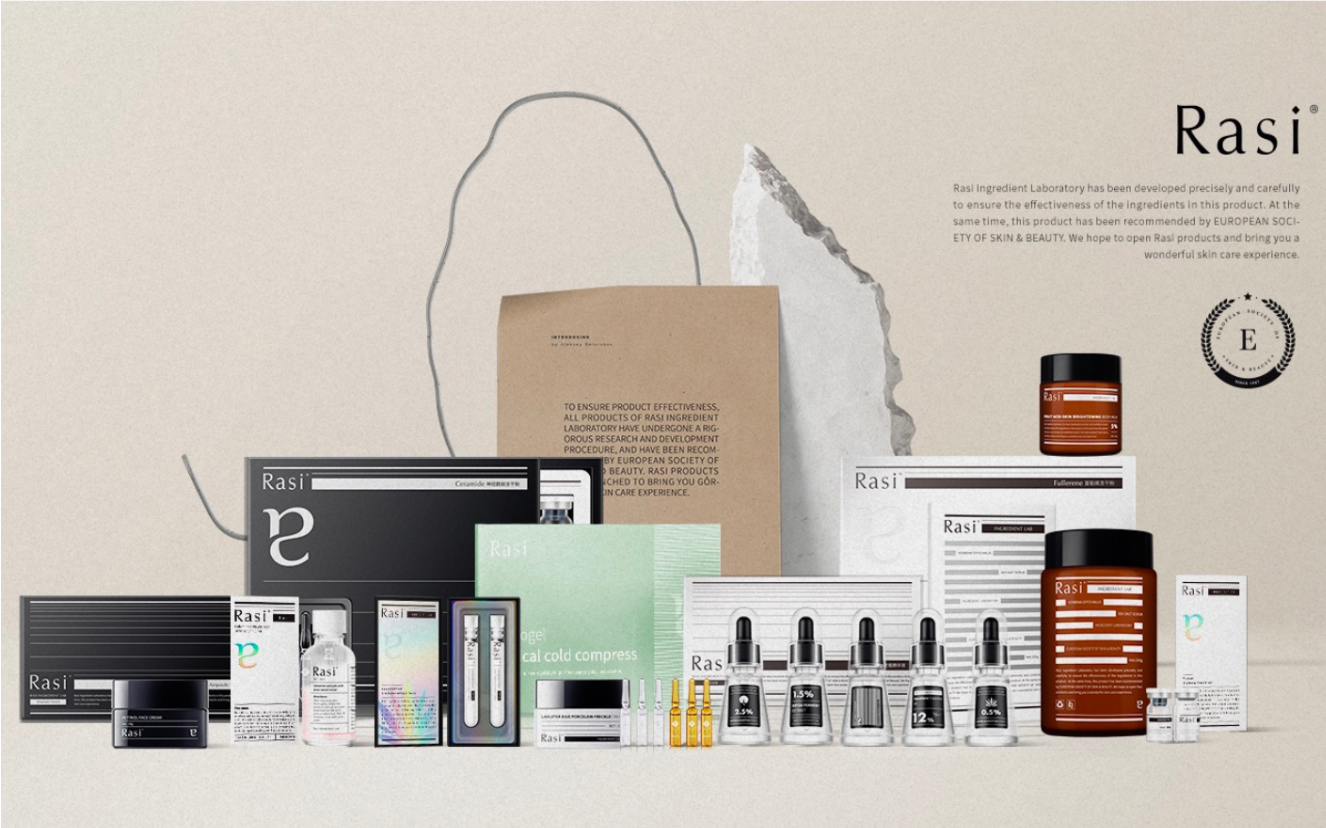 An example of Rasi's minimalist promotional style that aligns with its products and the aesthetic preferences of young consumers. Screenshot via Douyin.
Rasi's social media matrix uses endorsements from dermatologists and well-known KOLs to expand the brand's reach and credibility. Its products have been recommended by a number of dermatologists from Peking Union Medical College Hospital and the Army General Hospital and it has worked closely with Peking University, Union Medical College and China Medical University to publish research papers. The brand has also received safety and efficacy certifications from the European Society of Cosmetic Dermatology. 
This information is strongly emphasized in its promotional material. 76.6% of Rasi consumers say that these endorsements make them more trusting of the product ingredients and more loyal to the brand.
What's more, Rasi prepares scripts, visuals and other standardized content for product placements, ads and promotions, helping hosts save prep time and enabling KOLs who aren't skincare specialists to more easily promote the brand while keeping its communication consistent.
Omnichannel experiences
In the past few years, most new consumer brands were born online and remained there, cutting down on overhead costs. However, things are changing as online traffic becomes more expensive and branching out into the offline market is likely the next source of growth for them.
Fragmented media and omnichannel shopping trends make it impossible for brands to reach their target audience through a single channel. An integrated media strategy is needed to connect in different ways and adjust your message to resonate in each channel.
If online channels win because of convenience, what advantages do physical stores have? According to a survey by Vogue Business, Gen Z shoppers in China expect attractive premises and personalized in-store shopping experiences. They also like physical stores that have an exclusive feel.  
Fragrance brand To Summer (观夏, Guanxia) is an emerging brand representative of new Chinese perfume brands. It has gained prominence for growing its sales by 21 fold in just 5 years. It has annual sales of over 100 million RMB and a 60% repurchase rate through its private DTC model and offline stores, with millions of WeChat subscribers and over 100,000 loyal users. It's search volume on Red is much higher than the international brand Jo Malone and older domestic brand The Beast (野兽派).
To Summer has established a distinctive brand image and increased its touchpoints by setting up offline stores. Its first store in Beijing is called the To Summer Living Room and emphasizes experiential scenes. 
In March, it collaborated with Beijing's Mumu Art Museum to curate exhibitions in its store. There are plans to open a compound experience space in Shanghai and invite more artists and creative people to exhibit there. It's not unusual for a lineup of 20 people to develop outside the store shortly after it opens.
In the future, success online only or offline only won't be enough to meet consumer needs. Omnichannel marketing and distribution with a consistent experience will truly differentiate brands from their competitors.
Conclusion
In China, the mix of new supply chains, new media and new products has molded new consumer brands that aim their specialized items at young people looking for exclusive products and experiences at affordable prices. Nascent brands can establish themselves and grow quickly by focussing on genuine customer demands and can stay responsive by reacting quickly to customer feedback, using nimble manufacturing and logistics solutions. 
Can a model like this work elsewhere? Brands like Warby Parker and others that have already used many similar techniques show that it can.  
If your brand wants to deploy similar tactics in your own market, we can provide training suited to your specific needs and answer your most pressing questions through an expert call or series of consultation sessions. Contact ChoZan. We'll set up a meeting to find out what you need and where to go from there.
Sources:
https://www.scmp.com/economy/china-economy/article/3196242/chinas-gen-z-may-not-earn-much-they-spend-they-do-and-theyre
https://ee.ckgsb.com/chuang/content/news_detail/811
https://www.voguebusiness.com/consumers/gen-z-shopping-trends-uncovered-pay-pal