The retail industry is constantly evolving, and China has emerged as a global leader in shaping the future of retail. With its massive consumer market, technological advancements, and innovative approaches, China's retail landscape offers valuable insights and lessons for the rest of the world. China's retail market will experience a compound annual growth rate exceeding 9% by 2026. 
This significant expansion will lead to the success of domestic brands as local players focus on meeting Chinese consumer demands and enhancing collaboration with suppliers. Any brand looking to navigate China's retail future will need guidance on the industry's best practices.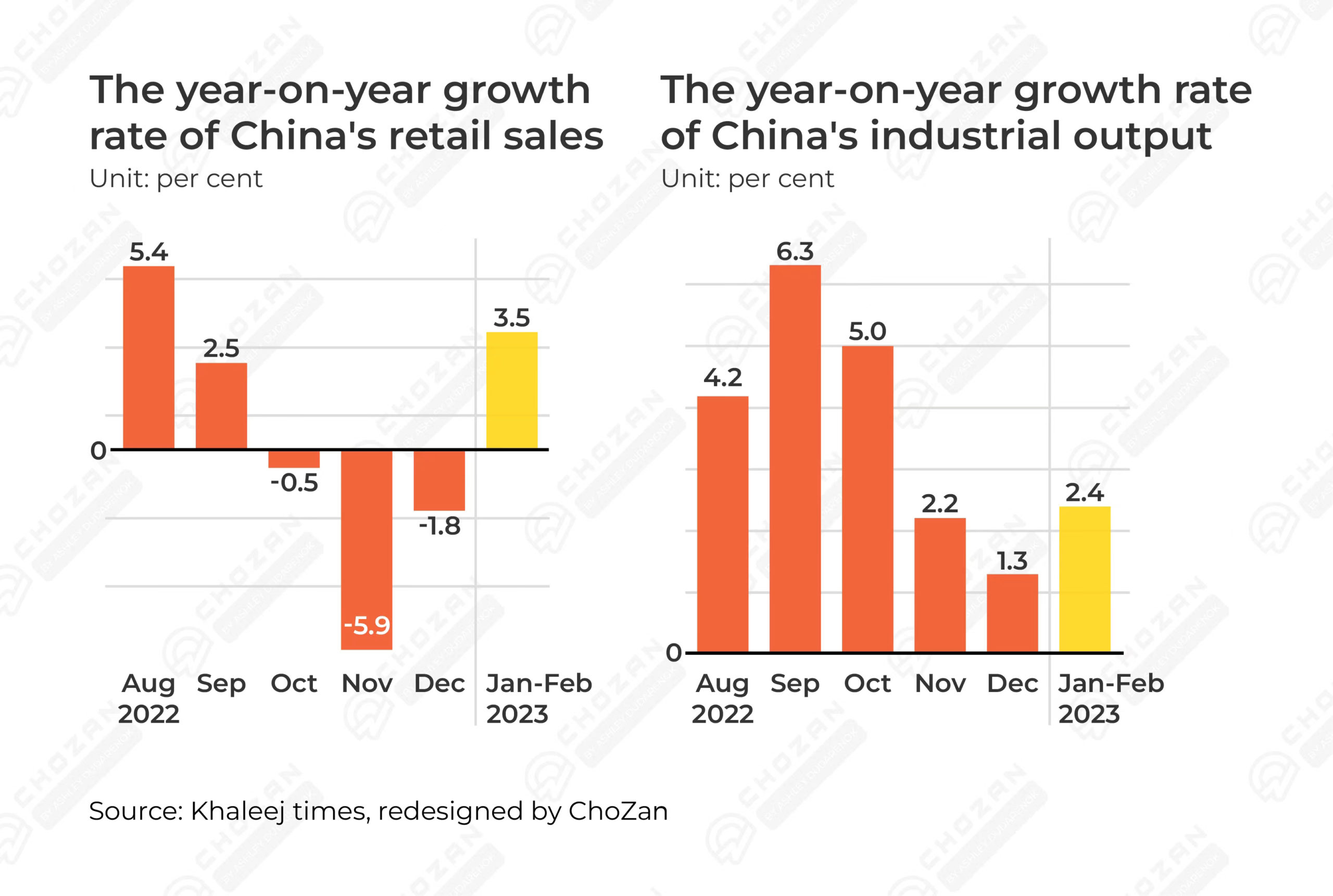 Source: Khaleej times, redesigned by ChoZan
Here are six key lessons to learn from China's retail industry in 2023 and their implications for the future.
1. Embrace Digital Transformation
China's retail sector has fully embraced digital transformation, blurring the lines between online and offline shopping. E-commerce giants like Alibaba and JD.com have integrated online marketplaces, payment systems, and logistics networks, creating seamless consumer shopping experiences. 
The digital transformation has allowed retailers in China to create a comprehensive ecosystem where consumers can easily discover, research, and purchase products across multiple channels. Data analytics allows retailers to uncover juicy insights about customer preferences, behaviors, and shopping habits. 
Armed with this knowledge, they can fine-tune their offerings and marketing strategies to hit the bullseye. Let's also not forget about the cool tech stuff like AI, VR, and AR. These mind-blowing innovations take the shopping experience to a whole new level, letting customers visualize products and engage with brands in mind-bending ways.
2. Empowerment through New Retail
The concept of New Retail, pioneered by Alibaba's founder Jack Ma, combines the best elements of online and offline retail. Physical stores are transformed into experiential spaces where customers can interact with products, enjoy immersive experiences, and make purchases seamlessly. 
The integration of augmented reality (AR), virtual reality (VR), and facial recognition has revolutionized the retail experience. New Retail blurs the boundaries between brick-and-mortar stores and online platforms, creating an ecosystem that offers convenience, personalization, and entertainment. 
In China, a fascinating trend is emerging in the retail landscape: unmanned stores like BingoBox. These innovative setups allow customers to enter, shop, and leave without needing any interaction with store staff. How is this possible? Well, these stores rely on advanced AI and computer vision technologies to enable automated checkout and even provide personalized recommendations. At BingoBox, customers scan RFID-labeled items and pay through WeChat at self-checkout machines.
3. Harness the Power of Livestreaming
Livestreaming has become a powerful marketing tool in China's retail industry. Influencers and Key Opinion Leaders (KOLs) collaborate with brands to showcase products through live broadcasts, engaging directly with consumers and driving sales. 
The sportswear sector has recently been booming, and KOLs are leading the way, like Fan Liyuan (1.8 million followers on Bilibili) or Aurora Ouyang (4.6 million Bilibili followers). They are top KOLs in the sportswear sector, with a Media Impact Value (MIV) of 1.2 billion last year. 
The livestreaming of these KOLs has helped the sector become a trendy retail phenomenon. Livestreaming sessions allow real-time interaction, where consumers can ask questions, seek product recommendations, and purchase directly through the livestream. 
4. Embrace Cashless Payments
China is at the forefront of cashless payment adoption, with mobile payment platforms like Alipay and WeChat Pay dominating the market. QR codes are widely used for transactions, even in small businesses and street vendors. Cashless payments provide convenience, speed, and enhanced security, reducing friction in the purchasing process. In fact, cashless smart vending machines are getting traction across China. The Shanghai Hi-Dolphin Robot Technology introduced a vending machine across 30 cities in China, driving up overall vending machine sales by 40%.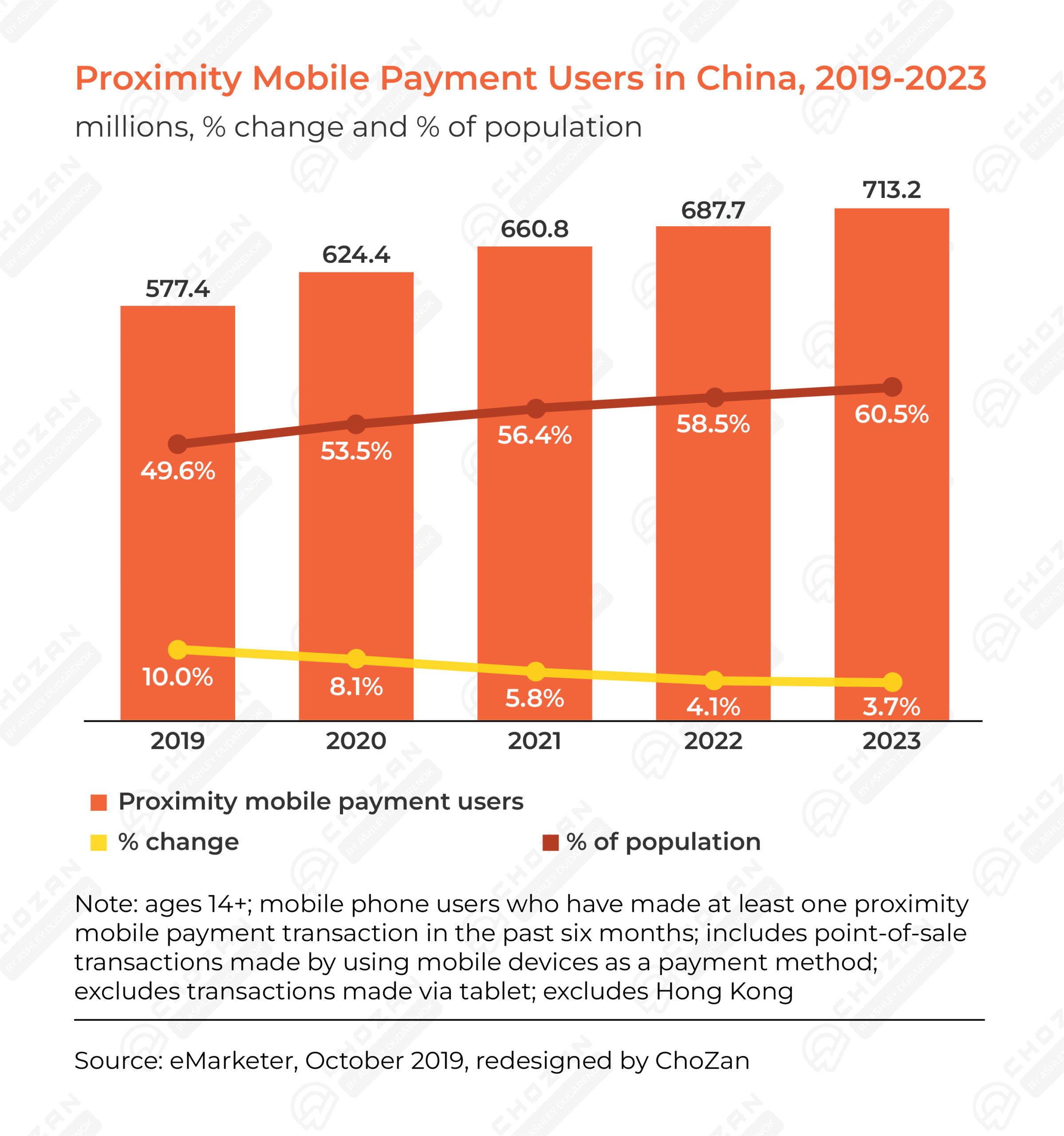 Source: eMarketer, October 2019, redesigned by ChoZan
The widespread adoption of mobile payments in China has revolutionized the retail industry, transforming how people purchase. This cashless revolution has not only enhanced convenience for consumers but has also provided valuable data for retailers. Brands can get insights into consumer spending habits and preferences and incorporate it into their marketing.to hit the bullseye with customers.
5. Personalization through AI and Big Data
China's retail industry capitalizes on AI and big data to provide personalized shopping experiences. Consumer behavior, preferences, and purchase history are analyzed through AI-powered recommendation systems to offer tailored product suggestions. 
Real-time customer support is provided by chatbots and virtual assistants. Harnessing the potential of AI and big data enables retailers to understand individual preferences, predict future needs, and deliver personalized recommendations. This level of personalization enhances the customer experience, fosters brand loyalty, and drives repeat purchases. 
6. Emphasize Social Commerce
Social commerce has gained tremendous popularity in China. Globally, it's estimated that sales via social media platforms will add up to $1.298 billion USD. In China, social media platforms like WeChat and Xiaohongshu have integrated e-commerce features, enabling users to discover, share, and buy products within the same app. User-generated content and reviews drive purchasing decisions. 
They have become influential channels for consumers to discover and engage with brands in China. Retailers now have a chance to create a seamless shopping experience for their consumers and drive sales up. Brands that actively engage with their followers, foster user-generated content, and build communities on social media are more likely to succeed in China's retail landscape.
China's retail industry in 2023 provides valuable insights into the future of global retail. By learning from China's innovative retail practices, businesses can position themselves to thrive in an increasingly competitive and dynamic marketplace. 
Aside from these lessons, brand marketing in China's tempestuous market means that brands need a helping hand to help guide them and have an insight into the industry's pulse. ChoZan helps brands stay on top of every trend and maximize their marketing to Chinese consumers, especially in a future where retail integrates technology, personalized experiences, and connects with consumers on multiple levels. Contact us here to learn more.
Source:
https://www.retail-insight-network.com/news/behind-surge-chinas-domestic-retail-brands/
https://influencermarketinghub.com/social-commerce-stats/#toc-0
https://www.alibabacloud.com/getting-started
https://www.launchmetrics.com/resources/whitepapers/sportswear-industry-analysis