When mentioning China's beauty apps, you might think of Meitu Xiu Xiu.
Meitu Xiu Xiu is a very successful beauty app that has recently got widespread international attention when hilarious photos of Donald Trump came out, processed by one of Meitu's signature selfie filters. Other Chinese beauty apps, including MakeupPlus, "我是大美人" and "小红书", have also done well in this arena as they are combining cutting edge beauty app functions and features with e-commerce.
Let's take a look at how these 3 apps work.
---
1. MakeupPlus
Makeover Filters + Virtual Makeup Try-On + E-commerce
MakeupPlus (Mei Zhuang Xiang Ji) is a free virtual makeup application from Meitu Technology. The powerful functions of Makeup Plus take selfie editing to the next level. 
i. Real Time Virtual Makeovers
With this function, users can use their smartphone camera to try different makeup styles in real time virtually. It provides hundreds of virtual makeup filters, which can be used in still images or videos. Precision recognition technology synchronizes the virtual makeup with users' facial movements, provided they're not too fast or abrupt.
MakeupPlus maintains trendy, inspiring new looks by frequently updating the filters according to user preferences.
↑Vintage makeup filter is available on MakeupPlus.
ii. Celebrity Collaborations
MakeupPlus has collaborated with Pony, the most famous South Korean beauty guru, to launch new virtual makeup filters called "Pony Makeup". Famous makeup artist Lisa Eldridge also teamed up with MakeupPlus to make a virtual makeup filter of her famous red carpet look.
These collaborations helped MakeupPlus capture global attention.
↑Different styles of Pony makeup launched on MakeupPlus.
iii. Special Occasions
MakeupPlus launched several unique and spooky virtual makeovers for Halloween. Users can create a Halloween look by choosing the zombie, corpus, vampire or other filters.  
↑Angelababy, an A-list Chinese star and the representative of Meitu, tried the 5 virtual Halloween makeup looks and shared on her Weibo account during Halloween. The post accumulated over 177,800 reposts and nearly 748,796 likes.
iv. Lip Colour Try-On
MakeupPlus has teamed up with well-known cosmetic brands for a new feature allowing users to try on the most popular lipsticks worldwide. After taking a selfie, users can try on lipsticks from Dior, Yves Saint Laurent, Bobbi Brown and more.
What's really addictive about this function is that it lets you try on colours with no hassle and no mess, allowing users to focus on convenience and fun. Then, users can click on the colours they like and buy them on the brand's official e-commerce website.
↑Colors of lipstickers available on MakeupPlus.
v. Learn From the Pros
MakeupPlus launched a platform for beauty experts to share trending info and useful tips, teaching women to explore and bring looks to life. The platform is divided into three channels, Makeup Tutorials, Makeup Base and Makeup Transformation. The Makeup Tutorial channel is for users to learn how to achieve a specific look. The Makeup Base channel aims to share tips and good products for beginners.
The Makeup Transformation channel is for experts to share celebrity look tutorials. 
↑Users can get the trendy beauty ideas by watching the videos and reading the blogs.
---
2. 我是大美人 (Woshidameiren)
Live Streaming + Online Sales
On September 24, 2015, a live stream viewing record was set when 1.9 million viewers tuned into a beauty show. It was launched with the "我是大美人" (pinyin: wo shi da mei ren, which means a great beauty in Chinese) app and was primarily for a cosmetics brand to release some new products.
The programme quality was on par with a live television broadcast and several famous Chinese stars including Angelababy and Chen Xuedong participated in the show. The huge success of this live stream made waves in the beauty app world.
"我是大美人" is for girls to discover the newest beauty looks and trends, learn essential makeup tips and share experiences with beauty products. It's affiliated with the TV show "Queen", a lifestyle program produced by HappiVision Multi-Media airing on one of the largest provincial media conglomerates, Hunan TV.
The high-quality programming attracts a large, loyal audience. 
The primary users of "我是大美人" are young women in their late teens and early twenties who live in third and fourth tier cities. These girls have few income sources and a low level of consumption. It's impossible for them to consult beauty experts directly and get customized beauty advice and product suggestions so "我是大美人" is a prime resource for them.
"我是大美人" teams up with fashion advisors and designers, hair stylists and makeup gurus from the mainland, Taiwan and Korea to launch 2 to 3 live streams per day. It provides an opportunity for users to have real-time access to brands and experts. Users can interact with experts, share their reactions, ask questions in real time and get instant feedback.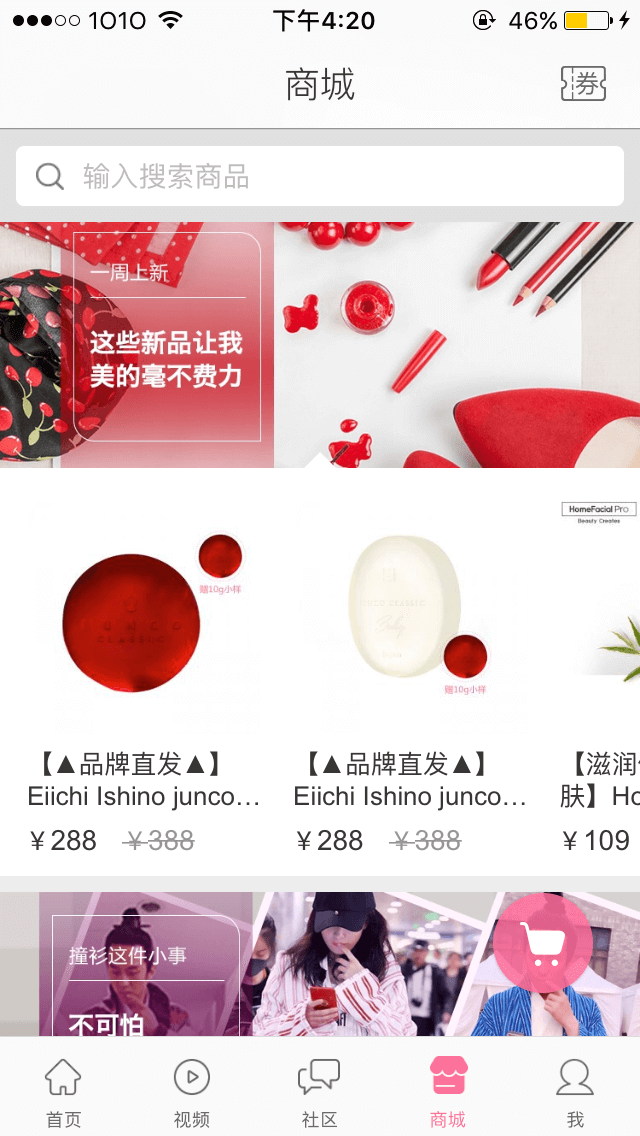 Users can also join the community where beauty aficionados share tips and product secrets, users share beauty tutorials and where they can meet like-minded people. "我是大美人" encourages users not to just be fashion spectators but to also be fashion contributors.
---
3. 小红书 (Xiaohongshu)
Community + Cross-border E-commerce
小红书 (pinyin: xiaohongshu), Little Red Book in English , was launched in January 2014 as a Shanghai-based shopping app to help overseas travelers draft a shopping list before they leave. 小红书 encourages users to share their shopping experiences, tips and discount information.
The app is also a tool to record experiences and meet like-minded people. The app's user-generated content (UGC) helps shape brand perceptions and develop brand loyalty.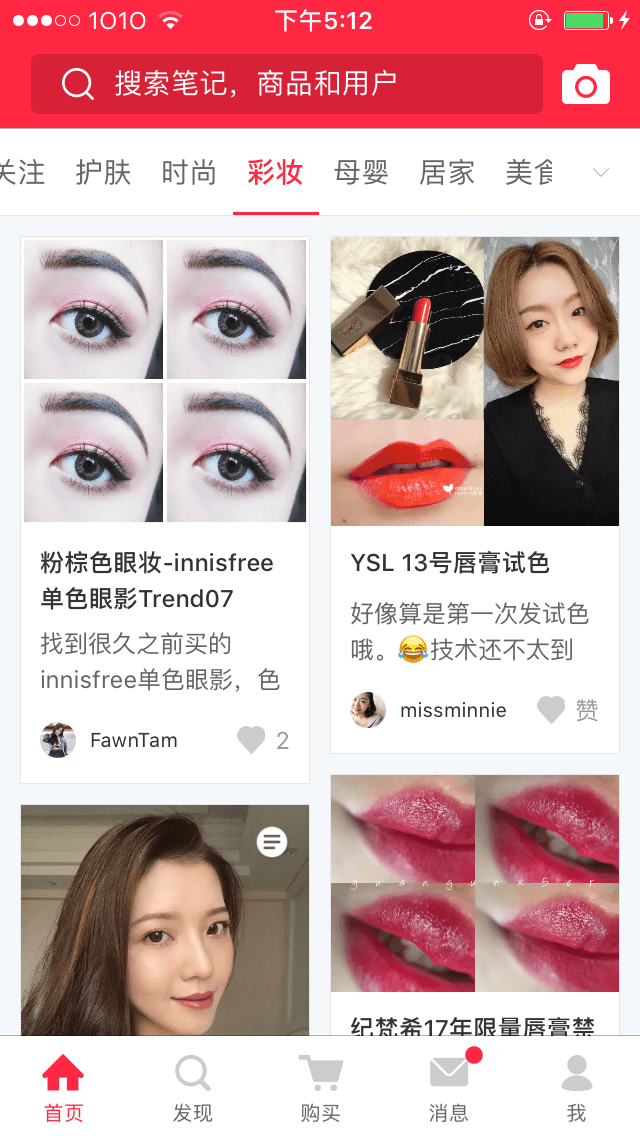 Initially, 小红书 was seen as the Chinese version of Pinterest and Instagram. Then, in December 2014, it launched "福利社" (which means house of benefits), which allows users to find their favourite products from all over the world at affordable prices. Like T-mall, 福利社 is a platform for business to consumer online retail. Unlike T-mall, it's primarily selling overseas products to mainland China customers.
By cooperating directly with overseas brands and manufacturers, 小红书 sends the products to consumers from their bonded warehouses or by international direct mail.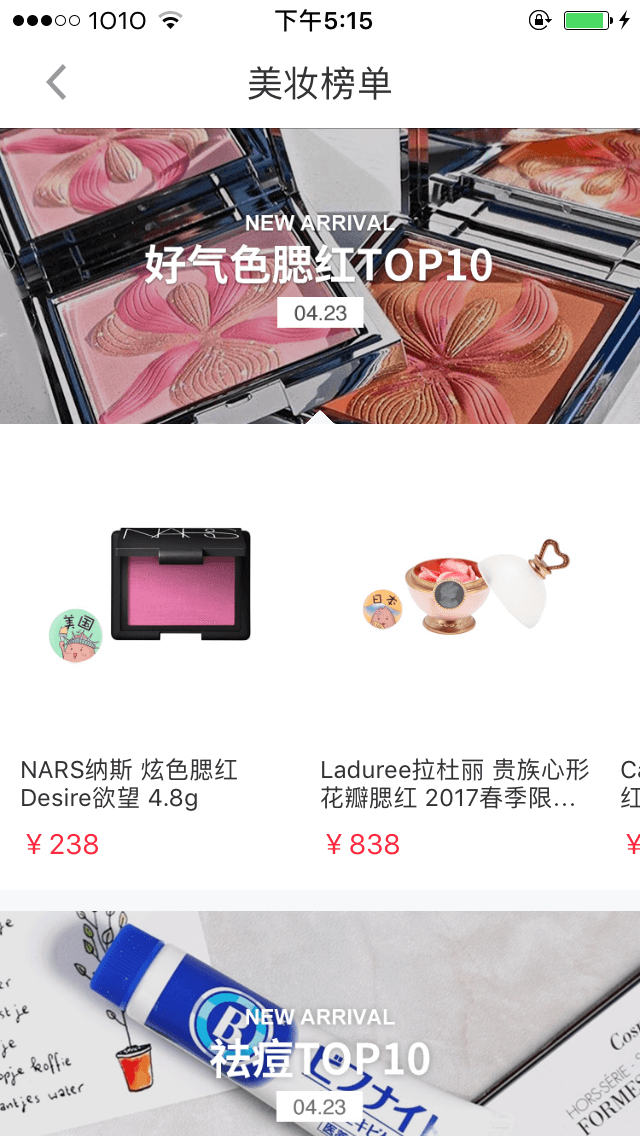 小红书 has strategic partnerships with many famous global brands include SK-II, Vivienne Westwood, and Anna Sui. It also cooperates with some niche local brands from overseas. Pixie Market, a clothing brand from New York, was introduced to Chinese customers on 小红书 starting in February 2017. The brand wasn't known in China until 小红书's active users recommended it through the app's community.
There are now 243 pieces about Pixie Market on 小红书, and half of their products are sold out on 福利社.
Disclaimer:
This article was originally published on WGSN Insider, while ChoZan is the contributor.
---
To get deeper insights into Chinese social media marketing and utilizing it to serve your business, join ChoZan, a training and resources platform for Chinese social media marketers.
Please follow our official WeChat account to get more updates about the latest news, feature updates and case studies.
Share this article on your favourite social media