WeChat officially launched its Mini Program platform in January this year and in March, Tencent added tons of new functions to it. The new functions are meant to strengthen the mini program platform and expand its applications.
On March 27th, WeChat announced the first six new functions.
---
1. Individual developers can register and create their own mini programs
Previously, only government bodies, media, corporates and other organizations could develop WeChat mini programs. Now, individual users can register on WeChat's public platform to launch their own mini program.
This will dramatically increase in the number of mini programs available.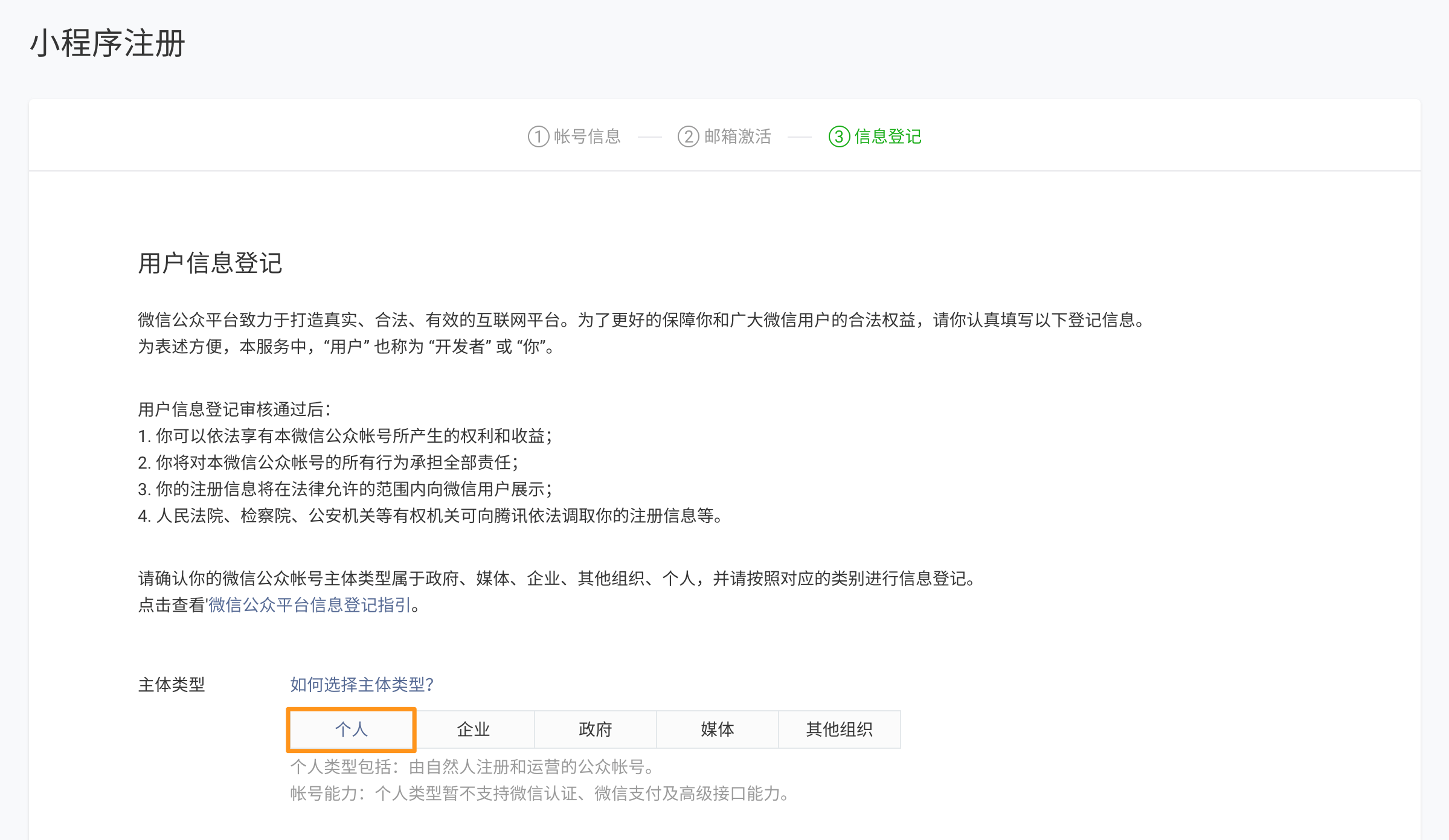 ↑ Users can choose "Individual" when they register for their own mini programs.
---
2. Menu bar elements can be linked to mini programs
For official accounts, they can now add a tab or submenu linked to their mini program in their customized menu bar. This function will likely lead to official account subscribers converting to mini program users.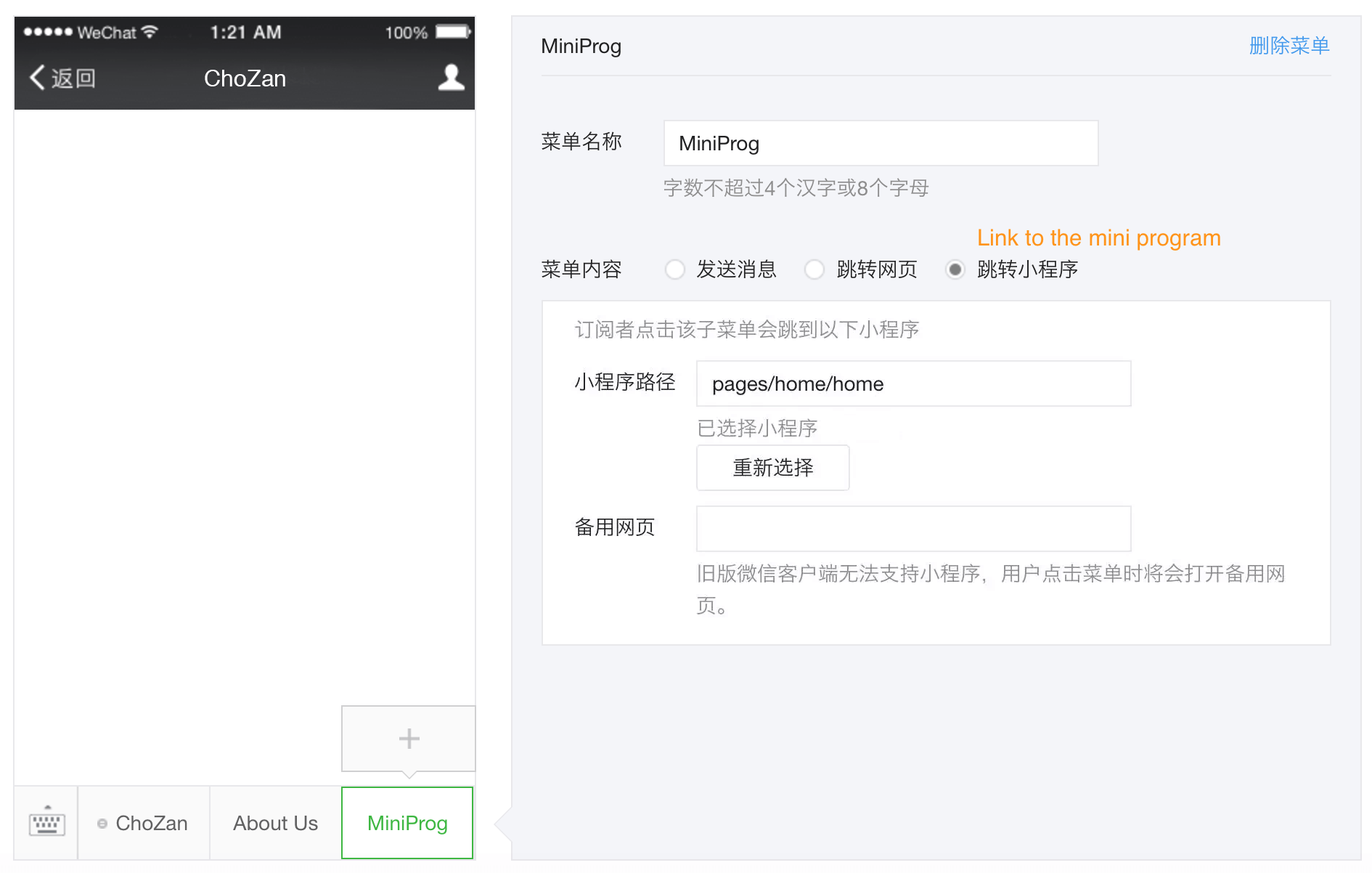 ↑ Official account managers can add a tab or submenu linked to their mini program in the menu bar.
---
3. Subscribers can click on template messages to access mini programs
Verified official service accounts send notifications via template messages to subscribers as a reminder or after they complete an action — usually finishing a payment. WeChat offers a variety of templates for different industries.
Below is an example from SF Express (顺丰速运), a Chinese delivery services company: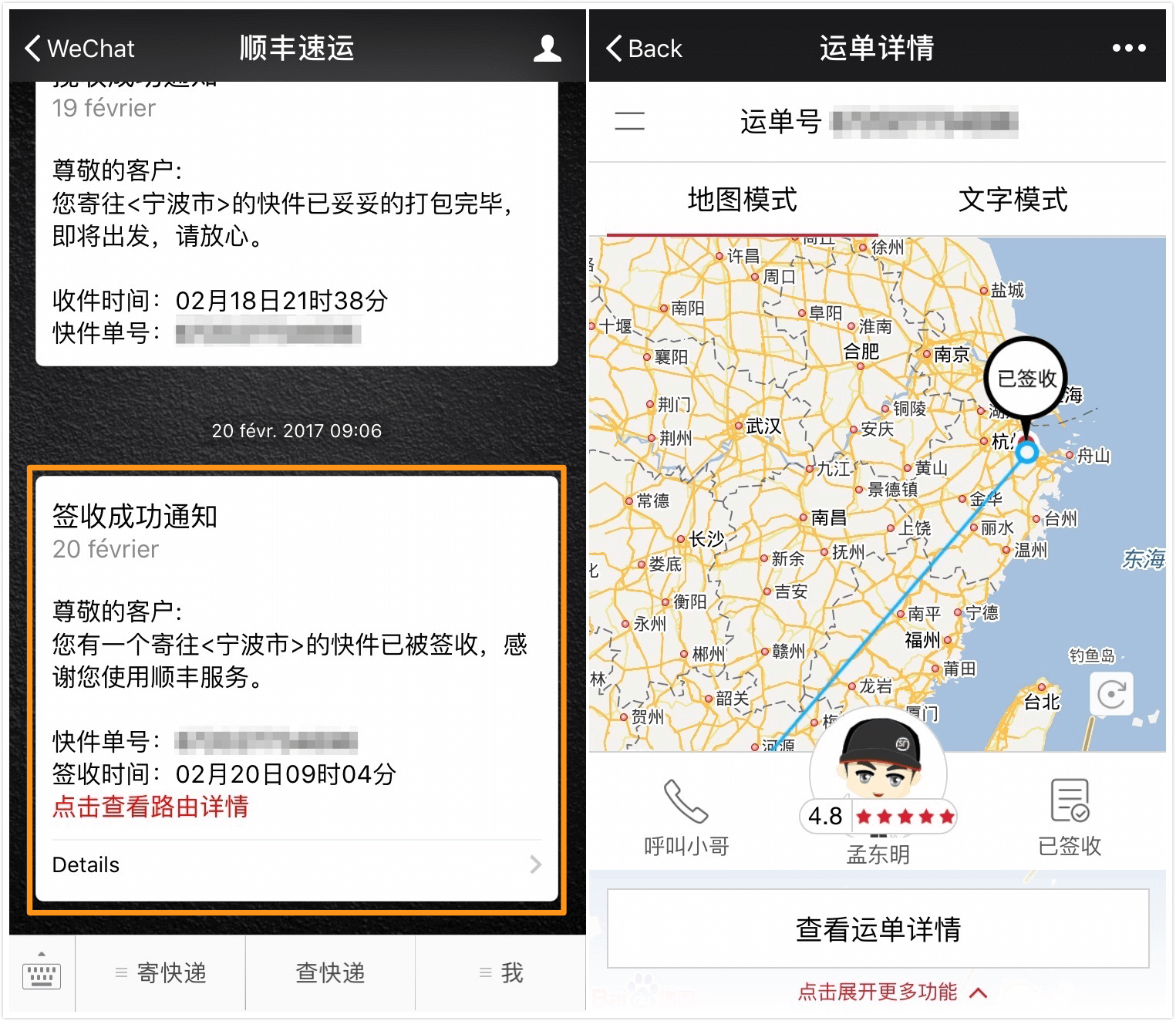 ↑ The template message tells the user that their package has been delivered. When the user clicks on the message, they are directed to a web page with detailed logistics information.
In the past, template messages could direct users only to a designated web page. Now, they can be linked to a mini program.
---
4. Subscribers will receive a notification message when an official account has launched a mini program
After launching and linking to a mini program, official accounts can send a notification message to their subscribers, notifying them. When readers click the message, they will be directed to the mini program page.
The notification message doesn't affect the quota of push messages an official account can send. (Subscription accounts can send one push message/day and service accounts can send four push messages/month.)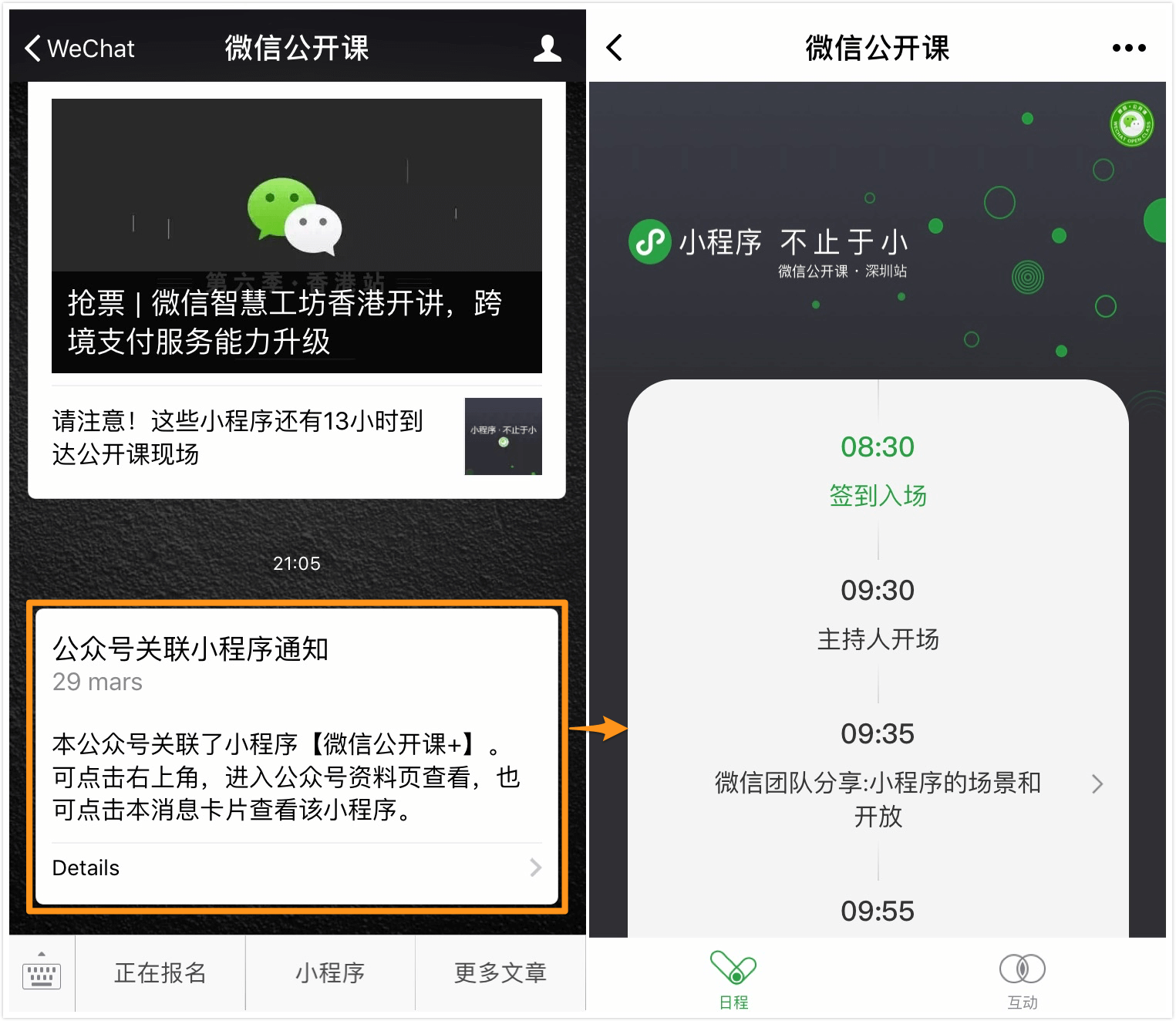 ↑ After the official account of WeChat Open Class (微信公开课) linked to its mini program, subscribers received a notification message. When they click on the message, they'll be directed to the mini program page.
---
5. Mobile app users can share content with mini program users
For companies with their own mobile app and a mini program, they can create a connection linking both platforms.
As a result, if a user shares content from the mobile app to a WeChat contact who has the mini program, the receiver will be directed to the same content in the mini program when they click it. At the moment, this works only for individual contacts or group chats.
---
6. Users can access the mini program by scanning existing QR codes
In February, Mobike (摩拜单车), a bicycle sharing service based in Beijing, launched a new feature on WeChat. Mobike users can access Mobike's mini program (to bind their account and unlock a bike) by scanning the QR code on the bike. This QR code was originally intended only to enable phones to download the Mobike mobile app.
Now, Mobike doesn't need to generate new QR codes specifically for mini programs and new users no longer have to download a Mobike app for registration as this can be done in the mini program.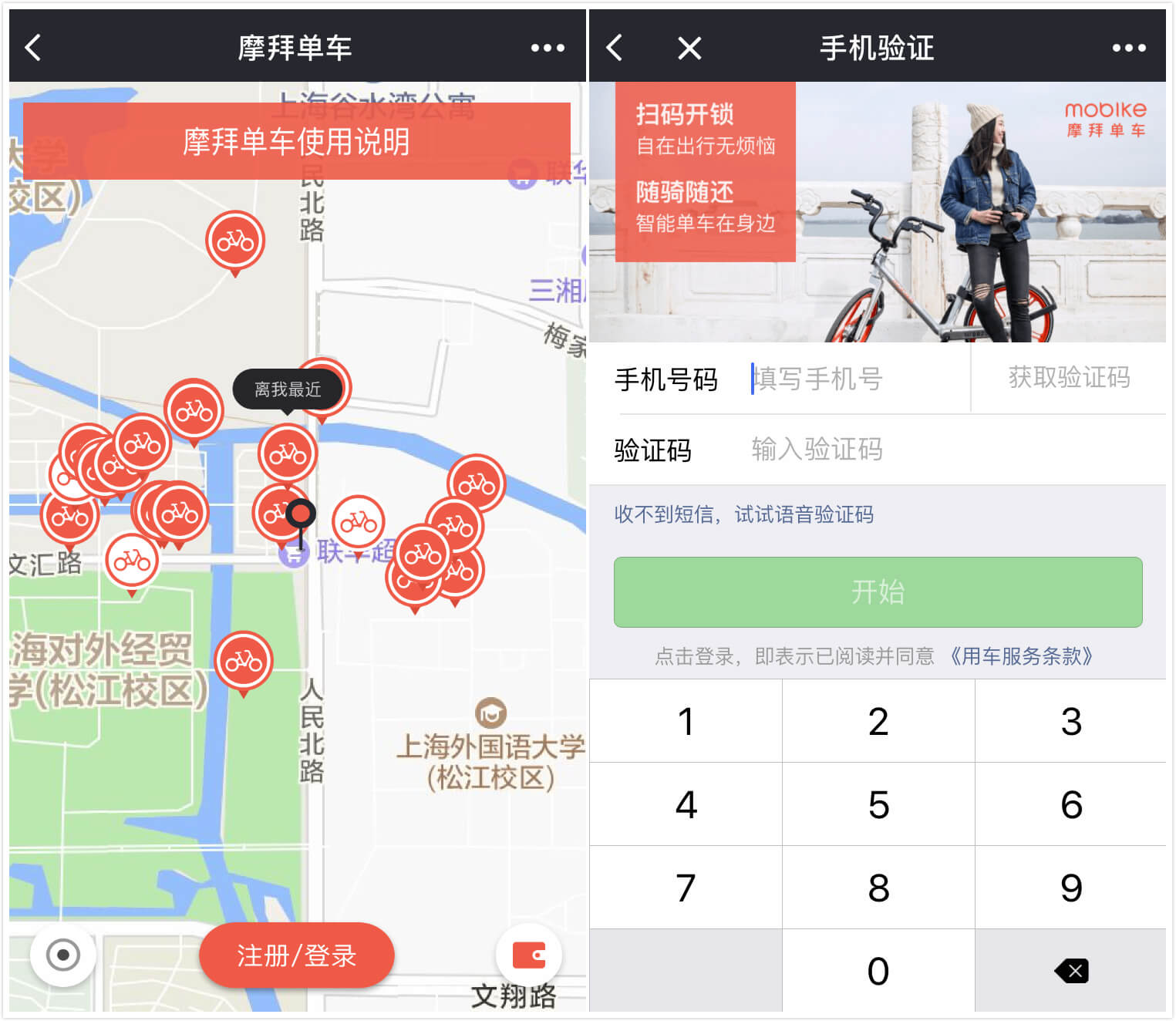 ↑ Mobike's mini program allows users to register a Mobike account and find nearby bicycles.
Before, if users wanted to access a mini program with a QR code, it had to be specially generated. Now brands can turn their previously generated QR codes into entrances to their mini program and don't need to spend extra time and effort replacing codes that have already been printed and distributed offline.
This helps brands create a better connection between their online service and offline products, provides better customer service and drives more traffic to the mini program.
---
Some of the new features that will be unlocked later. They include the following:
7. Users can search for and connect to nearby devices using the mini program through Bluetooth
This feature may attract hardware manufacturers to develop their own mini programs so that users can use their mobile device as a remote control.
8. Mini programs can be bound to WeChat's "Cards & Offers" function
After binding, users can collect membership cards and vouchers directly from mini programs. They can also enter the mini program by clicking the corresponding card in the Cards & Offers section.
9. Mini programs can access users' address information after authorization
After authorization, mini programs can directly access address information that users have saved in WeChat. This allows users to avoid repetitive input of the same information, especially when users purchase items via mini programs.
10. Mini program developers can get access to users' usage information
Developers can now find out more about how mini programs are being used and accessed. For example, they can see if users have accessed the mini program by scanning a QR code or through the WeChat search bar and use this information for further tracking and analysis.
They can also offer different services based on the way users access the mini program. For example, a brand can offer discounts or vouchers for users who scan the QR code for their mini program in physical stores.
11. Compatibility with APIs that use ECMAScript 6
Developers can use APIs coded in ECMAScript 6 and no longer need to worry about compatibility problems with JavaScript.
12. Mini programs will be open to third party operators
This will help web service providers and account holders. For example, some online editing platforms help users design layouts for their WeChat articles with templates or custom designs. Similarly, third party operators of mini programs can help brands without technical expertise or support to launch their own mini program. The introduction of this function lowers the barriers to entry for mini programs and enables greater control over functions and appearance of mini programs for smaller entities.
13. Users will be able to search for nearby locations that operate mini programs
This function will help offline merchants reach their potential customers more directly.
---
Does this information help your business? Are you interested in learning more about new and upcoming WeChat features and how they can be used for marketing? Leave a comment below. We'd be happy to answer any questions you may have.
---
To get deeper insights into Chinese social media marketing and utilizing it to serve your business, join ChoZan, a training and resources platform for Chinese social media marketers.
Please follow our official WeChat account to get more updates about the latest news, feature updates and case studies.
Share this article on your favourite social media