WeChat and Line are both global leaders among instant messaging apps. Compared with other apps of the same type, like WhatsApp and Facebook Messenger, WeChat and Line are much more similar in terms of functions and features.
However, WeChat has been outperforming Line in many aspects. For example, regarding active users, according to the latest statistics, WeChat and Line have a total of 846 million and 217 million active users respectively.
Although Line is blocked in China and most of its users are non-Chinese, in terms of digital marketing and range of functions, Line can learn a lot from WeChat.
---
1. Types of official accounts
Both Line and WeChat provide official accounts for corporates as a tool to send the latest company and product information to subscribers and provide more immediate customer service.
With Line, the number of official accounts is not very large and they're categorized in a list by industry, like travel, entertainment, media and so on.
There's only one type of official account and all the official accounts on Line generally share the same functions.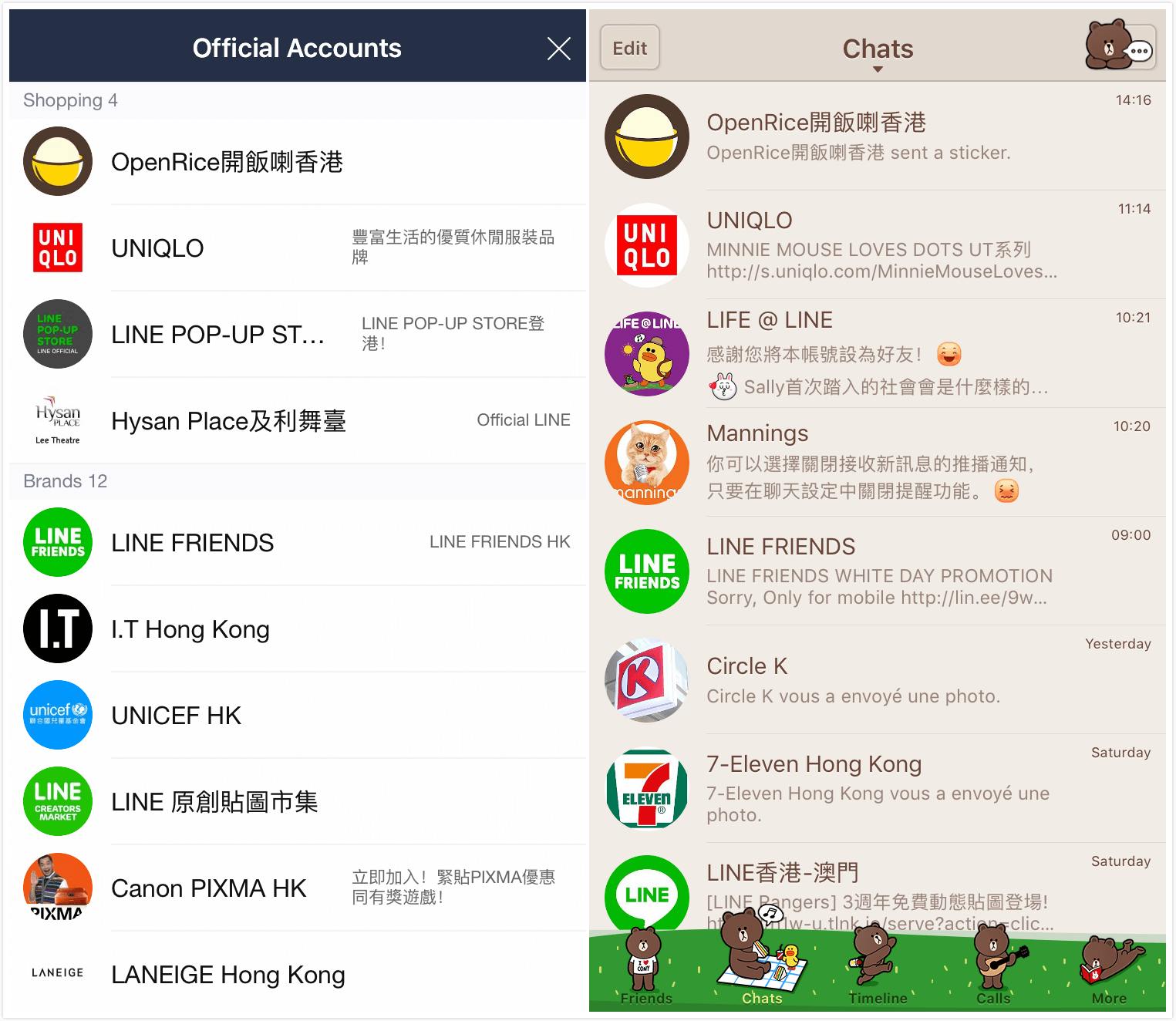 ↑ On Line, users can see a list of recommended official accounts and the ones which users have subscribed to are listed in the "Chats" page along with other contacts.
In WeChat, there are four types of official accounts: subscription accounts, service accounts, corporate accounts and mini program.
Each type of account has its own focus and features. Brands can compare them and make the final decision about which official WeChat account is the most suitable for them.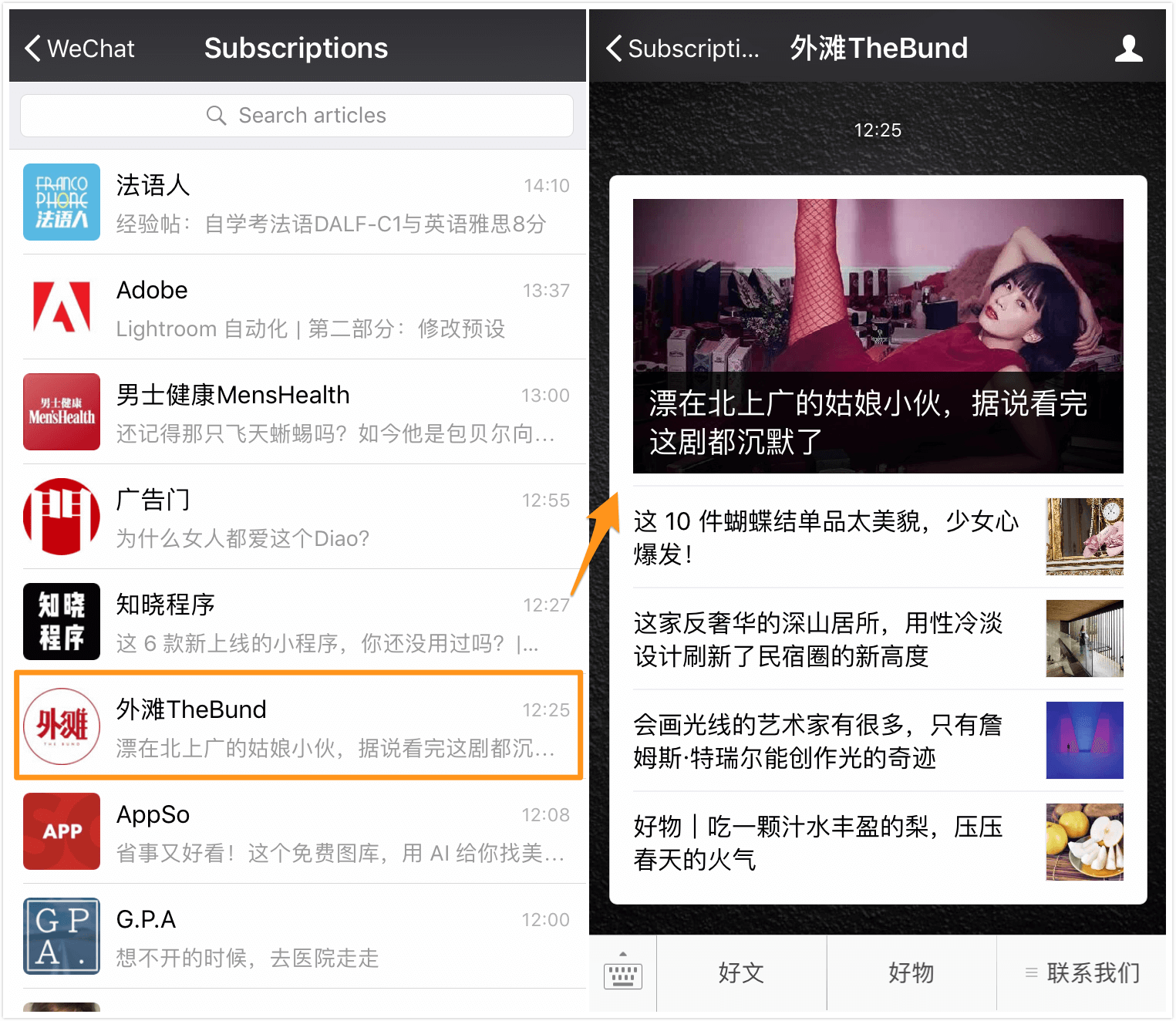 ↑ Subscription accounts are the most common type of official WeChat account, and they are grouped together in the "Subscriptions" folder.
---
2. In-depth multimedia content
In terms of content, official Line accounts can send simple texts and pictures, sometimes with hyperlinks that direct users to external websites. Generally, the content is sent in the form of messages on Line.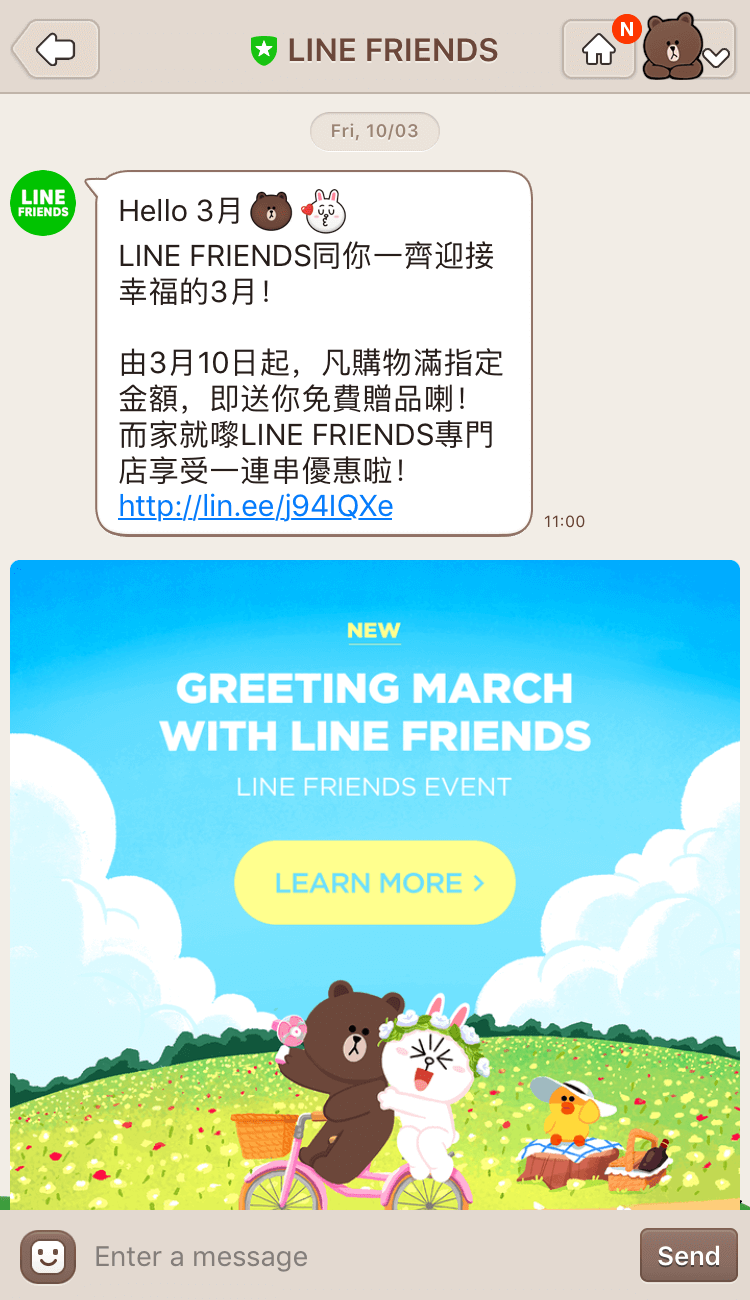 ↑ Official Line accounts can send simple messages and pictures to their subscribers.
As for WeChat, there are five major types of content available: WeChat articles, texts, images, audio and videos.
Except for WeChat articles, the other four types of content are sent in the form of messages. WeChat articles are the most common. The other four types of content can be combined in a WeChat article, which can be seen as a simple webpage that contain much more information than on Line.
Moreover, WeChat articles also allow users to share them on their Moments page as well as other external platforms, which helps increase their exposure.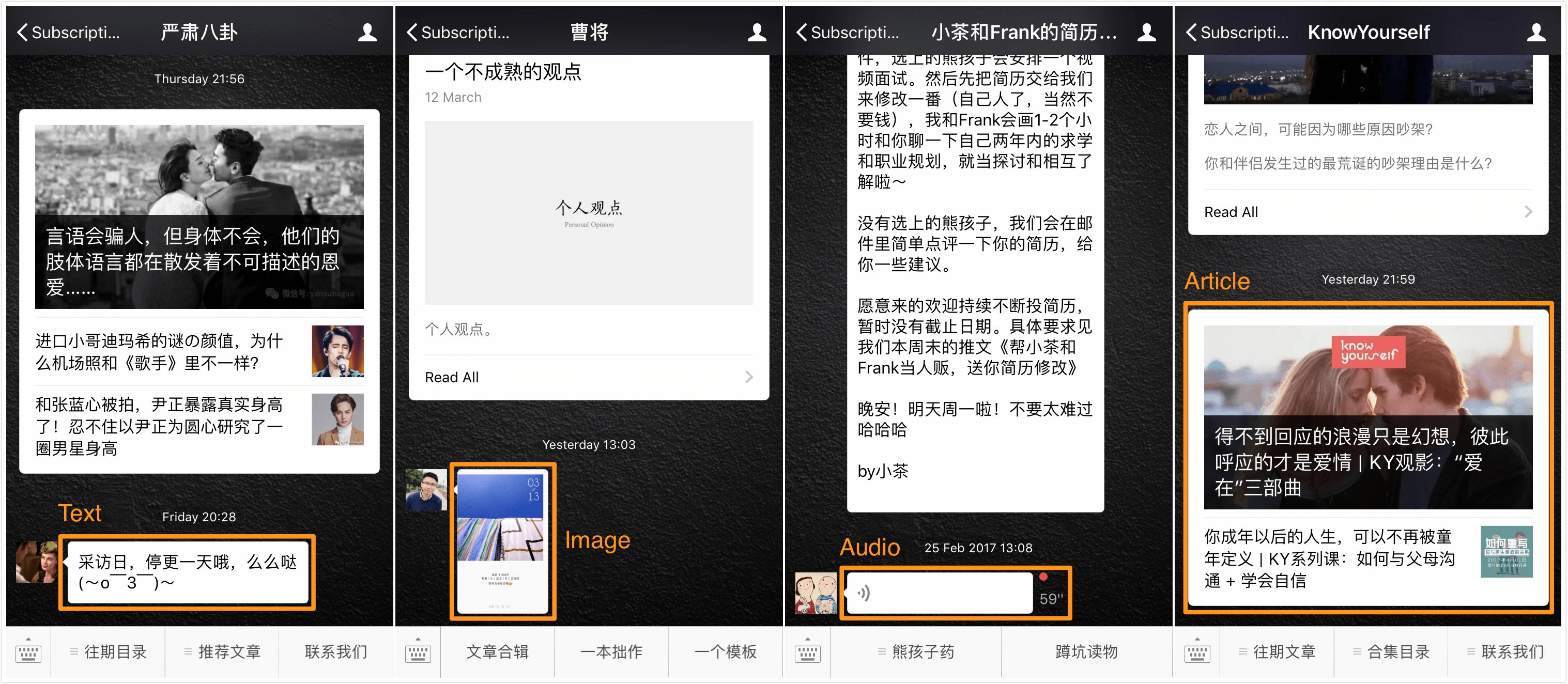 ↑ Official WeChat accounts can send a variety of multimedia messages as well as long articles.
---
3. Efficiency of customer service functions
As for customer service, official Line accounts can't receive, read or reply to messages sent from their subscribers. Normally, they can only preset rules for auto-replies. Subscribers can only reach them personally when their "On Air" mode is on, which needs to be activated manually by official account managers for real-time dialogue.
↑ Only when the official Line account activates the "On Air" mode (a red dot will be displayed beside the official account name), the account managers can directly communicate with subscribers. Here, 7-Eleven Hong Kong activates the "On Air" mode for an online question-and-answer campaign: users who give correct answers to questions asked by the account managers have a chance to win a free Japan data sim card (for 7 days use) worth 138 HKD. However, they need to send notifications to all the subscribers before the campaign to inform them the "On Air" mode will soon be activated.
However, in WeChat, all the messages sent from the subscribers are collected in the platform's backend. Whenever the account manager logs in to the backend, he can see the messages left by subscribers and reply to them, which helps ensure the timeliness and quality of the customer service offerings.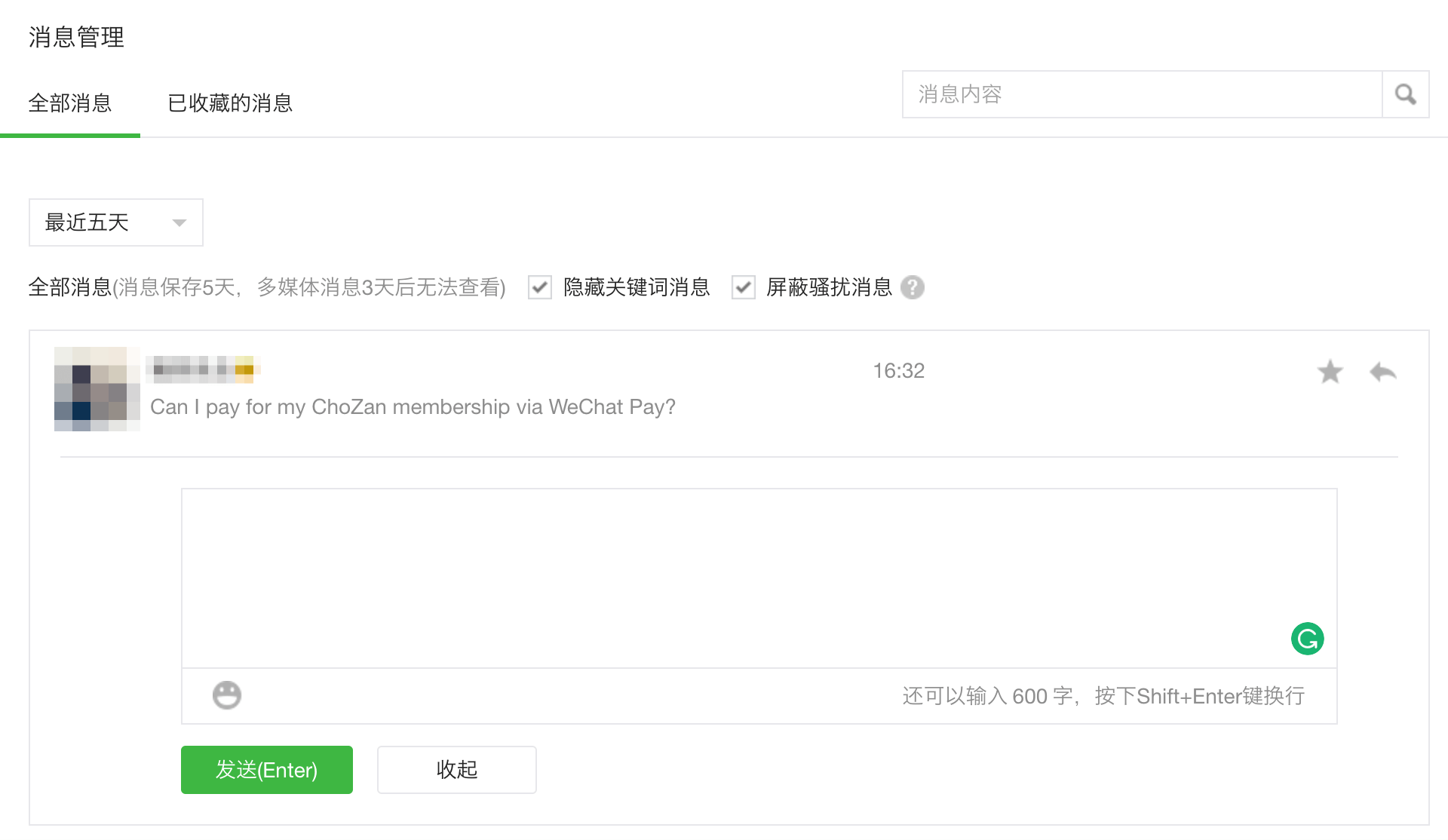 ↑ In WeChat, private messages sent by subscribers are received and can be seen in the backend. The account manager can reply to them once they see the messages.
---
 

4. Menu bars
Menu bars for additional functions can be found at the bottom of the screen on Line and WeChat. The menu bar for Line consists of a single button. Usually, a picture with a hyperlink is shown.
If the user presses the picture, they will either be directed to an external link or receive triggered preset messages. Most brands use the menu bar on Line to promote their latest products.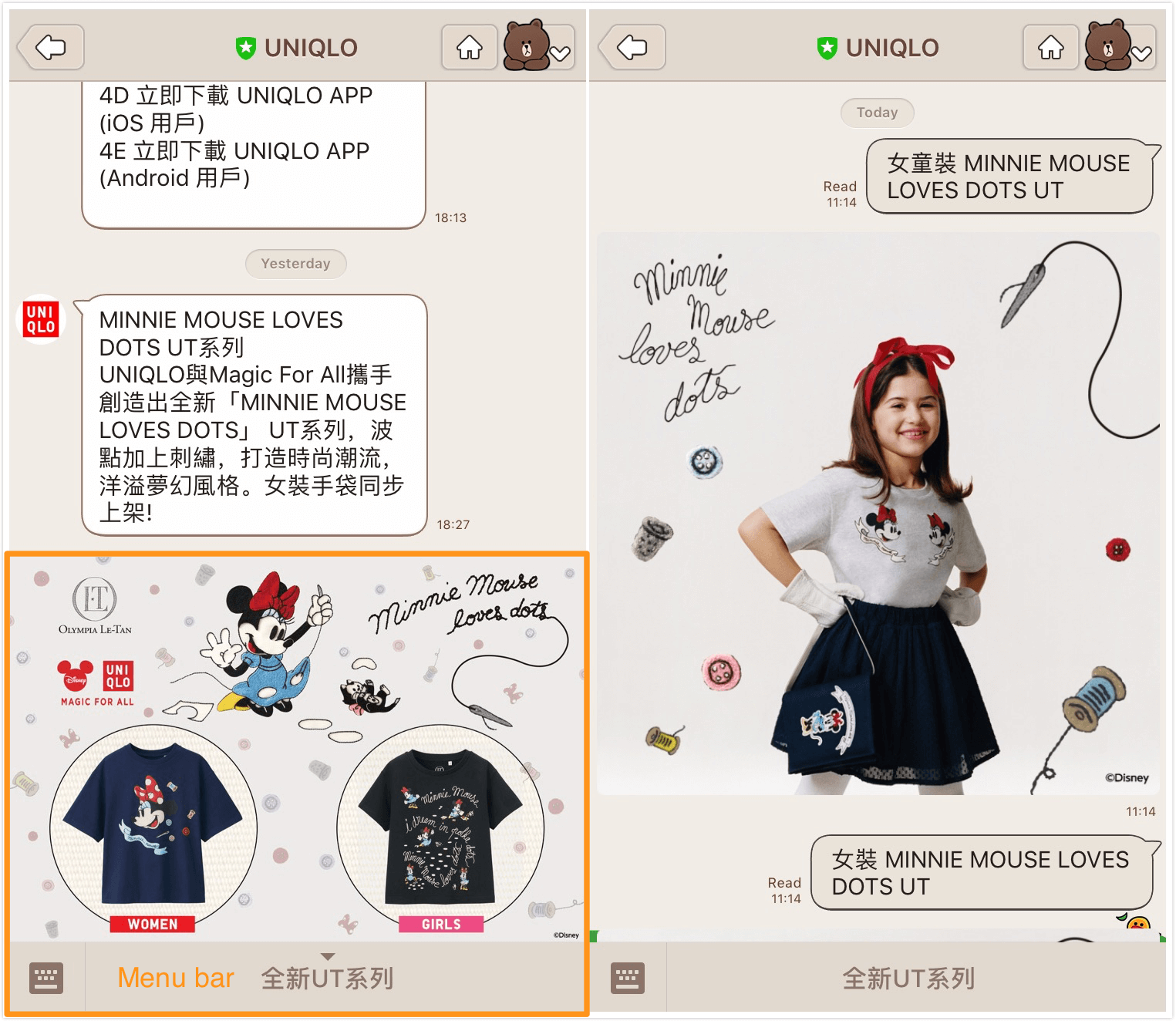 ↑ The official Line account of UNIQLO has a menu bar at the bottom, which shows a poster of its latest UT series. When users press the picture, texts introducing the series and pictures of models presenting the clothes pop up.
In contrast, the menu bar in official WeChat accounts can be customized and can offer lots of functions. An official WeChat account can set up three main menus with several sub-menus under each. Menus can be set up to allow users to check their membership information, request more articles, download apps, order food delivery and even book air tickets.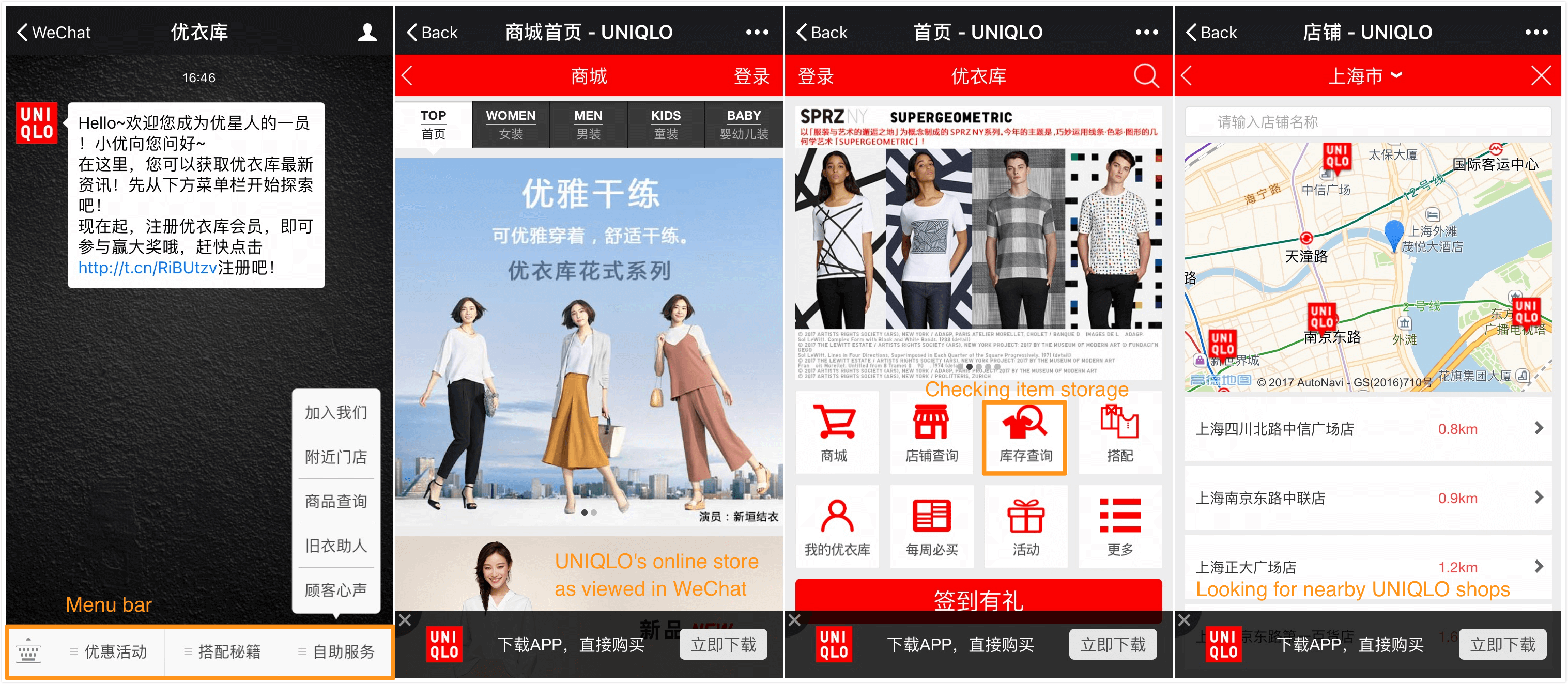 ↑ The menu bar of UNIQLO's official WeChat account has three main menus (from left to right: discount information, costume matching tips, self-service) along with a dozen submenus. Users can be directed to UNIQLO's online store, check item storage or look for nearby UNIQLO shops based on their current location all within the official account.
---
5. Payment systems
Both Line and WeChat have their own payment functions, Line Pay and WeChat Pay.
For Line Pay, users can register with their credit card or debit card. Line Pay can be used in Line Store where Line stickers, themes and game points are sold. Users can also use Line Pay with Line Pay merchants. For example, in Taiwan, some convenience stores like 7-ELEVEN and FamilyMart and big shopping malls like Shin Kong Mitsukoshi accept payments via Line Pay.
However, the number of these merchants is relatively limited.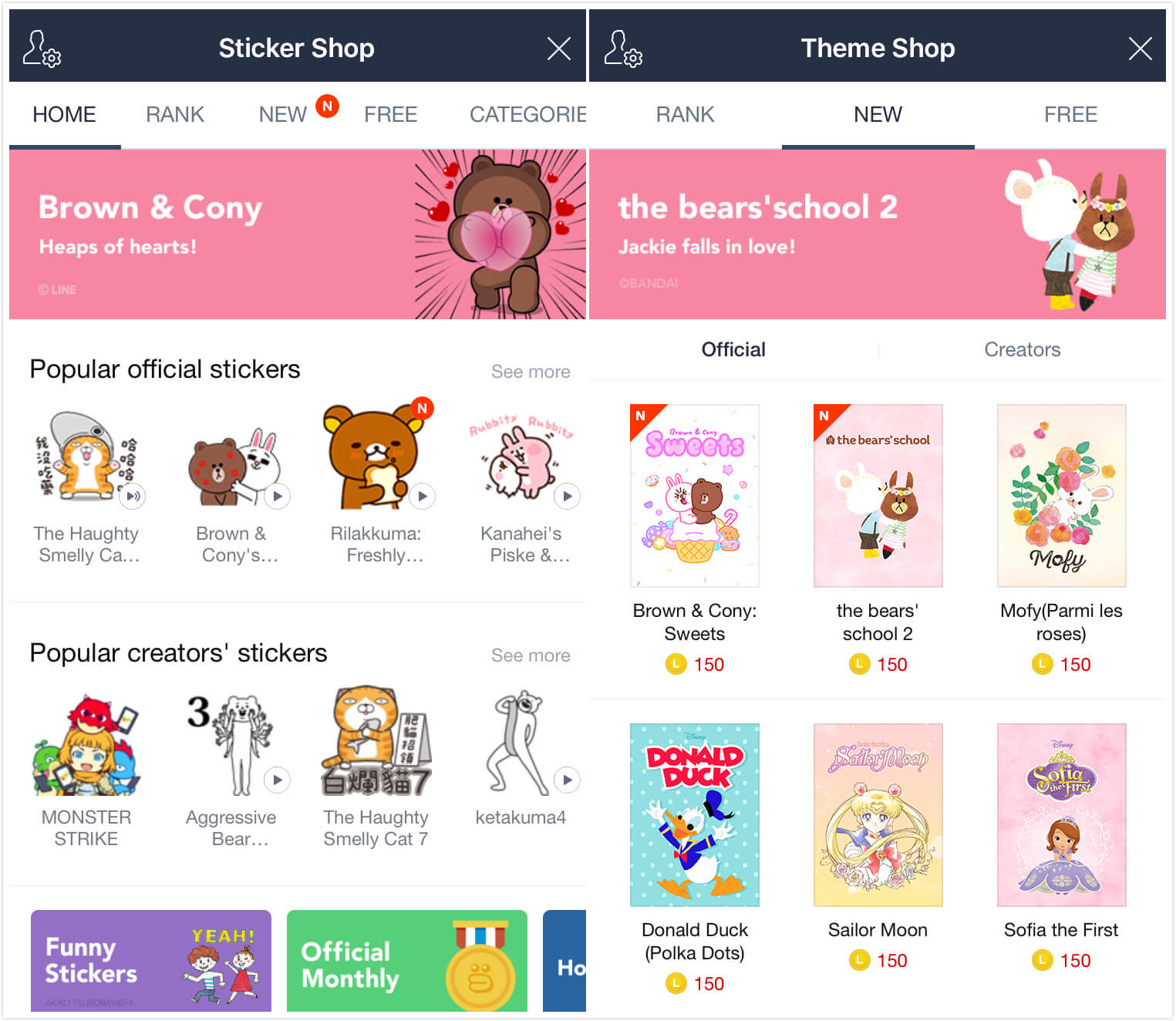 ↑ Line Pay can be used in its own Line Store for sticker and theme purchasing.
Similarly, users can register for WeChat Pay with their credit card or debit card. Nowadays in China, besides online stores, most offline merchants already support mobile payment via WeChat Pay or Alipay (支付宝, run by Alibaba).
In addition, WeChat Pay can also be used to do a variety of things: pay mobile phone bills, call taxis, pay utility bills, buy movie tickets and purchase items online.
Users can buy things on WeChat and pay immediately via WeChat Pay without being directed to external sites. WeChat Pay is widely used in China and has already been integrated into people's daily life.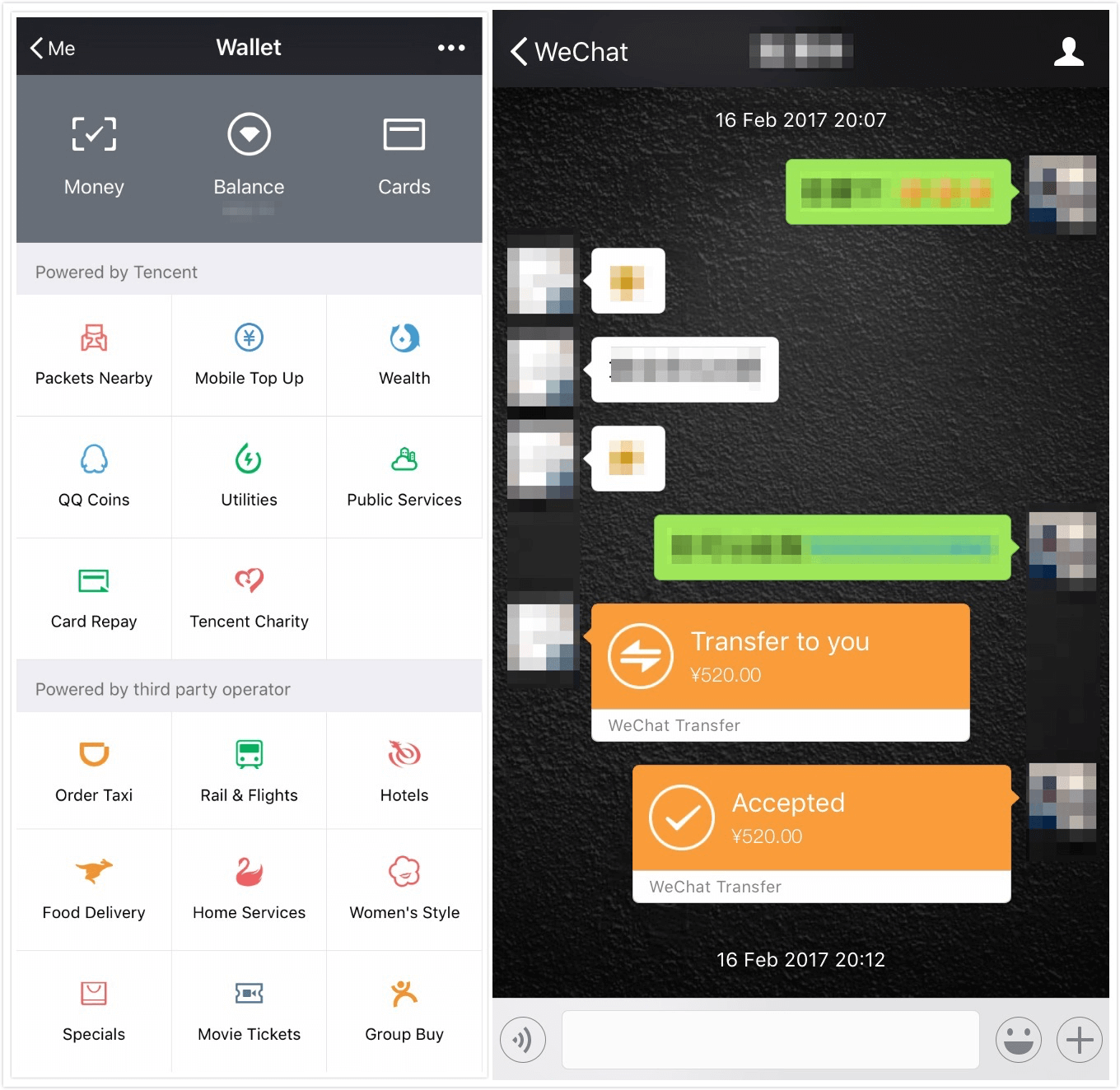 ↑ WeChat Pay can be used for both online and offline payments. Moreover, it also allows money transfers between friends.
---
Generally speaking, in terms of social media marketing, WeChat is definitely much better than Line, because its comprehensive functions allow companies and brands to achieve more by offering more in-depth information, provide faster, more efficient customer service and facilitate instant transactions that helps to boost sales.
Do you want to learn more about how to do WeChat marketing in China? Or are you interested in learning more about other major social media platforms in China? Leave a comment below. We'd be happy to answer any questions you may have.
---
To get deeper insights into Chinese social media marketing and utilizing it to serve your business, join ChoZan, a training and resources platform for Chinese social media marketers.
Please follow our official WeChat account to get more updates about the latest news, feature updates and case studies.
Share this article on your favourite social media