Sina Weibo, one of the most popular social media sites in China, released its Q4 2017 financial report on February 13th. Let's look at the key highlights.
---
1. Steadily growing active users
By the end of 2017, Weibo reported 392 million monthly active users (MAU) and 172 million daily active users (DAU). Weibo's MAU have increased by 216 million since 2014. Among the active users, 93% were accessing Weibo through mobile devices.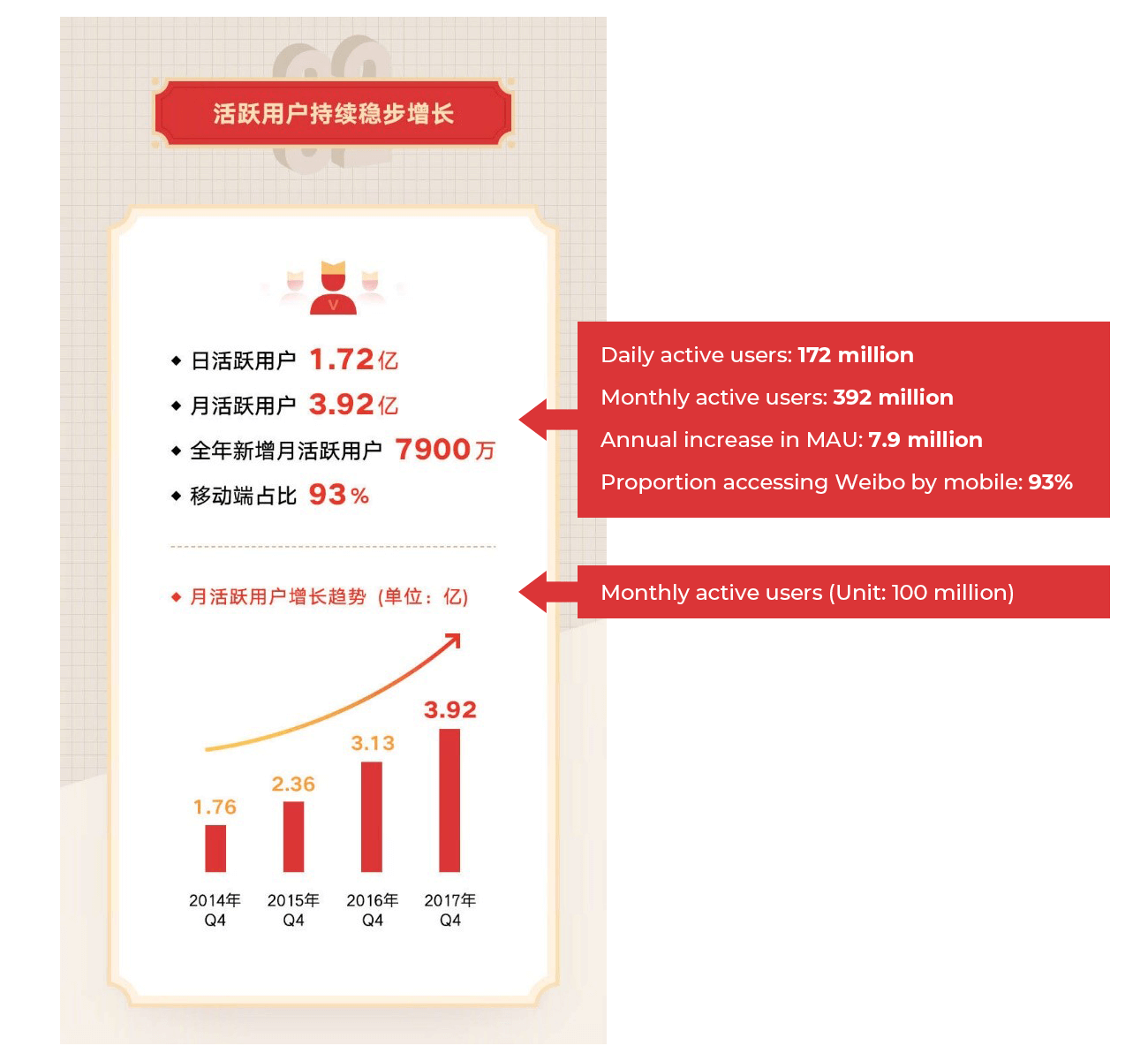 ---
2. Accelerated revenue growth
Weibo's financial revenue grew vastly in 2017. Their annual revenue reached 7.71 billion RMB, realizing year-on-year growth of 76%. Ad income alone contributed 6.68 billion RMB, which is up 75% compared to 2016.
---
3. Enhanced content and forming a complete content ecosystem
In December 2017, Weibo's daily video production and view had doubled compared to December 2016. Head users, referring to those who always create authentic, quality and viral content, produced 50% more short videos on a daily basis.
Weibo also cooperated with more than 1300 content agencies in 2017 Q4, creating better and more popular content for the platform. This resulted in a significant increase in the number of head users, daily Weibo posts and monthly views of the content.
↑ A viral video by a KOL (@办公室小野) with 273 thousand likes
---
4. Increasing recognition of Weibo's marketing value
Weibo is a prevalent marketing channel thanks to its huge viewership.
The number of brand advertisers witnessed a year-on-year growth of 34%, generating 98% more ad revenue compared to 2016. Small and medium-sized businesses also spent 57% more on Weibo advertising, compared to the same period.

↑ A Weibo banner ad from Sands Macao
---
Conclusion
Weibo has successfully improved its financial revenue and user acquisition in 2017 Q4. More importantly, it has developed a unique content ecosystem where valuable and vertical content is encouraged. Users are attracted by the authentic content and become loyal consumers, which increases Weibo's ability of monetizing on users. More brands are willing to invest in B2C marketing and advertising on Weibo. Let's see how Weibo is going to perform in 2018.
---
What do you think of Weibo 's recent performance? Does this give you any insights on marketing and advertising on Weibo? Leave a comment below.
We'd be happy to answer any questions you may have.
---
To get deeper insights into Chinese social media marketing and utilizing it to serve your business, join ChoZan, a training and resources platform for Chinese social media marketers.
Please follow our official WeChat account to get more updates about the latest news, feature updates and case studies.
Share this article on your favourite social media